Home to the longest stretch Route 66, the 400+ miles of Mother Road in Oklahoma are filled with quirky stops, kitschy photo-ops, art installations and unique destinations along the way.
A road trip down Route 66 in Oklahoma will lead you to larger-than-life ku-ku birds, giant totem poles, walk-through whales, historic relics, over 600 flavours of soda (liquid bacon, anyone?) and alien yard art. Plan ahead for the opening of the borders and be sure to bring your camera along – these unique photo-ops shouldn't be missed!
Buck Atom – Tulsa
A 21-foot Buck Atom Space Cowboy is one of the latest additions of public art along Oklahoma's Route 66, which was unveiled in May 2019. Local creative visionary, Mary Beth Babcock, dreamed up this idea to create a new Roadside Attraction along Route 66 in her beloved city of Tulsa, OK after a trip on the Route in 2018. The fibreglass space cowboy is the first of its kind, which stands proud above the Buck Atom's Cosmic Curious gift shop which celebrates all things Route 66.
Waylan's Ku-Ku Burger – Miami
Outfitted with a 1960s-style neon sign and housed in a building that looks like a giant ku-ku clock, visitors have been attracted to Waylan's Ku-Ku Burger in Miami for decades. It opened as part of a chain of ku-ku hamburger stands in the 1960s, but is now the only remaining restaurant of its kind. A giant cheeseburger, chili cheese waffle fries and fresh squeezed limeade are the ideal Waylan's meal.
Totem Pole Park – Chelsea
Between Claremore and Vinita in a small town off Route 66 sits Totem Pole Park. It lays claim to the "World's Largest Concrete Totem Pole," a one-of-a-kind monument to American Indian culture built by local resident Ed Galloway. Over the years, it has become a beloved photo-op along the highway and even has a gift shop. For an extra fun visit, drop in during the annual Totem Pole BBQ & Music Fest for some delicious food and great music.
Blue Whale – Catoosa
As Oklahoma's most famous and endearing roadside landmark, Catoosa's Blue Whale has a long history of making Route 66ers smile. The whale was built one bucket of cement at a time in the early 1970s by zoologist Hugh Davis as a special place for his grandkids to play. This impressive structure is 20 feet tall and 80 feet long. Visitors are welcome to walk inside the whale, and families enjoy picnics by the water during good weather. Note: swimming is not allowed in the pond.
Darryl Starbird's National Rod & Custom Car Hall of Fame Museum – Afton
It wouldn't be right to travel down Route 66 without a stop in Afton to see Darryl Starbird's National Rod & Custom Car Hall of Fame, which houses some of the most inventive cars on display along the Mother Road. Visitors will see over 20 cars designed by the auto genius himself including the famous space age, bubble top hot rods from the 1950s and 60s. There are over 50 vehicles on display as well as plenty of auto memorabilia.
Golden Driller – Tulsa
The nearly 44,000 pound Golden Driller keeps watch over the Tulsa Expo Square with his right hand on top of an oil derrick. It stands at 76 feet tall, making it one of the tallest freestanding statues in the USA. Originally built as part of the 1953 International Petroleum Exposition, it became a permanent part of the fairgrounds in 1966 and has welcomed visitors ever since.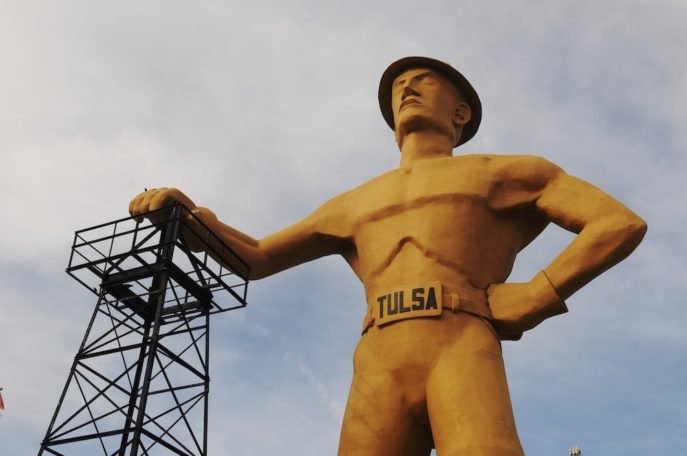 Alien Landing Yard Art – Stroud
Creatively constructed from scrap pieces of metal, CDs, aluminum foil and other odds and ends, this convincing yard art makes it appear as though the city of Stroud is the site of an alien invasion. The scene is complete with a UFO that would attract even Agents Mulder and Scully. This alien landing yard art is one roadside oddity you'll want to investigate for yourself. Don't forget to snap a few pictures for your evidence files.
OK County 66 – Arcadia
OK County 66 is located along the Mother Road in Arcadia and is unlike any other Route 66 attraction. This large piece of land is filled with miniatures and replicas of quintessential stops from across the country, as well as other Americana. Stop in and go on a tour of Route 66 just by walking the grounds. You'll see the Twin Arrows in Arizona, the Blue Whale in Catoosa and a knock off of the Captain America motorcycle from the movie "Easy Rider" all in one spot.
Round Barn – Arcadia
While driving down Route 66 in central Oklahoma, it is impossible to miss the bright red Round Barn located just outside of Oklahoma City in Arcadia. This architectural gem has been around since 1898 and was restored after the roof collapsed in 1988. The inside is filled with rustic farm equipment and other antique items as well as a gift shop where you can grab a souvenir. The barn was even added to the National Register of Historical Places in 1977.
POPS – Arcadia
Take a break from rolling down the highway and pull over to POPS for a cold soda and some delicious diner food. A huge 66-foot tall pop bottle sculpture that lights up at night guides visitors into this combination gas station, restaurant and soda ranch. It touts over 600 flavours ranging from cream soda to bacon. Once you're inside, take a seat and order from the menu full of burgers, chicken strips, milkshakes and other American favourites.
The Gold Dome Building – Oklahoma City
The Gold Dome Building in Oklahoma City was one of the earliest domes of its kind built in the world. Since 1958 it has held many different businesses – it began as a bank but has also been a cultural center, art gallery, bar, restaurant and office space. In addition to its unique shape, the dome is also painted gold and shimmers in the sun adding to the honey comb effect of its architecture.
Milk Bottle Building – Oklahoma City
Among the many architectural and artistic landmarks in Oklahoma City's Asian District, the Milk Bottle Building stands out as one of the oddest and oldest. The milk bottle was added to the top of a small, wedge-shaped building in 1948 as an advertisement for a local dairy company. It has been painted over many times during its sixty year history but most recently sports the Braum's Dairy Store logo.
Lucille's Service Station – Hydro
In the in 1920s and 30s, Lucille's Service Station was one of many service stations built to accommodate the new drivers along America's highways. Over the years, Lucille became known as the "Mother of the Mother Road" for her exceptional dedication to the motorists. She ran the shop until she died in 2000, and her legendary graciousness still compels people to pull over and get a few pictures today. Travel down the road just a little further for a bite to eat at her namesake diner, Lucille's Roadhouse.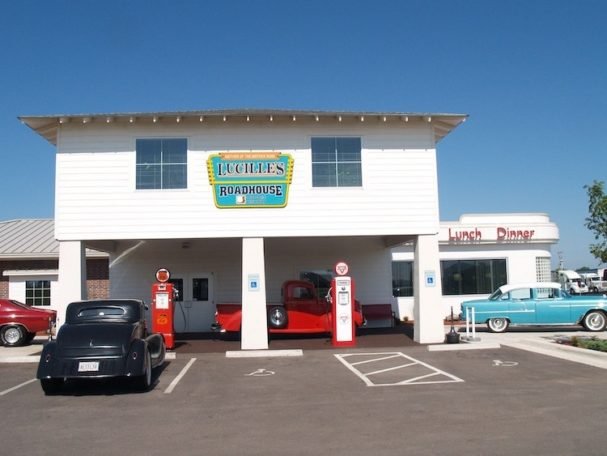 Native American Muffler Man – Calumet
Indian Trading Post & Art in Calumet makes its mark along Route 66 with a huge Native American Muffler Man standing outside the door. Unlike most fibreglass Muffler Men that are modelled after Paul Bunyan, this figure wears buckskin pants, a beaded belt and a headdress. It was originally owned by a car dealership and moved to its current location along Route 66 in 2010. Stop in for moccasins or a beautiful piece of jewellery and pose next to the statue for a keepsake photo.
Start planning your kicks on Route 66, and see www.travelok.com for more out of the ordinary Oklahoma travel inspiration.