If you are a foodie (I consider myself to be a human Labrador) then you and Osaka will get on fabulously.
This is a place to indulge and "kuidaore" ("eat until you drop") with the best food culture in Japan. It's the place of worship for Takoyaki and Okonomiyaki fans. Mr G and I have just spent 6 days in Tokyo are looking forward to a new land with oodles street food, 2.5m people (teeny!) and castle culture.
The Bullet Train, Shinkansen–Tokyo to Osaka
Like a mythical creature; the Shinkansen is something of a bucket list moment. Waiting expectantly on the platform, this graceful force of nature glides silently in, and like the perfectionist she is – on time. We are in a queue to board (of course this is Japan) and take our seats. Mistake #1 becomes apparent as inadvertently have boarded the 'reserved' seating carriages. We play a human version of pass the parcel till we end up in the right carriage for slackers who don't plan ahead.
With a bit of guidance from lady manning the 'Can I help you' desk plus Google maps, finding our hotel is a breeze as we glide our four wheeled non-furry friends across the polished concourse and through a few shopping malls.
Having gone through a major refurbishment, the InterContinental is a contemporary beauty all starting on floor 21! We check into our Deluxe Room situated by the Club Lounge which means it's dangerously easy to do champagne shuttle runs at canapé hour. It's a beautiful light-filled room overlooking the river; creams, sage colours, wooden floors oh and then there's a big rock. Yep! A rock. It forms part of the desk area (perhaps they ran out of trees?) but it's unique and glorious. As is the glass encased bathroom or should we say wet room as shower and enormous standalone bath are again the main attraction even if the chaise lounge in the corner has my name written all over it. These Japanese designers really know how to make a gal feel special.
Osaka Castle
We head off to witness history, tradition and culture plus a food truck or two at Osaka Castle. Hopping off the JR train line, it's a short walk. The beauty of the park and grounds starts to unfold, as does the intelligence of how to protect a city from attack as we weave through different gates, gardens, up and up. Two young guys are doing parkour, free running off huge sand stone rocks. Finally we get our first view. The unmistakable symbol of Osaka, the castle is a tiered stack of peaked green roofs and the observation deck on floor eight delivers stunning views. Built in 1583, the main garden provides R&R or should I say K&K, Kirin & Kagaage never tasted so good. Twin that with a food truck with long sweet potato fries and seaweed salt and I'm happy.
Dinner at Michelin Starred Pierre – A Simpsons moment!
It may seem an oxymoron to have dinner in Japan at a French restaurant. The reason Pierre has a Michelin star is due to its unique marriage of Japanese produce with French techniques; I should also add a 400 strong wine lists helps. With stunning views to the city below we sip on Louis Roederer as the first of a six course menu appears, 'autumn potatoes with lily bulb salad' is a moonscape garden where potato foam is growing flowers, leaves and edible twigs! We move onto a Tezukuri Wine from Nakamura Winery in Osaka paired with a delicate herb ravioli floating in a clear mushroom consommé. The next dish is one familiar to Simpson fans 'Fugu-Fish episode'. For non Simpson people; the puffer fish is more poisonous that cyanide, takes a chef over two years and a certification (which 1/3 of chefs fail). Our deep fried puffer fish arrives with a rice hairnet and a Kyoto green onion fondue. It brings whole new meaning to "wow! That dish was so good I thought I had died and gone to heaven!' Please don't try this at home. We move Châteauneuf-du-Pape Blanc Tardieu-Laurent 2013 and then Henri Guiraud Masuizumi Sake. We enjoy desert in 'Adee', it's the coolest hotel bar! We dine on chestnuts with almond crumble under sparkling chandeliers, and a light show creating a living waterfall projecting off rocks and five meter windows 21 floors up!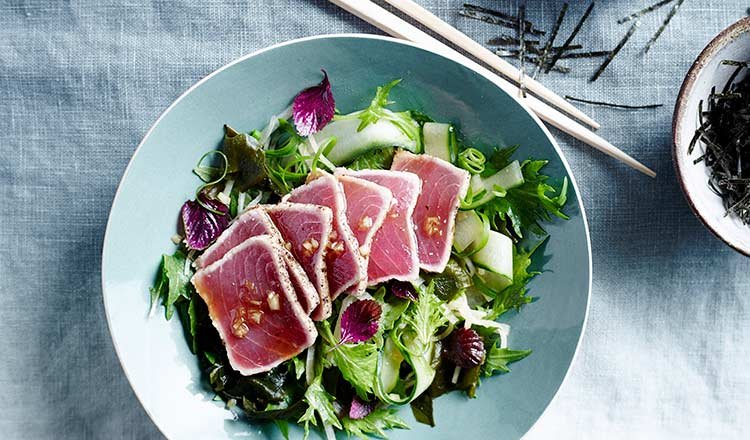 The Onsen is bathed (pardon the pun) not in rules but tradition and etiquette. For a first time novice, it's quite intimidating. First, there is naked-ness! At what point do you drop the towel? Then a series of rooms, changing areas, showers, wooden barrels, bathing areas, saunas. My recommendation is simply follow the naked bum in front of you…I did. The space is amazing, shower then kneel soak, transfer to then next large bath with moulded lie down areas. You can go round more times that a hamster in a wheel!
Shitennoji Temple and Street Food at Dotonbori
A quick metro ride and we are wondering around one of Japan's oldest temples, founded in 593 by Prince Shotoku, who helped introduce Buddhism into Japan. We head over to the Gokuraku-jodo Gardens but today is about street food! We walk the food alley at Shinsekai, a neon corridor of madness. At one junction we pass the huge floating iconic inflatable puffa fish suspended about our heads. Then we pit stop for cheap beers and snacks at a Kushikatsu restaurant. We order kushiage. It's the ultimate beer snack and deep fried skewered meats and vegetables. The inevitable cabbage moment happens (Japanese love cabbage), remember the rules, never double dip your skewer and use the 'bagge' to scoop. Yum!
At the heart Dotonbori district, close to Namba Station is 'The Glico Running Man' sign. The best photos are from the bridge and its madness! We end up taking photos for a young family with their newborn and are instant friends. It's an amazing sight – either side of the canal is lit by hundreds of neon signs. We devour Takoyaki – savoury balls of batter dotted with octopus slices cooked using a special takoyaki pan from a street stall. We chase that with the ultimate Osaka foodie experience – we sit at the bar area and watch as the chefs cook Okonomiyaki a shredded grilled cabbage pancake grilled. I go prawn Mr G goes pork. Forget any previous experience of this dish, it's like being reborn again!
Then again Osaka will make you feel like that. Fun, casual, expect the unexpected…but don't expect to go hungry!
For more on the delights of Japan, click here. And a luxury guide to Tokyo, here.