Kamalaya Wellness Sanctuary and Holistic Spa Resort in Koh Samui, Thailand, is a place that calls you back.
It beckons like a tantalising temptress reminding you of the magic that awaits.
The sheer beauty of it all. The broad welcoming smiles of the same familiar faces, the restorative treatments which, like food to your soul, leaves you calm and relaxed. The relief that comes from putting a stop to the business of life to concentrate solely on yourself in a tranquil and nurturing environment.
Just ask around the communal dinner table how many people have returned and there is a resounding chorus of yes. "I just love it here," says one, with another echoing the sentiment adding "it's become my annual pilgrimage" and another chipping in, "it's my tenth trip."
For so many returning Kamalayans, it provides the perfect ingredients to help improve your mental and physical sense of wellbeing.
Designed and built around a Buddhist cave on a hill that slopes down to the sea, the award-winning spa is a spiritual place where you can reset your thinking and focus on a more balanced existence, hence its empowering motto:  feel life's potential.
For the uninitiated, your trip to Kamalaya usually kicks off when you are met at the airport and taken to the spa in an air-conditioned leather seated mini van. Soft meditation music is played and you are given a cool lemongrass-scented hand towel to freshen up.
After being greeted with a tropical drink, you will be taken to your room. The spacious and well appointed accommodation ranges from luxury sea villas to superior suites and hillside rooms  featuring a balcony overlooking a commanding view across the Gulf of Thailand.
Replenished daily is a bowl of fresh tropical fruit from star fruit to lychees, mangosteen and green limes.
Every little detail is thought of – you can even choose an extra mattress if you prefer a softer bed or change your pillow from duck feathers to hypoallergenic from the pillow menu. Yes, there is a pillow menu. On your pillow each night you will receive a diary of events, weather conditions and times of the tide.
Kamalaya Wellness Centre Is A Place To Relax And Unwind
The real pampering begins at the Wellness Centre where you start with a consultation with one of a team of international naturopaths to discuss your health goals. There is an extensive range of packages on offer – detox, yoga, stress, emotional balance, fitness and weight control or you can choose individual treatments.
Previously, I did the 10 day detox programme which is perfect for anyone wanting to get their health on track. This time I chose the Asian Bliss programme which, like many packages, includes a Body Bio-Impedance Analysis (BIA) that gives you a snapshot of your health. All your files are kept on record for a number of years so you can compare them to your previous health assessment.
I spread my five day Asian Bliss programme over eight days. This meant I could take part in more daily classes including a session on how to break bad habits. I also booked additional sessions to help recognise stress triggers and employ useful methods to reclaim balance and harmony. Many guests choose the visiting practitioners but for me, I love Kamalaya's team in particular the wise words which emanate from Life Enhancement Mentors, Rajesh Ramani and Smitha Jayakumar.
It's also worthwhile booking a half day sailing trip around the islands.  Once aboard this magnificent wooden Turkish ketch, you will receive a Thai massage, a smorgasbord of delicious Thai food prepared by Kamalaya's chefs and enjoy a stop along the way to go snorkelling at a coral reef.
During my stay, there was also time to soak up the sun by the newly refurbished lap pool area where I was fed frozen red grapes between fresh coconut drinks.
My Asian Bliss included a heavenly 90 minute Traditional Thai Massage and herbal compress, a 60 minute Indian Head Massage, a 60 minute Royal Ayurvedic Massage and two 30 minute Chi Nei Tsang treatments.
All the treatments are sublime but the Thai massage and herbal compress was pure unadulterated bliss and the only challenge is not falling asleep.
It doesn't take long to slip into a slower rhythm and I found myself becoming so much more mindful, pausing to take in the lush vegetation, the lotus ponds and the vibrant bougainvillea, gardenias and frangipani.
My stay centred around three things; deciding what glorious food to eat, the incredible treatments and catching up with my newly formed friends.
It's recommended you start each day with a cup of hot water and a squeeze of lime. Such a simple yet refreshing way to wake up and this, like many things at Kamalaya, is an easy healthy tip to take home with you.
Typically, a day kicks off with a sixty-minute Qi Gong or Pranayama (breathing) session from 7.30am followed by different styles of Yoga in the Yantra Pavilion. The pavilion is perched high on the hill with spectacular sea views.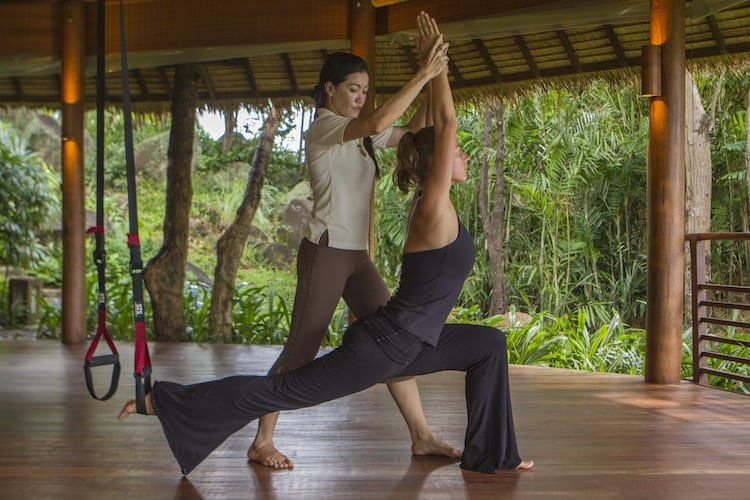 Most people do the early morning meditation or yoga before heading to breakfast. Your breakfast can be either from the buffet or a la carte. And yes, you can have a coffee if you are not on the detox programme. There is a wide selection of drinks from wheatgrass and kale tonics to vegetable and fruit juices that are full of antioxidants and all manner of goodness.
Mango, watermelon, oranges, red grapes and honeydew melon are on offer as well as a range of bircher muesli and porridge, and home-made breads including the popular Gluten Free quinoa and chia bread with a choice of nut milks and butters such as macadamia and cashews.
Then interspersed with your treatments and plenty of me time, the lunch is held in the Amrita restaurant overlooking the turquoise pool with intricately carved bas relief Asian sculptures.
For those in the know, the mung bean risotto, beetroot tartare, the banana flower salad  and the baked apple dessert are exceptional but in truth all the food is amazing.
You can choose to be as social as you want. For those like me who travelled on my own, one of the highlights is the fact you meet some fascinating people from all over the world and as a third time visitor, I've made lasting friendships every time I've gone.
The banter at the communal table is enormous fun. Perhaps it's because you've got nothing to lose, or perhaps it is because people are willing to share their personal stories but the openness and supportiveness amongst the guests lends itself to true friendships being formed. And as a married mother of two, there is something liberating about travelling solo.
Many people are there to combat stress and burn out. Some want to kickstart their health programme with a detox or weight loss programme and others simply want to lean the art of letting go.
Whatever the reasons you go to Kamalaya, you reap the rewards and take some great strategies home to help you lead a healthier and more balanced life. It's why this special place has become a spiritual home for so many, me included; one you want to return to over and over again to refuel, replenish and relax.
I can already hear Kamalaya's dulcet tones calling me back.
Awakening Your Essential Self
This year Kamalaya co-founder Karina Stewart began personally hosting a special programme and this will return in 2018. It focuses on the journey of self-discovery and how to stop habits that no longer serve you, and reconnect to your inner source of happiness and restart anew. Benefiting from time with Karina, who has a Masters of Acupuncture and Traditional Chinese Medicine, is something I'd recommend if you get the chance. She is one of life's truly inspirational and remarkable women.
You can read more about the wellness sanctuary, here. Plus, read co-founder John Stewart's personal story here and discover the incredible story behind Kamalaya.
Robyn was a guest of Kamalaya Wellness Sanctuary and Holistic Spa Resort in Koh Samui, Thailand.