From the minute I opened the gate at the leafy entrance to this stunning 1890's sandstone house, the tranquil smell of lavender was so strong it immediately calmed me to the core.
It was like I left Sydney behind and had already been there for days.
The Lavender Majestic – what a place! I was lucky enough to be invited to enjoy a few luxurious days at this elegant retreat in one of my favourite places in NSW – the iconic Blue Mountains.
Originally, the Lavender Majestic was built as a holiday house for the family who also built the Hydro Majestic. It is now a renowned holiday house specialising in luxurious exclusive girls' getaways.
So, I bought a couple of my girls along to ensure the trip was authentic – and together we enjoyed the beauty of the home while scoping out the best places to eat and experience the beautiful Blue Mountains.
Upon entering the Lavender Majestic we were met by our wonderful and down-to-earth butler Mandy who gave us a little tour, poured us tea and presented our itinerary for the night and next morning: relax, enjoy the spa, eat, drink some wine and make sure you are up at 10am for a one hour massage in your private treatment room…. uh, yes please!
With a large tranquil garden, BBQ area, six person outdoor spa and many rooms to explore, we spent the day relaxing while Mandy catered to all our needs; poured our champagne, turned down our beds, filled and emptied the dishwasher.
We didn't have to think about anything.. just relax in our fluffy white robes. Mandy was very helpful but also un-intrusive and kept to herself, which was the perfect mix.
Before sunset we walked down to the shops to buy a feast, everything from hot smoked salmon and oysters to cheeses and local wines. We came back, ate and talked for hours. After breakfast the next morning we were treated to a one hour massage each. And I quote one of the girls who said, "that was the best massage I've ever had".
Lavender Manor
As special as butler service is  – and it is – it's like having a fairy come around and do the things you needed done before you even realised it. But if you're like me and need something more self sufficient, Lavender Manor, their other property in Blackheath is the one for you. A gorgeous house with a 6 person spa, just without the butler service.
Where to eat

Breakfast
Downstairs! In the morning Mandy had a spread ready dining room. We're talking eggs, bacon, mushrooms, tomatoes, Whisk & Pin muesli, hot croissants with jam, tea, coffee… she would even make you a mimosa if you needed it. We couldn't have asked for more.
Lunch
Leura Garage – Located in the boutique village of Leura, the atmosphere of this High eco-ethos cafe is laid-back. But the menu could impress the toughest of critics and it's off the chain regional and organic food is something that I am still dreaming about.
Sit back amongst the rustic-chic decor and industrial car-themed art and enjoy a cold tap beer or wine from their extensive unpretentious drink list that boast both local and international produce. Order a pizza, dig into some share plates or (as I would highly recommend) try the tasting menu starting at just $35 a head.
Drink
'The Rooster' – Watch the sunset over the Jamison Valley as you dig into a foie gras pâté paired with a crisp white wine. This beautifully restored Edwardian guesthouse was built 125 years ago and the food and wine is top notch – the view is just a bonus.
Dinner
Without a doubt, if you're in the Blue Mountains and thinking about where to eat, Palette Dining is the place to be. Start upstairs with a cocktail and view the art. When your hunger hits come back downstairs for a feast.
The logo? "Mountains Inspired, Food, Art & Wine". The menu? Think wood-fired bread, grilled prawns with hummus and dukkha, fennel salad with preserved lemons and smoked labneh (my favourite), miso glazed salmon, char grilled sirloin, chicken wings with lemongrass caramel… when should I stop?
This heritage listed restaurant is owned by chef Petrina Kerr who calls her cuisine 'contemporary international'. After chatting with her and I came out feeling enlightened, her passion for food starting from the ground up really showed in our impressive dinner that night. Petrina inherited her nan's garden that was 16 years in the making and a lot of the ingredients on your plate come from that garden, they even have a beehive out the back. All the produce is local, organic and free range. Palette dining is a NSW gem that I could not recommend enough.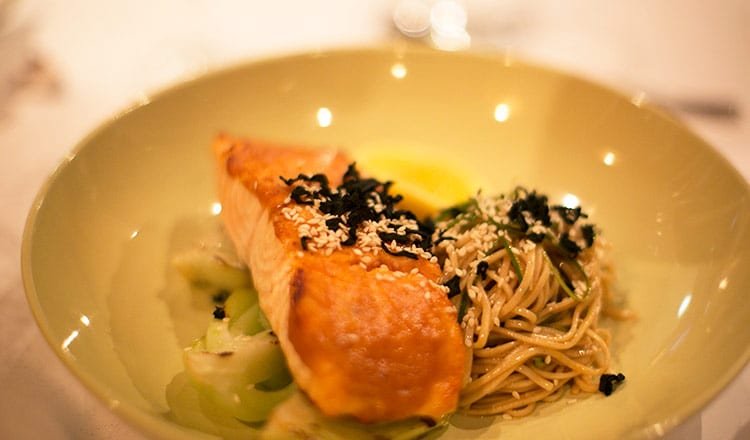 Do
Everglades Gardens was impressive to say the least, and a must-visit in the Blue Mountains. A stunning, world-renowned garden set against a backdrop of hard to beat views of the Jamison Valley- I could have stayed there all day.
Explore the European-style terraces and winding paths, visit the art deco home and grotto, or picnic on the hills. During the summer months they have Shakespeare play productions set in their exquisite garden theatre.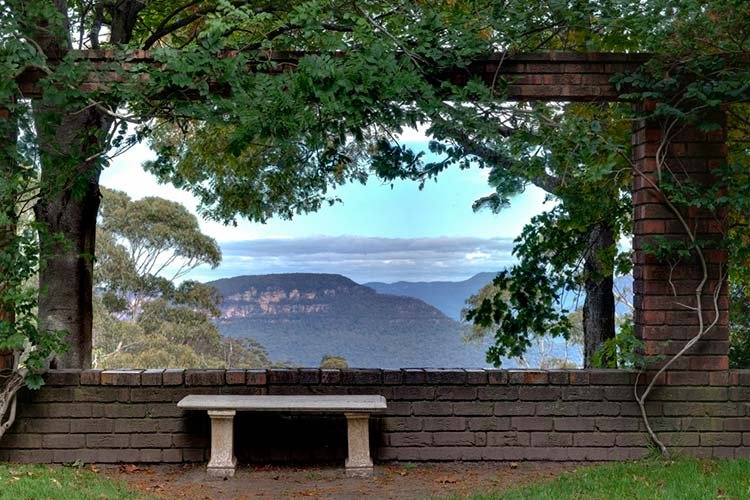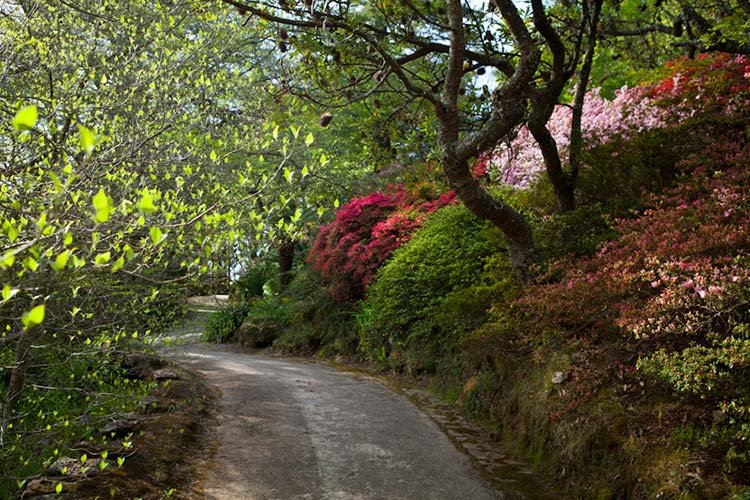 Hotel blue: Have a few drinks, kick back and enjoy the live blues & jazz music nights on Thursday, Friday and Saturday evenings at Hotel Blue.
Explore The Blue Mountains: Stroll through the book stalls and op shops, markets and candy shops or visit one of many iconic scenic views. Take a trip on a cableway , or just stay at Lavender Majestic (trust me, it's tempting) kick back and drink champagne. Because that's what we really need to do every now and again, right?
Getting there: From Sydney its about a 1h 45m drive, but I'll admit I'm a sucker for trains. So we packed some playing cards and a picnic and hopped on the train from Sydney Central. It was a beautiful two hour train trip and once we got to Katoomba station, Lavender Majestic was only a 10 minute walk away.
What I learnt from my trip? The Blue Mountains isn't just The Three Sisters- it's an incredible food and wine destination that you need to put on your Bucket List now.