1. Yamba, NSW
Just an hour and a half south of Byron, you'll find this laid back, quaint beach town. While Byron Bay has been in the spotlight and growing in popularity, Yamba's been flying under the radar but we're sure it won't last long! From surfing at Angourie Point or Pippi Beach to swimming in the calm waters of Convent Beach, holidayers will be spoilt for choice with 11 beaches to spread your beach towel at.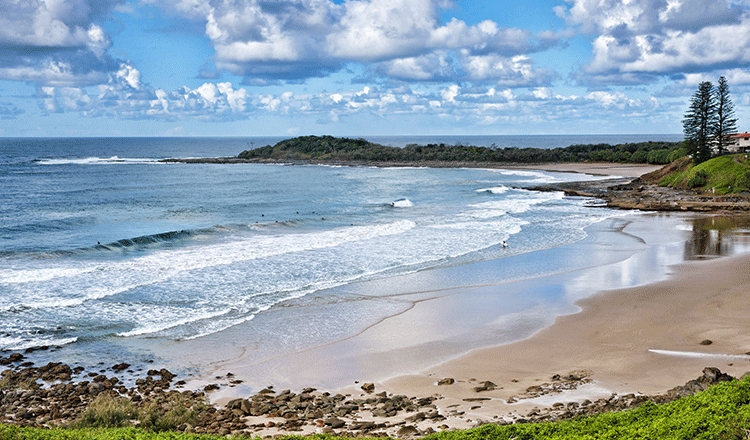 2. Magnetic Island, QLD
Only a short 25 minute ferry ride from Townsville, 'Maggie Island' (as the locals call it) offers a tropical island escape but without the crowds of the Whitsundays. Pack your beach bag and head to Picnic Bay for a relaxed day by the water. For Jet Ski rides, kayaking and other water sport activities, Horseshoe Bay is where it's at. If you're looking to get in touch with nature, there's 24 km of walking tracks – a great way to get a view over the bays or to meet the local wallabies and koalas.
3. Exmouth, WA: If you're an east coaster, you may have been distracted by the well-known West Australian beaches of Broome and Cable Beach. The town of Exmouth, south of Broome, offers an affordable Easter getaway. The town centre is only one km from the closest beach, Town Beach, and just a short 15min drive away from Bundegi Beach, the start of Ningaloo Reef Marine Park and less than an hour away from the stunning Turquoise Bay. The marine park is home to white sandy beaches with clear blue water and the largest fringing coral reef in Australia.
4. Mt Gambier, SA
Close to the South Australian boarder, almost bang in the middle of Melbourne and Adelaide is Mt Gambier, a town with impressive lakes and sinkholes. There are lakes dotted all around the area, but the most unique is the Blue Lake. True to its name, the lake is a vibrant blue colour up until March before the colour of the water changes to grey. Another must-do is a visit to the sinkhole turned garden, The Sunken Garden, a green wonderland of hanging vines and tree ferns.
5. Port Fairy, VIC
This small coastal town is at the end of the Great Ocean Road and a great value Easter holiday spot. It's got the charm of 19th century cottages and historic cafes overlooking Port Fairy's beaches. Griffiths Island is also an easy walk across from the edge of Port Fairy, a great spot for watching the sunset over the lighthouse.