We all know Aussies love a good road trip, but now we're into year two of lock downs and holidaying in our own backyard, it's time to spoil yourself. Lisa Perkovic tells us why it's time to take a cruise.
There's nothing like a pandemic to cause a nationwide shortage of caravans. When we couldn't fly, or sail, we hit the road. With the kids, the dog and everything except the kitchen sink. COVID-19 has grounded the big ships we're used to seeing sailing down under, but small ships like TRUE NORTH are still out there.
Here's five reasons why you won't regret busting out the bucket list for this one.
Leave the kids at home
Forget kids club, TRUE NORTH is all about the big kids having fun. Whether it's getting up at dawn to go barramundi fishing, drinking bubbles as the sun sinks below the horizon on the Indian Ocean or jumping into a helicopter to soar above waterfalls, these are adventures to share with your special someone.

Let someone else do the hard work
No more driving, fighting over directions, fuel stops or toilet breaks. Then the beauty of never seeing your suitcase until you finish sailing. The crew will take your bag once you've unpacked and deliver it back to you the night before you get off. You'll also never have to set up a single tent pole, awning or camp stove. Now that's winning. On board TRUE NORTH, they'll even bait your fishing line each and every time.

Forget shoes
Why do we always need so many pairs of shoes when we travel? TRUE NORTH has a barefoot policy that means you can leave the heels at home. Throw in a few kaftans, give yourself a pedicure and you're good to go.
Chefs the word
Mum, cleaner, cook, we've all got multiple titles but when you're on holiday you want to be none of them. Let the chefs do their thing. I tell you, they know what they're doing. TRUE NORTH has 36 passengers and a good handful of crew, importantly that includes two chefs. What they turn out from their galley each meal is a masterpiece. Unlike other cruises where you'll have a literal smorgasbord of options, each meal there's one beautifully polished dish. Think zaatar crusted lamb cutlets, braised beef cheeks and Moroccan chicken salad. And we haven't even touched on desserts.
Get a new perspective
The road less travelled is definitely the sea. TRUE NORTH is famous for Kimberley coast itineraries that take it through narrow estuaries, to majestic gorges and waterfalls. Unable to do international sailings last year, the yacht ventured down the southern coast of Western Australia, taking guests around Cape Le Grand's untouched white sand beaches and up the coast alongside the Margaret River region.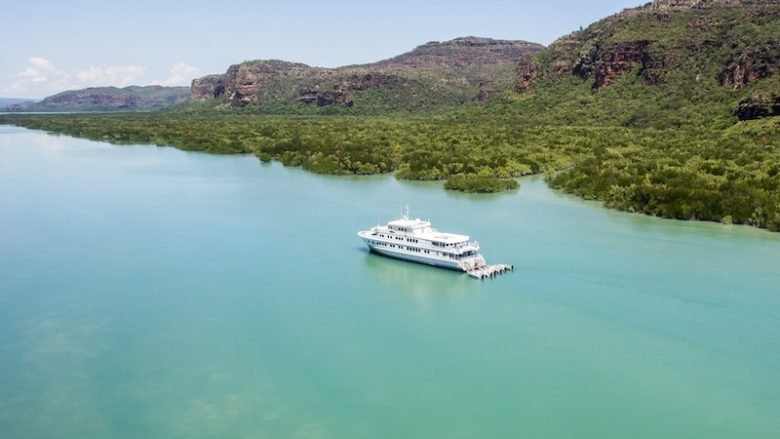 There's a time and a place for every type of holiday, but if you're looking to bliss out and see Australia from the sea, put TRUE NORTH on your calendar.