It was an experience like no other when father and son Jo and James Townsend took a spin in a V8 race car for an unforgettable morning at Sydney Motorsport Park thanks to Red Balloon.
Summoning all their courage, might and fortitude, the pair donned their full racing suit and after a briefing they each had a turn driving at lightning speed around the circuit accompanied by a professional racing driver.
"It was exhilarating and exciting," said father of two Jo Townsend.
"I was driving 180 kilometres down the straight with the instructor shouting 'more gas, more gas via an intercom in my crash helmet. Above the roar of the engine , he'd then say at the last minute 'a little bit of break' which was something I'd been wanting to do for the last five seconds as I could see the corner looming before my eyes.
"Going around the corners, you really have to put your trust in the car. The car sticks to the road like glue so it's very safe, and at no time did I feel like I was going to skid which is a relief."
Regaling the experience Jo shared with his youngest son James, he laughed about how keenly both of them heeded every word the instructor said.
"It's the one time you really do what your told to do," added James, who described the experience with his dad as more thrilling than when he parachuted from a plane.
In all, Jo and James did six laps around the circuit and while it went quickly, it felt like it lasted much longer because of the level of concentration required and the fact that it felt like you were taking your life in your hands.
"The more you do it, the more you find your feet," said Jo. "There's plenty of time to get into the whole experience and James and I both agreed we were improving every lap. After we did a hot lap with a professional driver at the wheel which was something else. Think the scariest ride at Lunar Park and then double it!"
The father and son debated who did the fastest lap as they checked themselves out on a video of them driving around track. The jury is still out on who was really the fastest driver.
What's included:
Six drive laps around Sydney Motorsport Park
Use of race suit, helmet, V8 race car
Safety briefing
Guidance from qualified and experienced instructor
In vehicle communication headset

V8 Race Car Driving 6 Laps – Sydney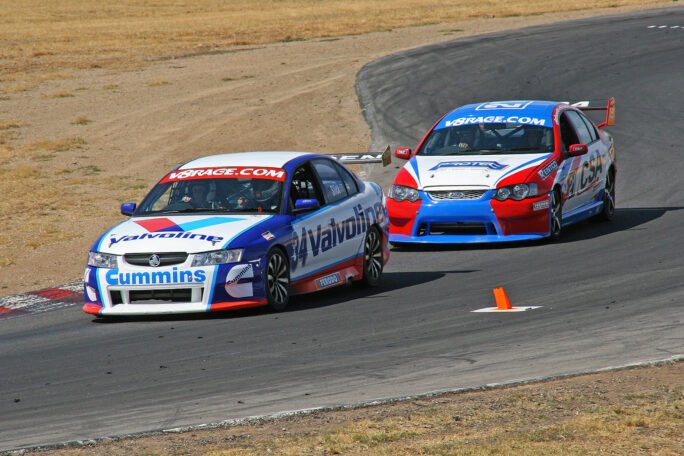 Gift e-vouchers available on the RedBalloon website. $450 per person.
Here are some other fun experiences to gift dad this Father's Day
Ranging from a tandem skydive over St Kilda in Melbourne, to a 4WD Beach Fishing Safari in Perth, there isn't a shortage to choose from across Australia! An extra bonus, gift cards are valid sitewide on RedBalloon, so the recipient can choose their perfect experience, all gift cards are valid for 5 years.
Gift cards are available on the RedBalloon website. Minimum spend of $25.
Hot Air Balloons
The perfect way to spend a relaxing morning with Dad. Daydream into the clouds as you enjoy a magical sunrise hot air balloon flight over the skies. Take in stunning vistas of valleys, rivers and mountains ablaze with colour, before savouring a delicious a la carte breakfast after the flight. Try out this amazing experience available at locations across the country.
Gift e-vouchers available on the RedBalloon website. $678 for 2 people.
For the Nature Loving Dad
A perfect gift for those nature loving Dads out there. Don't just whale watch – be there alongside them. See the magnificent humpback whales breach, hear their great tails slap the water and feel the waves rock the boat.
From $109 per person
Fishing
This saltwater sport fishing charter takes you off into the deep blue for a great time on the ocean with Dad! The vessel is equipped with a range of rods and reels for various kinds of fishing with the crew on hand to provide expert advice. Small group sizes and personalised coaching make this a deluxe fishing experience to share with your Dad.
Gift e-vouchers available on the RedBalloon website. $225 per person.