If you seem to have put on some weight over the past few months, you're not alone. New research conducted by the 1:1 Diet Cambridge Weight Plan shows we may have eaten our way through the COVID-19 pandemic with one in three of us piling on extra kilos during lockdown.
The research surveyed a sample of 1,006 Australians aged 18 years and older in April of this year. The results showed a quarter of those surveyed 'stress-ate' their way through the pandemic which led to one-in-three of us piling on extra kilos in isolation.
Add to this the fact more than half of our population usually put on weight during winter and this is important news for us right now.
We asked psychologist, Jemma Doley, is it common for people to eat more when they're under stress?

Absolutely, when under stress, our body releases its primary stress hormone – cortisol. Cortisol functions to help our bodies to mobilise energy which can stimulate appetite and trigger hunger. In particular, we're more likely to crave high fat, high sugar foods. Cortisol has several other negative effects on our physical health, including the increased storage of belly fat. Additionally, being under stress can impact the quality of our sleep, which is a further risk factor for weight gain.
When the pandemic eased and it was announced that some of our lockdown restrictions were easing, many people seemed to get stressed about this as well. Do people get more stressed when there is a lot of change in their life?
When there is a lot of change in our lives, many of us abandon our usual healthy habits. Many of our habits are contingent on certain cues (for example, we may have the habit of walking to the train station or buying a fresh juice at the café next door to work). When those cues change, we may no longer be prompted to perform the habit.
Being at home more during winter may also lead us to build new habits based around environmental or emotional cues. We may develop the habit of snacking in front of the television or eating junk food if we're feeling tired or overwhelmed. When these new habits start to become automatic responses, we're at greater risk for weight gain.
What are some of the other signs that people are stressed by the pandemic and all of the changes we've had to live with because of it?
The research commissioned by 1:1 Diet by Cambridge Weight Plan found that our screen time has increased 60 per cent which can lead to mindless snacking. When we're distracted and not paying attention to what we're putting in our mouths, we're more likely to eat more than we should.
During isolation, some people found they couldn't exercise as much and this – combined with poor sleep can also contribute to increased cortisol levels, which can further increase the risk of weight gain.
What advice would you give to people who are experiencing extra stress?
Firstly, it is important to acknowledge that we are all going through an unprecedented amount of stress at the moment. If you've fallen off the healthy eating wagon, self-criticism will only make you feel worse.
Practice being kind to yourself and acknowledging that you're only human, then re-focus on one or two small things you can do to get back on track.
Exercise is one the most efficient ways to reduce our cortisol levels. Making time for at least 30 minutes of exercise is a great way to reduce your stress levels and to increase your physical health. Choosing something you actually enjoy is more likely to help you stick to a regular routine.

Focus on getting a good night's sleep. Poor sleep can increase our bodies' cortisol levels and lead us to eat more. We can also lack the energy to engage in positive behaviours such as exercise.
Finally, reduce temptation. Stock your fridge with healthy foods including fruits, vegetable and fibre and protein rich snacks. If junk food is easily accessible, we're going to have difficulty resisting it. Do a pantry cleanse and ditch the junk food to reduce the temptation.
Here we talk with Dee, an Australian woman who gained 7-9 kilos during the COVID-19 pandemic. This was particularly hard for Dee as she had been successful in losing 55 kilos last year so she could join the SES with her daughter.

We asked Dee how she coped with the added stress of the pandemic this year?
Like most people, the Coronavirus Pandemic added a great deal of stress to my life and with that stress, I ended putting back on a little bit of the weight I had previously lost.
However, as a person who loves routine, I found that by returning to the 1:1 Diet, I could easily switch to focusing on returning to my goal weight.
Since restrictions have eased, have you been able to start exercising more?
The extra kilos I put on during the pandemic made it more difficult for our family to return to the activities we enjoyed when restrictions eased. By sticking to the steps of The 1:1 Diet, we were able to get back to enjoying the outdoors again as a family and return to a sense of normal.
Has this helped you lose some of the weight you gained?
The best asset in my weight loss journey are the routines I have in place for eating and exercising. Knowing what and when I am going to eat helps keep thoughts of food out of my head until it is time to eat. Having a plan really takes the pressure off what to eat and whether it is healthy.

Were you able to keep in touch with your diet mentor?
Isolation and social distancing measures made it more difficult at first to keep in touch with my diet guardian angel, but we quickly adapted to the covid environment, and through video conferencing we continue to met regularly, which kept me accountable. I always felt that as they were so positive in putting effort into helping me, I had to do the same.
Are you able to help with the SES now?
Coming from a family of volunteers, being part of the SES has been a life goal for both me and my daughter. I move trees, provide lighting at crime scenes, even get on roofs – things I could never have dreamt of doing at my old weight of 140 kilos. I'm now even in training for road rescue, which I'm really excited about.
Is your daughter proud of what you've achieved and the way you're still fighting to keep your health on track?
I love that my daughter and I have the SES as something we can be part of and enjoy together. Losing 55kgs kilos with the 1:1 diet has given me a new life that for a long time just seemed unachievable. Now, I have an amazing, crazy, hectic, rewarding family life and I just love it! My initial weight loss has given me the motivation to keep going and who knows what else I can achieve.
What would you say to other people out there who have put on weight over the past few months? Do you have any advice for them?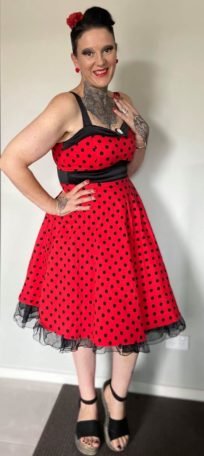 I know that everyone faces their individual challenges and has different levels of stress in their lives. That's why The 1:1 Diet by Cambridge Weight Plan has really helped me. You build a solid relationship with your consultant and they really listen and make you a priority. It is true that with a good mentor you really can reach your goals.
In conclusion, we asked Psychologist, Jemma Doley, what steps can Aussies take to recover their full health and be less stressed in what has so far been a very stressful year?
Finding a weight loss program that works for you can be really challenging and programs such as the 1:1 Diet by Cambridge Weight Plan where you have someone who looks over you, engages with you and takes a personal interest in you really can help to get results quicker.
If you're having difficulty managing your stress or managing difficult feelings, speak to your GP who can refer you to a psychologist to help develop strategies to manage your stress levels and build coping strategies.
While Dee lost 55 kilos last year so she could join the SES with her daughter, the pandemic saw her stress levels go through the roof. She wasn't able to exercise anymore, her one-on-one check-ins with her diet mentor stopped suddenly and she quickly gained 7-9 kilos.
Dee is certainly not alone in the struggles she has faced during COVID-19, but she recognised the slippery slope and took steps to get her health back on track.
For more information on the 1:1 Diet by Cambridge Weight Plan, you can visit here.
For more advice from Psychologist, Jemma Doley, you can read more here.