Designer, crafter and maker Lisa Tilse established her site We Are Scout in 2015.
Lisa's inimitable work, creative DIY craft projects and of-the-moment style have been picked up and championed by many of the world's leading design sites and over 40 international magazines.
Lisa, who has 20 years' experience as a graphic designer in Sydney and London, shares her inspirational finds in interiors, homewares, design and art, together with her contemporary design-led craft tutorials.
When she's not making things Lisa likes to visit galleries, ride her bike and eat gelato. But not at the same time.
Here we interview Lisa and feature an excerpt from her winning blog at the 2016 The Fresh Awards by Sydney Markets.

Styling and photography: Lisa Tilse
Congratulations on your winning entry in the Fresh Awards. Tell us what inspired you to write this story and share some of the favourite things you learned from it yourself.
Thank you! It was a really nice surprise to win the Blogger Award. I was inspired to write the story featuring Jodie McGregor Flowers because Jodie and everyone who works with her are the loveliest and friendliest crew, and they are so creative and knowledgeable. It was such a pleasure to be able to profile them. I was also inspired to create a step by step tutorial with Jodie on how to arrange flowers like a pro. Flower arranging can be daunting, so I thought that our audience – like me! – would love to get some tips on things like how to choose flowers and foliage, mix shapes, colours and textures, and how to put them all together. I particularly liked Jodie's advice on achieving all aspects of visual balance in an arrangement.

Jodie McGregor at Jodie McGregor's Flowers in Sydney's Annandale. Styling and photography: Lisa Tilse
We love your site, We Are Scout. What are you most proud of?
I love to inspire others to live a more creative life, so it makes me really happy to create and share my design-led craft tutorials, and to see people pinning and making them. I'm also really proud that We Are Scout was named as one of Domino magazine's Best Design Blogs 2016.

Styling and photography: Lisa Tilse
Did you imagine you would ever become a successful website founder? What are some of the key lessons you've learnt that you can share with other women starting out in business, particularly in the digital world?
No, I never imagined that I'd be successful online or that it would lead to so many doors opening for me. I started blogging purely as a way to journal and collate my work and my inspirations… it was way before Pinterest!

Styling and photography: Lisa Tilse
One of the most important lessons is not to compare yourself with others. It's such a tricky thing to navigate now that we are all so connected ALL the time! But the saying 'comparison is the thief of joy' is so apt. Stick to what you love and what you do best and don't worry about what others are doing. Find your tribe, your niche and work hard.
Tell us more about your career in Sydney and London prior to setting up your own site.
My background is in graphic design. I've had some amazing opportunities in design, including working on the Sydney 2000 Olympic bid, The Australian of the Year Award, and many brand identities and logo designs. I've worked in all areas of design for print and have also been a magazine art director. I still work as a freelance graphic designer and really enjoy it.

Styling and photography: Lisa Tilse
What are you most passionate about? Describe your favourite hobbies and interests.
I'm passionate about inspiring creativity – in myself and in others. I have a series on We Are Scout (and before that on The Red Thread) called Space to Create, in which I profile all sorts of creative people and give readers a studio tour and an insight into the creative process. It inspires me, and others, and it makes me feel good to have the platform to be able to do this. If I can help raise the profile of someone, or bring in some extra sales for them, that's a wonderful reward for me.
On a personal level my hobbies and interests mostly revolve around creativity too. I love to make things – anything, in any medium. I've always been a maker and I've never met a craft that I didn't like! I also enjoy going to galleries and markets and seeing what's happening in the world offline.
I'm an avid reader of fiction – when I get the time, and my 12-year-old daughter and I love to cook together which is always fun.
Any advice you'd give to your younger self?
Put yourself out there! Keep moving forward.
Here is an excerpt from Lisa's Award winning post:
How To Arrange Flowers: step by step with my fave local florist
Arranging flowers beautifully can be a daunting task, especially if you're going for an on trend asymmetrical look. This week I popped into my favourite florist  – Jodie McGregor Flowers – and chatted to Jodie about how to arrange flowers like a pro.
With many years experience, and as Sydney's most awarded florist, Jodie knows what she's talking about. I'm thrilled that she has generously shared her knowledge and tips to help you create a gorgeous statement flower arrangement at home.
Jodie has been a passionate and creative florist for 16 years and has a small team of talented women working with her in her Annandale shop. The interior of the shop is a riot of colour against deep charcoal walls. Blooms are gathered en masse and the shop is a flurry of activity with a constant flow of customers and couriers.
Now you've met Jodie and know you're in extremely capable hands, let's get started and make an amazing flower arrangement…

Styling and photography: Lisa Tilse
Choose Your Flowers – Jodie's Top 5 Tips
1. Jodie suggests that you start with the flowers that you love. If you choose the vase first you'll limit yourself.
2. Decide if you'd like your arrangement to be tonal or contrasting. If you go for contrasting, Jodie advises not to be timid – make the contrast bold.
3. Choose blooms and foliage that may not normally go together. This is how it works in nature and it's a good starting point for this type of arrangement. But don't be tempted to use too many different types of flowers!
4. Incorporate lots of foliage. It makes it easier to achieve a better shape and it holds the arrangement together, both structurally and visually.
5. Consider using nuts or berries to add texture and interest.
Jodie chose blooms in a soft peachy pink palette, together with foliage in various colours and nuts for texture. Make sure you have variety in tone, texture and size.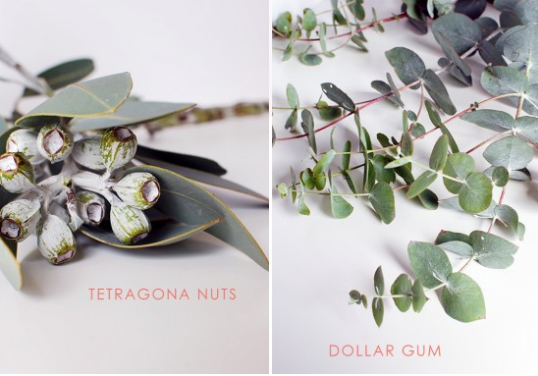 Styling and photography: Lisa Tilse
Tip: Choose A Vase
The length of the foliage and Dahlias means that a tall vase works best to balance the height. There are formulas for the proportion of vase to flowers, but Jodie thinks it's better to try a few options to see what works rather than being formulaic.

Styling and photography: Lisa Tilse
Make sure your vase is clean and use cold tap water with a teaspoon of sugar or bleach added to prolong the life of your flowers.

Styling and photography: Lisa Tilse