The challenges and triumphs of working as a woman in sailing
In general, navigating a yacht is quite challenging. It takes a special combination of concentration and skill as you are required to be 'always on'. In one day you are required to do countless jobs, including releasing the boat from moorings and pulling up anchors, finding new swimming spots, sailing to the next destination, socialising with the crew and guests, organising excursions, docking the boat and making sure the boat and passengers are safe at all times.
Through these repetitive motions and expected outcomes, you can train your subconscious mind to always be safe and steady on the boat. This helps if you are ever in a risky situation and have to think quickly, rely on your training and keep composure in front of guests.
Working my way up at Sail Croatia took time but was extremely rewarding. My plan was to always be a skipper but after my training, I decided to do a season as a hostess to gain experience on boats and learn by observing. I was lucky enough to be surrounded by experienced skippers who were great teachers. They let me support them during docking and undocking procedures, anchoring the boat, assisting with casting off inflatable boats and kayaks and raising and lowering sailings. When I was a hostess on Sail Croatia's elegance yachts the guests often joked with the skipper that the next time they would hire me instead! After my year as a hostess, I was ready to start my career as a skipper.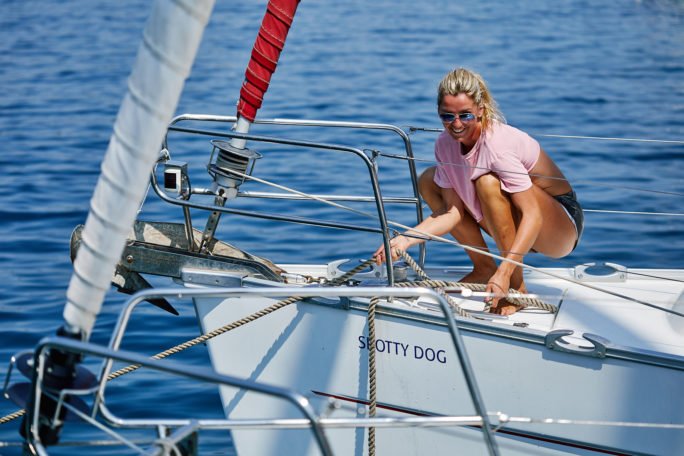 During my training, I was one of three girls learning to become a skipper. Although this number isn't high, it's great to see that women are becoming open to the idea of sailing as a career path. While I was training I made sure that I mastered handling the boats in all conditions as I felt like I needed to excel to be in a better position than my male peers.
Being Sail Croatia's first female skipper has been extremely fulfilling. The company has been supportive from day one and they've made sure that my gender hasn't been a hurdle, because it shouldn't be. Occasionally there will be someone that is surprised to see a woman as the skipper on their boat, but by being professional and giving guests the best sailing experience I've always been able to prove those people wrong. I find that the majority of the people are championing me as a woman in sailing, not discouraging me.
I'm also really excited about the prospect of introducing more women to sailing and can't wait to see more female skippers in Croatia.
Insights into spending every day sailing the beautiful Adriatic Sea
Even though I wake up to the beautiful Adriatic sea every day, I find early mornings really difficult! I like to sleep in, even when I have an early night. I've found walking, taking a cold shower and drinking a double shot of coffee makes it easier.

While you are seeing amazing sights each day, it is easy to fall into a routine when you're on the boat so I make sure I challenge my mind. I like to discover new local places, listen to new music, read a book, write blogs and do sport to mix things up.
Living with different groups of people every week is great because it opens your mind to new ideas and you have a different experience with each tour. Guests like to hang out with the skippers, so I am always learning about different cultures. By the end of the week, we become a little family, so we always exchange contact details and stay in touch. I am now lucky enough to have friends from all over the world!
Snippets of the best stories she's collected on the way
My favourite stories are always about the people I meet and the diverse backgrounds they come from.

Once I had a group made up of guys from New Zealand and Australian soldiers who were on holiday from Afghanistan. The stories they told and the energy they brought to the yacht made the whole group feel like one big family. They were always looking to have a great time, share their party trick and get the group involved in a good old sing-along. Environments like this are my favourite!

Another time I had an all-girl group, which was great after spending the whole summer listening to stories and jokes by boys. Every day we had a fancy outfit, made cocktails and enjoyed girl talk. A highlight from that week was sitting at the bow of the yacht as a group and seeing a pod of dolphins come by. The sea was flat and the sun was shining and the dolphins played around for about half an hour. It was such a memorable moment that everyone on the boat got a tattoo of a dolphin on their ankle. Sharing great moments like these is what makes working at Sail Croatia so great.
About Ana Marusec
Ana is Sail Croatia's first-ever female skipper who is about to enter her third season with the Croatian cruise company.
In the winter she is based in Zagreb and in the summer she moves to the seaside to spend her days sailing the beautiful Adriatic Sea.
Ana didn't have a background in sailing before she started and was working as a professional handball player. She took the opportunity for a change of scenery when suggested sailing as a career path by her brother in law (who is also a skipper) and hasn't looked back since.