Carmen Ellis is a continual voice in the fight to protect marine mammals and their environment. She is the founder of the eco-travel company Majestic Whale Encounters. Dedicating her career to working with animals, her childhood dream of swimming with the most intelligent and graceful animals on earth became a reality on a holiday in 2013, which led to the launch of Majestic Whale Encounters. Now hosting expeditions to Tonga, Tahiti and Norway to swim with humpbacks and orcas, guests get to swim along side these magnificent creatures with minimal impact to the environment, and discover more about whale behaviour. Here she tells her story to The Carousel.
I have always had a major curiosity about whales and dolphins and from a very young age had constant dreams of swimming in their underwater fantasy world. (I still do to this day!)
Growing up on the beautiful beaches of Cronulla (south of Sydney- Gods country as we called it!), I learnt to scuba dive at a young age, read as many whale and dolphin books as I could and spent as much time in the ocean as possible. I found an entire new universe I never knew existed, which led to a greater understanding and respect of the marine environment.
After high school I managed to grab some work in a small wildlife park and with this work I felt a need to get close to animals to be near them and understand them more. This then lead to Zoo Keeping and work at one of Australia's' most prestigious zoos, Taronga's Western Plains Zoo. A wonderful Zoo that specialises in education, breeding programs and protection of a variety of species both very large and small.
I always kept my passion of the underwater world though- in particular the large mammals that inhabited it: Whales, Orcas, Dolphins, Seals.
I was lucky enough to eventually experience a whale swim on a swim boat in Vava'u Tonga, which was slowly becoming a popular place to swim with humpbacks.
My first ever swim was with a sleeping humpback mother with her shy baby calf which slowly grew the confidence to edge closer to the humans in the water. He was smooth in appearance, with a crinkles around his head and eyes, light grey in colour with a soft white belly, which we could see as he sounds around upside down in a baby humpback ballet. It sounds cliché but the moment you look into a whale's eye you feel a surreal sense of serenity, calmness and connection and feel as though that whale is trying to communicate with you. Even if it's to say, " hey do you speak whale? Do you want to play while mums having a nanna nap?"
So that was it! I made up my mind that this was the right direction for me. I did have a few hurdles and challenges to face and to consider. I had one-year-old and also a newborn at home and embarking on a new business with a brand new family was not going to be easy. But then I thought about the life experience this could bring us as a family and how much we could all learn and experience as well as travel to wonderful places around the world. I also was lucky enough to have a fabulous husband who always gives me 110% of his support with family and work and so with that there was no stopping me! You only have one life right!

I stumbled across a small island called Ha'apai that sits about a half an hour flight from the mainland of Tonga on a short trip with my husband Matt and our first thoughts were that "paradise actually does exist", that "paradise had whales in it!" and "in paradise we could swim and interact with these whales"!
I literally pinched myself as I sat on the pure white sandy beach in front of my Authentic Tongan Bungalow staring out at the crystal clear warm turquoise waters of the South Pacific Ocean.
We drank champagne from an ice bucket (made of an over sized vegemite container from the resorts kitchen) as we watched the South Pacific Humpbacks frolic only 50 meters out from land at the edge of the brightly coloured coral reef
I was now " Living the dream".
When I started, we were taking about 20 guests to Tonga and now we take around 150 guests to 3 different countries and have plans to keep growing.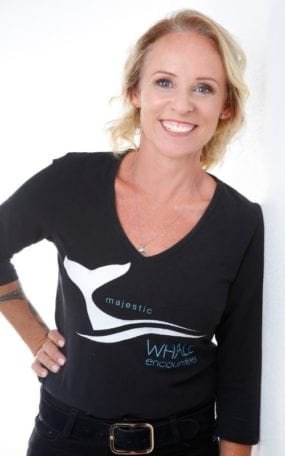 The Carousel would like to thank Carmen Ellis for her story.