His elated son Dane shared these pictures below of the momentous day the family has looked forward to for so long.
Wearing a Santa hat and a broad beaming smile, Glenn shook hands with staff, waving goodbye as he walked out of a Sydney hospital under a banner reading 'hooray'.

"After 321 days in Hospital, Dad was finally discharged today for good," Dane Wheeler posted on his Facebook page.
"Was an amazing moment and we are thrilled to have him home – he is absolutely pumped! Here's to further progress and better health mate.

He thanked staff at St George Hospital and Liverpool Hospital for saving his father's life and giving him "a second chance".
"Mum is a machine, this wouldn't have been possible without her tireless work every single day," he said.

Glenn, a radio and Seven TV personality, was left with serious head and leg injuries and placed in an induced coma after he was hit by a wagon while riding his scooter in Sydney on February 1, 2015.
The 59-year-old woman driving the wagon was charged with negligent driving occasioning grievous bodily harm and not giving way to oncoming traffic during a right turn at an unmarked intersection.

After Glenn's accident there was a huge outpouring of public support, including a gathering on Sydney's Eloera Beach of fans who formed a human chain on the sand to spell out 'GET WELLGLENN!'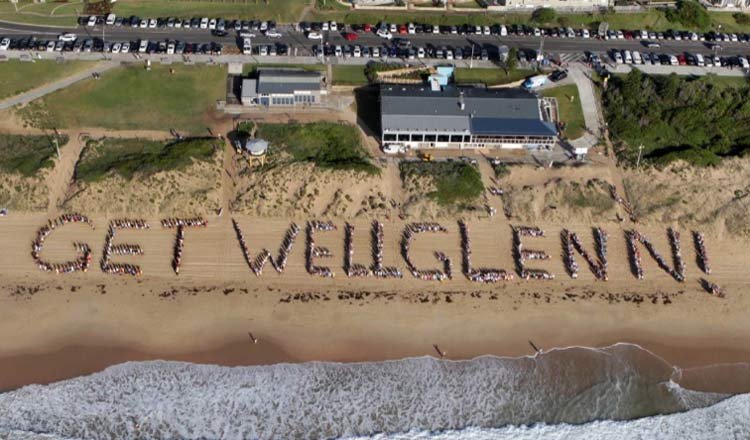 As his father arrived home just in time for Christmas, Dane also had a thought to spare for those who weren't as lucky as his family.
"Today I am also thinking of those who haven't been so lucky in these circumstances," he said.
"Especially the great man Marc Leabeater."
Marc Leabeater, of Cronulla, died when his motorbike collided with a car at Caringbah in December, 2014. He was 26.
For more information on how to contribute to the on-going fundraising efforts for Glenn click here.
On behalf of The Carousel team and all its many readers, publisher Robyn Foyster wishes Glenn well on his on-going recovery, and a very Merry Christmas and Happy New Year!