The giant of both the stage and screen had been suffering from cancer. He leaves behind his lifelong partner of almost 50 years Rima Horton, whom he married in a secret ceremony last year.
Famous for his roles as a villain, he entertained fans across the generations with his distinctive dry, droll, languid voice as seen in his much loved performance of Professor Snape in the Harry Potter films and as the evil Hans Gruber in Die Hard as well as the sheriff of Nottingham in Robin Hood: Prince of Thieves.

Notably recognized as a versatile actor with a range including his role as a cellist in 1991 starring alongside Juliet Stevenson in the romance Truly, Madly Deeply and as Colonel Brandon in Sense and Sensibility opposite actress Emma Thompson.

The star regularly teamed up with Thompson playing her husband and in 2003's Love Actually as well as her former lover in the 2010 BBC drama The Song of Lunch. They also worked together on Rickman's directorial debut, the acclaimed 1995 drama The Winter Guest. He later directed Kate Winslet in the period romance A Little Chaos.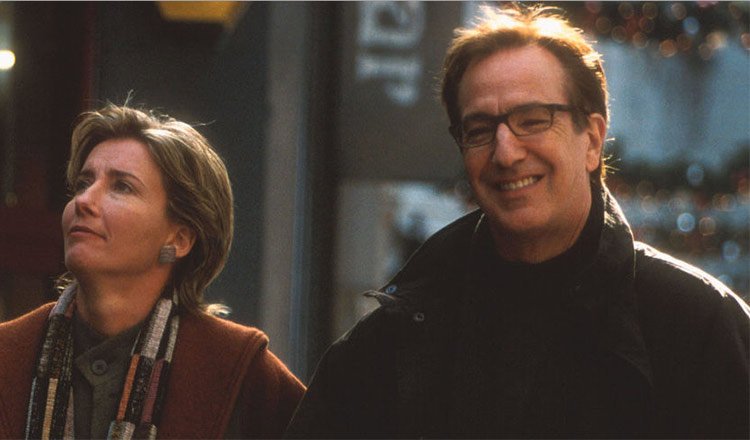 Thompson led the tributes, which came flowing in from the entertainment industry, saying:
"What I remember most in this moment of painful leave-taking is his humour, intelligence, wisdom and kindness. His capacity to fell you with a look or lift you with a word. The intransigence which made him the great artist he was – his ineffable and cynical wit, the clarity with which he saw most things, including me, and the fact that he never spared me the view.
I learned a lot from him. He was the finest of actors and directors. I couldn't wait to see what he was going to do with his face next. I consider myself hugely privileged to have worked with him so many times and to have been directed by him.
He was the ultimate ally. In life, art and politics. I trusted him absolutely. He was, above all things, a rare and unique human being and we shall not see his like again."
JK Rowling, the author of the Harry Potter books, said she was shocked and devastated. "He was a magnificent actor and a wonderful man," she said.

Dame Helen Mirren said: "Alan was a towering person, physically, mentally and as an artist.
He was utterly distinctive, with a voice that could suggest honey or a hidden stiletto blade, and the profile of a Roman Emperor.
He was also a great friend, generous and social. He will be very missed by many."

Stephen Fry, Eddie Izzard, and Mia Farrow were among those who paid tribute to the actor with many drawing parallels between the deaths of fellow British star David Bowie, who died from the same disease at the same age and in the same week.
Prior to his global fame from his Hollywood films, Rickman won acclaim as a stage actor after graduating from Rada and working with the Royal Shakespeare Company.
Rickman described himself as "a card-carrying member of the Labour party" and was actively involved with charities Saving Faces and the International Performers' Aid Trust, which seeks to help artists in developing and poverty-stricken countries.
His own love story was without doubt more heartwarming than the scripted tales he was given to read. He met his wife Rima Horton, a Labour party councilor, as a teenager in 1965 and they married in a secret ceremony last year after nearly 50 years together.
Asked what was the secret to a long relationship, he said: 'tolerance'.
"I think every relationship should be allowed to have its own rules," he told Hello magazine.
"She's tolerant. She's incredibly tolerant. Unbelievably tolerant. Possibly a candidate for sainthood."