Last year the annual outdoor art exhibition was held in the garden of Rosby vineyard in Mudgee, with over 230 sculptures exhibited by 90 different artists.
Former Art Gallery of NSW director Edmund Capon officially opened the event and in his welcome expressed his surprise at the calibre and diversity of works in the exhibition.
"Sculpture is no longer the poor cousin in the story of Australian art but a lively, thriving centerpiece," Capon said.
The event was a huge success, with approximately 2,600 visitors over the weekend. Over 120 sculptures were sold from the exhibition and the commission on sculpture sales will contribute to a ongoing arts initiative with the Mid Western Regional Council to develop a sculpture walk in Lawson Park, Mudgee.
Sculptures in the Garden provides a avenue for many of the lesser known artist to have their name and work displayed in front of potential buyers and curators..

"Josephine" by John Fitzmaurice below was inspired by the traditional Art Deco figurines that were common place in most households.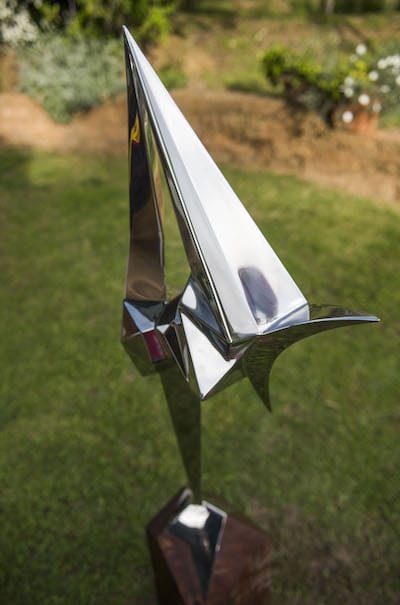 For more information, visit www.sculpturesinthegarden.com.au.
Mudgee will host the Sculptures In The Garden on Saturday 7th and Sunday 8th October, 2017.