As Australia anxiously awaits the results of the nail-biting finale on November 24, here are five fun facts about the Wollongong Wonder Boy to help calm the nerves.
1. Born to a Filipino father and Australian mother, Cyrus was fresh out of high school when he auditioned for the reality-TV singing competition. He credits his father, a full-time musician known as Jo Vill, for encouraging and nurturing his talent. "I never took any singing or guitar lessons – everything I know and have learnt from music before The X Factor was all thanks to him," he says.
2. One of his earliest musical memories was of singing during Christmas at age six."We were in America visiting family for the holidays and I sang Oh Holy Night while my dad accompanied me on the piano," he says. "It was one of the first times I sang in front of other people properly, and despite singing the wrong lyrics – 'Oh night device' instead of 'Oh night divine' – it was the first time my family and I knew that music was in my blood."

3. Cyrus's passion for performing grew as the years went by, working as his father's roadie during gigs before he started busking solo on the street and singing at cafes and weddings. "What made me fall in love with music is its ability to bring joy and emotion to other people," he says. "That was something evident when I watched dad perform – the room was always full of happy people."
4. Cyrus is already a massive star in his father's homeland of the Phillipines. Although Filipinos can't participate in the voting they interact with Cyrus on social media. "I can't believe the response from the Filipino community. To know I'm making them proud is a huge confidence boost and makes me want to go and on to achieve better things."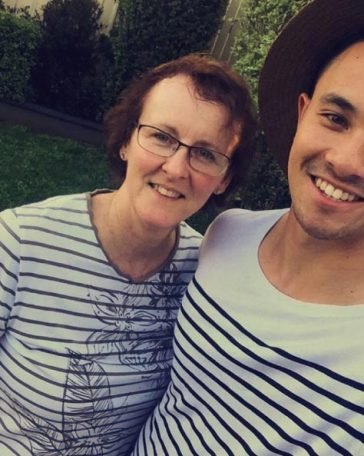 5. Design student Cyrus took Chris Isaak to his hometown of Wollongong before the Grand Final to spread the "Cyrus virus". The pair took time out for a surf and a tour of the city before Cyrus held a special free concert for fans. Even the city's mayor Gordon Bradbury turned out for the show, declaring himself an unabashed fan, "He's not only good looking… he's a well rounded individual."

• The X Factor Grand Final on Seven from 7.30pm also features superstar sisters Kylie and Dannii Minogue reunited in a world-exclusive, as well as performances from Jason Derulo, Rudimental and James Blunt. All your favourites will also return in a special Top 12 performance not to be missed.