Kids and cars can be a nightmare combination. It doesn't matter if it's a long-distance trip or what should be a quick stop at the shops. Being a parent can be challenging on the best of days, and anything that makes the day a little easier is much appreciated.
There are new cars on the market right now, with features that could change your life. Sounds dramatic, but as a parent, that's what it feels like at times.
Built-in booster seats
Once your children have grown out of their child seats, they can move into booster seats and Volvo offers integrated two-stage booster seats across a range of models including the XC60 and XC90.
The seat base pops up and can be locked at two different heights, as seen in the image above or you can see it in action in our video.
Imagine never having to drag booster seats in and out of the car ever again. Heaven.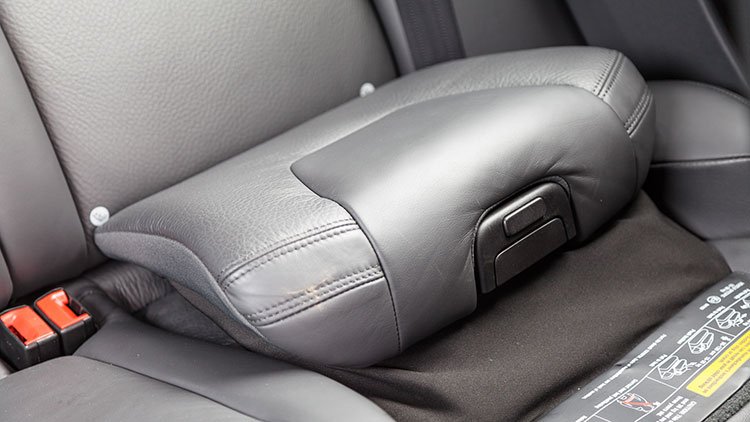 Hands-free tailgate
Imagine you have a baby in one arm, the other hand is leading a tantrum-throwing toddler and shopping bags are hanging heavily over both wrists.
Upon finally making it to the car, what gets dropped in order to open the boot? Nothing at all, if you have a hands-free tailgate!
A sensor, generally located under the rear of the car or near the opening lever, can be triggered with a wave of the foot or elbow. No need to fish around in an overloaded bag for keys, either, thanks to proximity sensors. There are quite a few cars available with this feature including the Ford Kuga, Hyundai Tucson and Nissan X-Trail.
Foldout table
Okay, so this may look more like an office space on wheels, but don't overlook its potential to help keep the kids entertained.
The Volkswagen Multivan features a foldout table with multiple storage areas. It's perfect for board games or computers, and there's room to tuck all manner of miscellaneous things out of the way, preventing them from rolling around on the floor while travelling.

Loudspeaker system
It makes sense to have a way to communicate between the front and rear seats in a people mover. Between the sheer size of the vehicle, road/engine/wind noise and the fact that everyone is facing the same way, a loudspeaker relay system allows for parents to bark directions at the kids without the need for yelling.
Both the Mercedes-Benz V-Class and Volkswagen Multivan have a microphone near the driver that's linked to speakers in the back of the cabin.
MORE: Luxury people-mover comparison : Kia Carnival v Mercedes-Benz V-Class v Volkswagen Multivan
ISOFIX compatibility
ISOFIX anchor-points have been installed in cars for the Australian market for years, but it's only recently that we've been allowed to use them. The ISOFIX system makes it easier to install a child seat safely and securely.
There are only a few cars available here that have ISOFIX points on all three second-row seats, including the Audi Q7, Holden Commodore VFII, Citroen Grand C4 Picasso and Tesla Model S.
For more about how ISOFIX works, click here.

Parent mirror
A second mirror that sits above the rear-vision mirror provides a birds-eye-view of what the kids are up to in the back. If they suddenly go quiet, that's when it's likely they are up to no good. Best-case scenario, they've gone to sleep.
A parent's mirror provides peace of mind and is certainly safer than turning around to look while driving. The Kia Carnival, Toyota Kluger and Citroen Grand C4 Picasso both have this feature.
BONUS: Having multiple USB points around the car also comes in handy to keep iPads, iPhones and iPods powered-up, so an honourable mention has to go to the Land Rover Discovery Sport which has two charging USB points in the second row.

The Carousel thanks Tegan Lawson from Car Advice for this article