WELCOME TO THE FIRST IN OUR NEW SERIES OF UNSUNG HEROES
As a mother and the wife of the Northern Territory's top public servant to the deadlines of a newspaper as a gardening columnist, Diana O'Brien has led a full and exciting life that includes living across Australia and surviving Cyclone Tracey.

Diana O'Brien knows a thing or two about what makes a good horse. As a younger woman, Diana was often trackside with her husband, the then Secretary of the Northern Territory Department Alan O'Brien at the Darwin Turf Club in fashionable Fannie Bay.
"Race day in Darwin was always a very sociable affair," recalls Diana, 86, a resident of NewDirection Care at Bellmere in Queensland. "My husband ran the Department of the Northern Territory, so he was the top public servant in Darwin at time. He always had a good eye for horses, and I learned to appreciate what makes a good racehorse from him. I always love the spring racing carnivals and watch the races on television every Saturday."

Diana also keeps a note of which horses are good performers, especially over the longer 2400 metre distances so she knows which horses are in form for the Melbourne Cup, her favourite racing event of the year.
"I always try to have a flutter on the Melbourne Cup," Diana says. "It's such a wonderful day, full of colour and excitement. I like to think that I can still pick a winner or two."

Diana came to Australia from England with her husband in 1958 and they settled into life in Canberra before moving to Darwin with their young family in 1973, not long after the Department of the Northern Territory was created by the then Whitlam Labor Federal Government.
They lived in Fannie Bay, not far from the racetrack, and during one afternoon's racing Diana's husband was so excited by the activities he bought the family its own racehorse.
"That's one of our great family stories," says Diana's daughter Georgina. "That day when dad went to the races, had a few too many and bought us a racehorse."
Alan O'Brien's tenure as Secretary lasted from 1973 to 1975, a period which included the disastrous Cyclone Tracey and its aftermath. "The Secretary's house was supposed to be cyclone proof, or that's what we were told when we moved in," recalls Diana. "But that didn't make one bit of difference to Cyclone Tracey. As soon as the wind hit, bits started to fly off all over the place and we grabbed the kids and ran."
They survived, of course, but after Alan's tenure finished, the O'Briens moved back to Canberra and a more sedate life.
And it was there during the late 70s that Diana discovered another talent, for writing. Always a keen gardener – something she inherited from her father – Diana applied for a job as a gardening columnist at The Canberra Times and to her surprise, she got the job.

"It was the perfect job for me," she recalls. "I have always loved gardening and have always kept very lovely gardens at our homes, but I never imagined that I'd become a gardening columnist. But it was one of the best things I ever did. I loved it."
Diana lived a quiet life in Canberra until 2018, when tragedy struck her family. Two of her adult daughters died quite suddenly. "I lost two daughters – one from a brain tumour. She died from a brain tumour but she managed to survive for three years, well beyond the usual 12 month prognosis the doctors gave her at the time. And then I lost another from a pulmonary embolism, just like that. To lose the two of them like that so suddenly within 12 months of each other was quite a shock."
Diana stayed on in Canberra for a short time but eventually decided to seek a new path. "Georgina had been coming down to visit me in Canberra and looking after me for a short while and then I decided that she couldn't keep doing that and that it was the right time to come up to Queensland, and that is how I ended up here at Bellmere."

Today, Georgina visits most days as she lives just 10 minutes' drive away.
"It was a really good decision," says Diana. "This is a wonderful place to live and there are always lots of activities to participate in, and I like that very much. The people are lovely too, both the people we live with in our shared house and especially the staff, who are very attentive.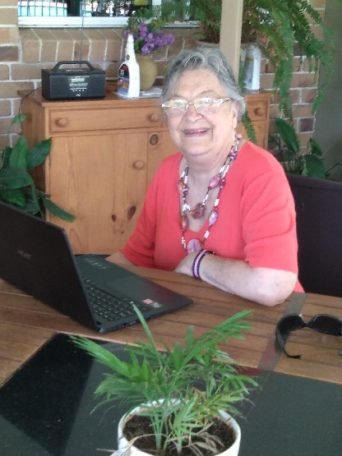 "I used to do a little gardening here but I'm finding it a little difficult to move around these days. Besides, there are a lot of horse races to watch and I'm getting ready for the Melbourne Cup. I'm really looking forward to that."
Hero picture: Sir John Kerr and Alan and Diana O'Brien on the tarmac at Darwin airport, NT.