At this time of year, selecting the right gift that ticks all the boxes can be a daunting task. Let me share my savvy tips and tech gift guide to help you conquer that pesky list so you can have a relaxed and stress-free time.
Here's your ultimate tech ultimate tech gift guide covering everyone in your life.
Savvy Tips:  An easy way to match the perfect gift to your loved one is to zero in on what they love.  Shopping tried and true brands you know will delight, gifting this year will be a simple exercise.
This gift guide accommodates a range of passions from a brand we know and love – Samsung. Whether you're buying a gift for the whole family to share or a gift for that special someone, this list has you covered.
Fun and Fashion
Samsung Galaxy Z Flip3 5G – I have to admit I love a flip phone and this iconic look is the ultimate must-have fashion accessory. The Galaxy Z Flip3 5G is fun, flexible and fashionable and the perfect fit for the runway or a night at the ballet.   Available from RRP $1,499
AirDresser Clothing Care System – Not just for fashionistas but a secret weapon for everyone who invests in quality clothing.   This next level in clothing care should be an addition to every wardrobe.  Keep your fashion fresh with the AirDresser. Refreshing clothes between washes and protecting from allergens and odours, the AirDresser cares for clothes and wellbeing.
Available from RRP $2,999
Fitness Fetish 
Samsung Galaxy Watch4  – No longer for just telling time, I love the health features on this device.  Not only does it help track workouts but monitors body composition, blood pressure and your heart rate using its new TGA-approved ECG monitoring. This will be loved by fitness fanatics and wellness advocates alike.
Available from RRP $399
Samsung Galaxy Buds2 – Light, small earbuds in an array of gorgeous colours, Galaxy Buds2 offers incredibly immersive sound, active noise cancelling, and most importantly, a comfortable fit.
Available from RRP $219
Wellness Conscious:
Samsung Air Purifier range – this is the perfect caring gift for the entire family.  It has already been a high pollen season triggering our allergies.  Now we are reopening our home post-COVID-19 lockdowns, Samsung's Air Purifiers also addresses dust, smoke and all the nasties floating around our environment.
this is the perfect caring gift for the entire family. Now that we are reopening our home post-COVID-19 lockdowns, and with a high pollen season triggering our allergies, Samsung's Air Purifiers are great for addressing dust, smoke and all the nasties floating around our environment.
Available from RRP $449
Woman on the go:
Samsung Galaxy Z Fold3 5G –For the stylish woman who loves innovation, the Galaxy Z Fold3 5G should be in her Christmas stocking.  The Galaxy Z Fold3, combines style, multitasking capabilities, and flexibility with incredible pocket-ability.  Available from RRP $2,499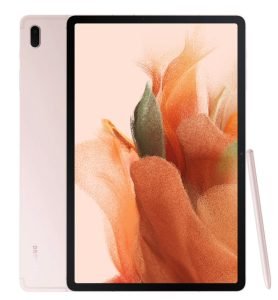 Samsung Tab S7 FE – For the inspired and creative someone in your life. Samsung's latest Tablet, Tab S7 FE, includes the S Pen and range of creative tools and pre-loaded apps such as Better Digital Drawing and PEN-UP, a gift for the true creative.
Available from RRP $799
Home & Décor devotee:
The Serif TV – Samsung's The Serif TV immediately demanded my attention with its 360° unique statement design that frees the TV from being location-dependant. Designed by the Bouroullec brothers, where tech innovation meets design inspiration.  Yes Santa, please pop one of these under the tree for me!
43-inch The Serif Available from RRP $1,195 and 55-inch The Serif Available from RRP $1,695
The Frame TV –
The iconic The Frame TV transforms your home into a gallery, featuring art mode displaying world-renowned artworks or as importantly, cherished family memories. A designers' dream, the fully customisable frame matches the style of any home and elevates any décor. The TV even makes a stylish feature  for your home when you are not streaming a movie.
Available from RRP $1,629
Energetic entertainer:
The Terrace TV –
The Terrace 4K QLED Smart TV is the perfect festive gift this holiday season.  With the warmer weather upon us, the Terrace TV elevates entertaining outdoors. Resistant to water and dust with IP55 rating and advanced Anti-Glare Technology, the Terrace takes Alfresco entertainment to the next level and definitely provides a festive season to remember.
Available from RRP $3,999
Whether you are stocking stuffing some fabulous earbuds or purchasing a family present for all to enjoy, remember the gift is really to facilitate the good times and appreciation for our loved ones.
Have a sensational, stress-free festive celebration and happy shopping!
About Samsung Electronics: Samsung inspires the world and shapes the future with transformative ideas and technologies. The company is redefining the worlds of TVs, smartphones, wearable devices, tablets, digital appliances, network systems, and memory, system LSI, foundry and LED solutions. For more information visit Samsung here.
This is a sponsored post by Samsung. All opinions expressed by the author are authentic and written in their own words.