I have a tendency to choose style over function and so there is nothing I love more than when the two come together in a stylish package and with specs I didn't even know I needed. The Jabra Elite 85t earbuds are far from being run of the mill and the perfect companion for your WFH lifestyle. If you like a bit of sparkle in your life, they come in Gold Beige, or stick with classic black.
With WFH now standard practice, Jabra's Advanced Active Noise Cancellation technology allows you to pick and choose which sounds you want to block out during those never-ending work calls. The fully adjustable digital ANC, allows you to slide between full ANC, full transparency with HearThrough mode, and every possible level (there's 11!) in between.
This has got to be the biggest perk to the Elite 85t's and I especially loved that you could switch between settings with a touch of a button for when you need to order that all important morning coffee from your Local.
Speaking of work calls, another feature of the Elite 85t's is the three professional-grade microphones built into each bud. They've also added sidetone, so you can hear your own voice more naturally on calls, along with wind protection algorithms, so your conversations will be crystal clear. This means you can take your meetings outdoors and move your body while you get a dose of vitamin D.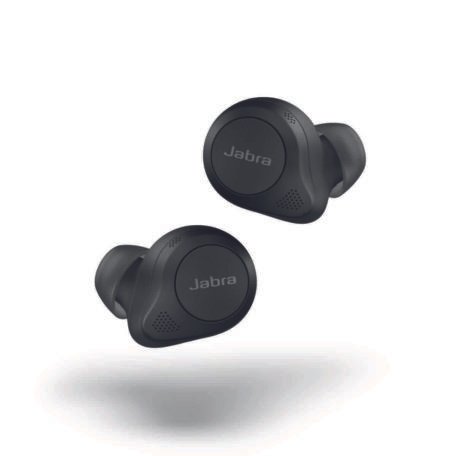 With so many amazing specs, you'd expect the earbuds to be clunky and uncomfortable. I was pleasantly surprised by the oval, semi-open design that sat comfortably in my ear for most of the work day. The earbuds come in three sizes of smooth, silicone oval EarGels™. And I appreciated the small touches such as the flat bottom of the case so it can charge upright.
I've merely scratched the surface of the Elite 85t features, here's everything you need to know:
Compact design and oval silicon EarGels™ for a secure seal and comfortable fit
Dedicated ANC chip which is more efficient in cancelling surrounding noises
Adjustable ANC with dual sliders for full ANC or full HearThrough
6-microphone call technology for superior calls wherever you are
4-microphone ANC using mics on the inside and outside of the earbuds
12mm speakers for big sound and powerful bass
Semi-open design with natural hear through
IPX4-rated durability and 2-year warranty* against dust and water
Up to 5.5 hours battery on a single charge and up to 25 with the charging case with ANC on, 7 hours battery on a single charge and 31 hours with ANC off
Qi-certified, for wireless charging, and compatible with all Qi-certified chargers
Customisable equalizer in the Sound+ App makes your music sound even better
Voice assistant enabled. Elite 85t comes with Alexa Built-in, also works with Siri® & Google Assistant™
Bluetooth 5.1
'MyControls' to define button settings and MySound for individualised sound
MyFit via the Sound+ app, ensuring the best possible fit and seal for users
Opportunity to personalise the name of the Jabra Elite 85t
The Elite 85t's retail for $299.
Here's what else is new to the headphones market.
For the music lovers: CX 400BT True Wireless headphones from Sennheiser
Stylish, minimalist, and perfectly balanced, the earbuds' ergonomic design from Sennheiser brings its high-end acoustic technology to an exciting new pair of everyday earphones. With intuitive customisable controls, all-day comfort and a 7-hour battery life that can be extended to up to 20 hours using the supplied charging case, they are the ideal, uncompromised choice for anyone with a passion for great sound.
Retailing for $149.95
For those who go all day: HUAWEI FreeBuds 4i
If you need your earbuds to last all day, Huawei has you covered with the large, high energy density battery in the compact frame of their latest FreeBuds 4i.
When ANC is turned off, HUAWEI FreeBuds 4i offers 10 hours of continuous music playback or 6.5 hours of a voice call. Together with the charging case, it can achieve 22 hours of music playback or 14 hours of a voice call. With their industry-leading quick charge technology, you can enjoy 4 hours of audio from a 10-minute charge.
Retailing for $159
For those that want to control the noise around them: IQbuds2 MAX
The latest development by Australian-based, smart-hearing company Nuheara, the IQbuds2 MAX hearing buds were recently named one of the top 100 inventions of 2020 by TIME magazine. The IQbuds2 MAX uses the latest acoustic technology, which enhances normal hearing and allows users to fine-tune their sound environment. Nuheara's EarIDTM technology and Speech in Noise Control (SINC) provide wearers with unrivalled customisation and control over their personal hearing experience, so they can enjoy music, conversations or silence wherever they go.
Retailing for $499