Eco-awareness around transport, fashion and beauty is on the rise thanks to a raft of consumer-focused campaigns driven largely by non-profits. However, there's one sector that contributes significantly to environmental degradation and yet it's still noticeably missing from consumer education campaigns and that is the building and construction industry.
Building and construction is responsible for 39 per cent of all carbon emissions in the world, and our buildings are also responsible for 50 per cent of global resources extraction and 50 per cent of landfill, according to the World Green Building Council.
Jeremy Barnett, Managing Director of Planitree,  an online green building marketplace, says: "Buying green building products is a challenge for consumers." He adds: "The market is fragmented, and professional specifiers and consumers are forced to research hundreds of websites, compare prices in multiple currencies, understand taxes and import duties, and manage freight costs and delivery times."
"The entire planet's building stock is estimated to double by 2050, so we better build greener, faster," he emphasises.
Planitree is dedicated to making green building shopping easier for both consumers and industry professionals. If your mind automatically goes to solar panels and insulation batts as you read that, and therefore your eyes are glazing over, think again. The Planitree website is full of the more fun home building items like lighting, furniture and paints, and is helped by an aesthetically pleasing design. It offers beautiful virtual stores, multi-site ordering and cross-border fulfilment capability.
A tree will be planted for every transaction carried out via Planitree!
When you shop at Planitree, the products are delivered carbon-neutral – and remarkably – there's a tree planted for every transaction!

Ecosium's 'The Big Desk' is a case in point. Ecosium, a Planitree supplier, makes high-quality desks which are built to last from sustainably-grown Australian native timber that is PEFC and FSC certified, and rated Super E0 (the lowest VOC emission rating obtainable) by the Engineered Wood Pproducts Association of Australasia. Ecosium products are packaged with 100 per cent recyclable paper and cardboard packaging – and zero plastic.

For furniture which will help solve the globe's plastic problem while still looking gorgeous, see Wehlers 'R.U.M. Original Orange' designer chair from Denmark, made from sea plastic collected predominantly from the Scandinavian seas and harbours.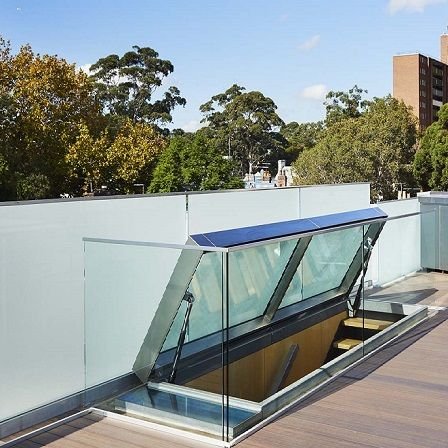 If you dream of your having your own rooftop terrace, you'll appreciate Tilt Industrial Design's 'Tilt Skylight' – the only operable glass skylight available which can be utilised with a standard staircase. Created for architecturally designed projects, Tilt Skylights enable roof terraces to become seamless extensions of the home, along with increasing natural light and ventilation.
"The line between sustainability and wellness can also be blurred, and we see that in a lot of the products on Planitree," says Barnett. "Sustainability is good for the planet and wellness is good for humans. Biophilic design principles are increasingly being applied by leading architects in buildings to promote wellness for humans. Methods include the use of natural materials, paints with low VOCs and products that increase our connection to nature by promoting natural light and ventilation, such as Tilt Skylight."
"Each of us can be part of the solution by choosing eco-friendly products for our own home, while architects and builders can source project-sized quantities of materials safely and conveniently.
"We're very new but have already onboarded 40 suppliers from 15 countries. The next step is to ramp up the number of suppliers to increase choice for buyers," he adds.
Planitree recently gave Australians the chance to own shares in the company through an equity crowdfunding campaign on Birchal.
For more information on Planitree, visit here.
For more from The Carousel on eco-friendly innovations, visit here.
These Emerging Business Concepts Could Change The World For Good