Dan Kaufman is a man of many talents, swapping a newspaper role at the Sydney Morning Herald for a career as an author. Here, Dan, the author of the comic satire Drowning in the Shallows, writes about life on Sydney's social scene for The Carousel.
There was a time when I spent almost every night in a Sydney bar, and every morning being attacked by an abusive cat who loved having a victim too hungover to protect himself.
This, for almost a decade, was my life as a bar reviewer/social scene reporter/scratching post.
At first, I thought this was glamorous. Well, not the scratching post part, but rather being invited to parties that would never normally allow a slob like me in. It was like being in La Dolce Vita, only instead of dressing in sharp suits I was in cheap op-shop clothes that I bought not out of irony but because I thought 70s polyester was fashionable. Ok, maybe it wasn't anything like La Dolce Vita. It turns out when people want you to write nice things about them they never correct you on your fashion choices. In fact, they'll pretend you're amazing and funny and great, which I found far more addictive than the liquor ever was.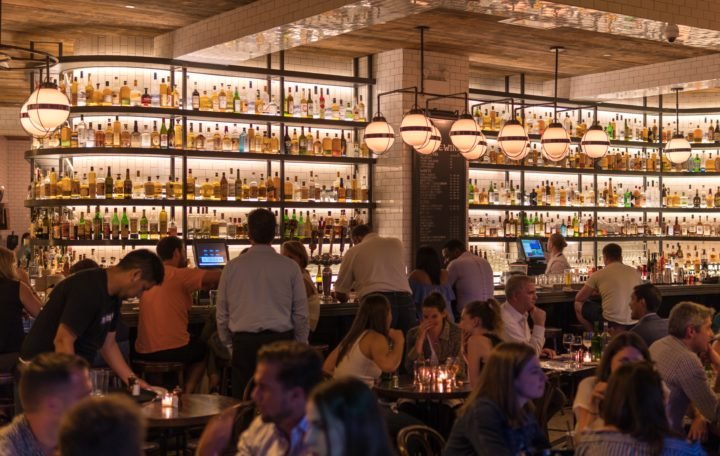 Don't get me wrong – I did love the liquor, along with the glamourous socialites, and free canapes, and the glimpse into another world that was filled with bizarre behaviour that beat anything on TV.
After all, these weren't your average bars and pubs. Instead of karaoke there were burlesque dancers, instead of pokie dens there were roped-off VIP sections, and everywhere you looked was a tipsy celebrity who was three free cocktails shy of behaving badly enough to then get shamed by a snooping journalist like me.
Naturally, these bars were hard to access, and so there were passcodes, metal membership cards (that I was too naïve to realise were for cutting cocaine), hidden rooms and sometimes hidden toilets.
The inspiration for my novel (did I shamelessly mention that yet? It's called Drowning in the Shallows and can be ordered from all good bookstores – and some bad ones as well), hit me when I was in a bathroom where the toilet was so well hidden I couldn't find it. Two women waiting outside starting yelling at me, before criticising me to each other.
"He must be having a masty," one said.
"Why can't they last this long during sex?" the other said.
"I'm coming!" I screamed in frustration, before realising how that must sound.
And then it hit me: there might be a novel amongst all this humiliation.
Like most great novels, my book is also about the passionate love affair between the narrator and his vicious cat, in addition to being a parody of how men behave when it comes to women. As a flawed member of my flawed gender, I wanted to write a book that might make men rethink their approach to sex and how they behave – I'd like to think that if a younger version of me had read this, then I might have behaved a little better myself.
Then again, I might also have had second thoughts about adopting a cat.

Drowning in the Shallows is a comic satire by Dan Kaufman. It's just been published by Melbourne Books and can be ordered from bookstores and Amazon.
The Carousel would like to thank Dan Kaufman for his story.