Actress Tammin Sursok talks to The Carousel about her career in the US, life as a mum and her uplifting new role as an ambassador for May Gibbs. 
Best known for Pretty Little Liars, The Young and the Restless, and Home and Away, Australian actress Tammin Sursok has been relishing her new role as an ambassador for the latest May Gibbs lifestyle range. In fact, the sweet, uncomplicated world of Cuddlepot and Snugglepie has been a million miles away from the tough challenges of 2021 for Tammin and her family.
Here, the mum of two, who currently is based in Brisbane, tells us about the new range, the challenges of motherhood and how her husband is faring after coming down with COVID.
You've lived in the US for the past 15 years what brought you back to Australia this year?
I moved to Brisbane with my husband Sean and daughters Phoenix, 8, and Lennon, 3 this year so I could shoot a film. We had 48 hours to turn everything around, get on a plane out of LA and go into quarantine. I thought great, afterwards we can then see my parents and brother in Sydney, however then lockdowns happened and we've basically been stuck here ever since.
Has it been tough not being able to see your family in person?
Yeah it has. I speak to mum everyday, but talking to her and dad almost feels harder as time goes on as I so want to see them face to face. They haven't seen the girls now for two and a half years in person. I'm excited for when the time comes, but also now a bit numb to it, as you just don't know when there will be more closures. However, everyone is in the same boat. I'm still so glad I'm back here, as there was a lot fear in the States, lots of Covid cases and deaths when we left, so to come here has felt like real life again.
What do you like about the latest May Gibbs brand? It must be nice to be involved in something so lovely?
Absolutely. There's a great range of lifestyle products featuring kids clothing, crockery, blankets, pillows, cushions, colouring books and Santa sacks. The illustrations are so sweet, recognisable and really enhance the vivid tales. Plus, I love how the stories are all about friendship and resilience whilst showing kids just how beautiful Australia's native flora and fauna really is. The new collection looks so classical and elegant, featuring the dreamy khaki, brown and grey tones of our bush, but with a bit of a modern pop of colour here and there as well. They're so well designed, you can really treasure everything and pass them down to generations – I certainly will be.
 With Sean being American, why is it important to be involved in something as typically Australian as May Gibbs' tales of Cuddlepot and Snugglepie as far as your daughters go?
It just brings up so much nostalgia, and I feel like I'm handing down a part of me which has gone into their hearts and souls. You always want your kids to experience the same magic you experienced in own childhood. We don't live a very typical life in that we travel around with our productions as Sean is a producer-director as well. So, it's important the girls know how I grew up and what my Aussie roots are.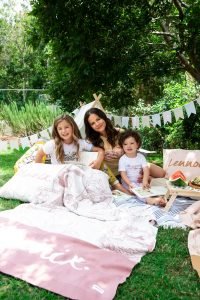 It must have been really hard when Sean was diagnosed with COVID in January this year. What's that been like for him and the family?
It was a wake-up call for us, we were like, 'Oh my god this is really dangerous.' The kids and I were so lucky not to get it. Sean was over the worst of it by March but he still has some long-term effects. He developed some kind of inflammation in his body and joints and has become allergic to certain foods. Every time he eats something his stomach is in a lot of pain so we're doing currently doing testing. We don't know what part of his body it will inflame next.
That's been the biggest issue through all of it – not knowing how it's going to affect you. My husband is young and had no pre-existing conditions but it was really hard on his body. In the States we knew so many people who got Covid and for some it wasn't an issue, whilst for others massive.
What part of motherhood for you is the most challenging?
The hard thing has been retraining myself to parent my girls using empathy and understanding along with consequences and solutions. Instead of just yelling during frustrating times, I try to calm myself down. On the other hand, I didn't know I could love this deeply – it's such an intense feeling!
What else can we look forward to seeing you in acting wise?
Our film Braking for Whales is now on Apple TV and a series I shot called Aussie Girl is being released in the US next month which will be exciting. Plus, there's a few other shows in the pipeline here. I've also been working on my Podcast Women on Top which has been great. For me next year can't come quick enough!
The latest May Gibbs collection is available from Big W.