We chatted with Sans Drinks founder and CEO, entrepreneur Irene Falcone about being sober curious and Dry July. 
What motivated you to become sober curious?
I was sick and tired of feeling tired all time, I was eating well and couldn't understand why. Then I looked at how much I was drinking and realised it was 1-2 glasses every single night. I got really curious about what would happen if I could reduce that down to 2 nights only… and the results were extremely impactful to me!
What's the biggest challenge you have when staying sober?
Absolutely no challenges at all, I love it and I have never looked back. There are so many Non-Alc options now that if I drink an alcoholic drink it would take time away from discovering a new non-alc drink!
How do you handle peer pressure?
This is still a challenge but in the last 12 months I have seen more and more people join me in an alc-free social occasion plus I have noticed many alcohol-free brands now do not advertise the big 0% on the label which means most people don't even know what I am drinking.
I enjoy drinking non-alcoholic beverages, but why do they cost so much?
They actually don't, we must remember that in most cases a $15 bottle of non-alc wine would be the equivalent to a $20-$30 bottle of alcoholic wine because the most expensive grapes are needed in order for NA wine to taste any good. Also, the cost to create NA drinks and removing the alcohol is expensive. In many cases [it covers] a lot more than the cost of alcohol as an ingredient.
What's your favourite mocktail to request when dining out?
A cosmopolitan!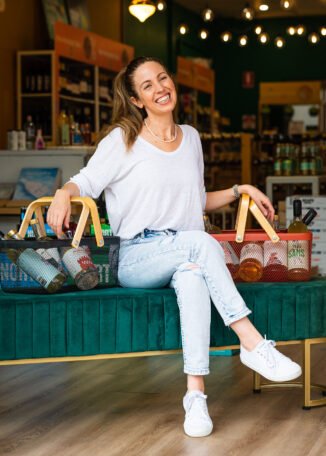 Tell us about Sans Drinks
Sans Drinks is an alcohol-free bottle shop in Sydney and an online store selling hundreds of non-alcoholic drinks which directly replace all of the popular drink styles – Gin, Vodka, Whiskey, Shiraz etc. The purpose is to help people who love drinking, to cut down on their alcohol consumption by making it easy to swap up their favourite drinks a few nights a week.
What's your most popular product?
My best-selling product is the Next Destination Barossa Valley Shiraz – it is hands down the best Australian non-alcoholic red wine.
I love Heaps Normal, Sobah and UpFlow. Tell me about some of the alcohol-free beers you recommend?
They are all my favourites too, but if you like a stout, I recommend the Big Drop Milk.
I have Seedlip and Lyre in the cupboard. What Australian brands can I try?
Seedlip is a UK brand and I do prefer to support local whenever possible. And of course, I am going to say try the Ms Sans range next, the Espresso Martini is amazing.
What's your favourite drink right now?
Right now I am really enjoying a Pinot Grigio from the brand 1920 Wines.
If you could only have one drink for the rest of your life, what is it?
An Espresso martini because I couldn't live without my coffee and NA cocktails and this has both.
Who would like to have a non-alcoholic beer with?
Steve Jobs didn't drink, so definitely Steve Jobs!
Do you have plans for the future? If so, what are they?
I sure do, I am franchise Sans Drinks this month so excited to have many more stores opening across Australia very soon.
About Irene Falcone & Sans Drinks
Irene Falcone is one of Australia's most successful female entrepreneurs who started her first business, natural health and beauty store Nourished Life, with $100 in 2012 and sold it 5 years later to an ASX listed company for $20 million. During Covid in late 2020, Irene launched a new online business selling non-alcoholic beer, wine and spirits Sans Drinks. It is on target to generate over $10 million in sales this financial year. In May 2021, San Drinks opened Australia's first non-alcoholic bottle shop in Sydney's Freshwater, with a further 25 to open across the country through franchisees over the next 3 years. Irene is passionate about disrupting industries, providing better shopping options and making buying easier. Irene is also obsessed with small business, supporting Aussie brands, driving forklifts, talking to her customers & finding new products to enrich everyone's lives. https://sansdrinks.com.au/