It's obvious to everyone that the recent Covid restrictions and lockdowns affected the way Aussies have been exercising and now new research shows around 47% of Aussies agree their exercise regime was greatly impacted.
Carrie Bickmore is a journalist, TV presenter and busy mum of three, and she says exercise is a big part of her life: "For me, exercise is one of the best ways to combat stress, I move for my mind as much as my body."
"I've had to get creative with new ways of moving in the past 18 months due to restrictions," adds Bickmore. "With gyms closed and limitations on time outdoors, plus juggling remote learning and work, I noticed exercise was one of the first things to disappear from my week. But I am happy to be back moving more, going for walks with the kids, working out in the driveway and going for bike rides."
Research also finds 40% of Aussies suffer from aches and pains
The latest research also found that since restrictions were put in place, an alarming 40% of the nation are suffering more from niggles – those small aches and pains, with almost one in four
(23%) Australians highlighting they don't have enough time to implement rest and recovery into their daily routines – things like stretching, hydration or taking supplements, like
Blackmores Super Magnesium+, which can support muscle health, endurance and energy levels.
Additionally, 12.4%n of Australians don't consider rest and recovery important to their everyday, and 20% only incorporate it if they are sore, and yet rest and recovery is imperative to repairing, rebuilding and strengthening muscles.
In reference to this, Bickmore says: "When I am feeling tired or mentally drained, I take it easy. But I know I feel so much better when I move so I am getting back into it slowly, especially with the weather
getting warmer."
Another brand partner for Blackmore's MOVE campaign is Danielle Bazergy
Danielle Bazergy is a Movement Squad member and brand partner — and she's keen to help Aussies find a movement and recovery routine which makes them feel good.
Danielle has worked in many different areas in the health and wellness industry including coaching, presenting and creating educational content for her audience. She is an experienced strength and conditioning coach whose goal is to have the most positive impact possible and ensure that anyone who works with her becomes the happiest and healthiest version of themselves.
Danielle has worked closely with industry leaders and experts such as Women's Health, Nike and Fitbit. She has a strong understanding of why movement is not only essential for physical health – it's also essential for your mental health. Specialising in female strength, elite fitness and fundamentals for movement, Danielle has a wealth of knowledge for all things health and fitness related and she thrives on continuing to expand her knowledge and experience in the industry.
Here are Danielle's Top 5 Tips to get you moving and active: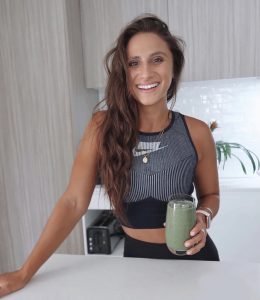 Tip 1 Plan: Schedule your workouts into your calendar like you would a meeting. If you can, even schedule in a class with a friend. I'm the kind of person who thrives on structure (most of the time) and while it's something I often need to keep me on track, I make sure I don't put too much pressure on myself to stick to it perfectly and to listen to my body when needed. Discipline is important but nurturing yourself is more important. Taking time to rest if you need to is one of the best things that you can do for yourself, physically and mentally. Achieving everything that you set out to do in the week isn't always realistic – things pop up, you may not be feeling 100% up to train on some days, so set yourself realistic goals and plans but don't get too fixated on always having the perfect week.
Tip 2 Accountability: It's something that I really utilise to keep me consistent and get the most out of my training. Whether it be the use of fitness trackers, training with a buddy, entering some kind of challenge with yourself or your gym, or even logging your workouts down in a training diary. We're only human and the motivation won't always be present, so having something/someone to keep you accountable can be a really helpful tool when motivation is low. I struggled quite a bit with staying on track with my training when I was recently relocated to Queensland with my partner's work. I had no real structure in my days, I was away from home and I didn't have my normal support network and training buddies with me. So, I signed myself up to do the Blackmores Virtual Sydney Running Festival recently which gave me something to work towards again. I started with my running training, then once I got some momentum with it, I started feeling like myself again. Accountability along with some discipline and consistency is the real key.
Tip 3 Move the way you want to: Exercise isn't about punishing your body, it's about celebrating it, helping it, and enjoying what it can do. I find taking supplements like Blackmores Super Magnesium+ can further help you to continue to move the way you want to and support general health and wellbeing.
Moving the way you want to is really all about exploring different types of exercise to see what you enjoy the most because at the end of the day, you're going to want to stick to something so much more when you enjoy it. This can even mean doing multiple styles of training in the week. Each week I will normally do 3-4 Strength & Conditioning sessions, 1 Pilates class, 1-2 runs and a couple of walks. I enjoy the structure and progressive elements of my S&C training; however, I really do love a bit of variety as well, especially for my mental wellbeing.
Tip 4 Incidental exercise: This can look like a variety of approaches; taking the stairs, walking to work/school/gym or cleaning the house. Personally, I like to go for walks with friends for a catch up, walking/running while taking phone calls or listening to a podcast and walking to the shops/beach where I can. Increasing the amount of LISS (low-intensity steady state) training I was doing was one of the best things I've incorporated over the last couple of years as well. Similar to this approach, I'll try get in a little foam roll, glute/core workout or stretch when watching TV. If you're the type of person who seems a little too busy and your training is the first thing you'll kick to the curb when you don't have time, implementing these little techniques can be really effective.
Tip 5 Sleep: People tend to underestimate the value of sleep. It's essential for memory, mood and both physical and mental restoration. Consistently lacking sufficient quality sleep is not only going to influence your decision-making abilities and your mood throughout the day, you're also going to find it much harder to see results from your training and diet. Get in your 8 hours. Create a sleep routine by waking up and going to bed at the same time every day. Switch your phone to do not disturb and keep it out of your bedroom. Limit blue light before bedtime as it suppresses the body's release of melatonin (hormone responsible for sleep/wake cycles). My sleep was one of the first things I focused on when we recently went into lockdown again. I no longer needed to be waking up at 5am daily, so I made sure I was getting in at least 8 hours every single night, and I was very quickly reminded of just how important sleep is. I've been waking up naturally with more energy, never felt the need to nap, and my overall day-to-day mood had improved dramatically.
For more about the Blackmore's Running Festival visit here.
For more from The Carousel on getting active, visit here.