Congratulations on your beautiful baby boy. What is your favourite thing about being a mother?
Unlimited kisses and early morning smiles upon waking.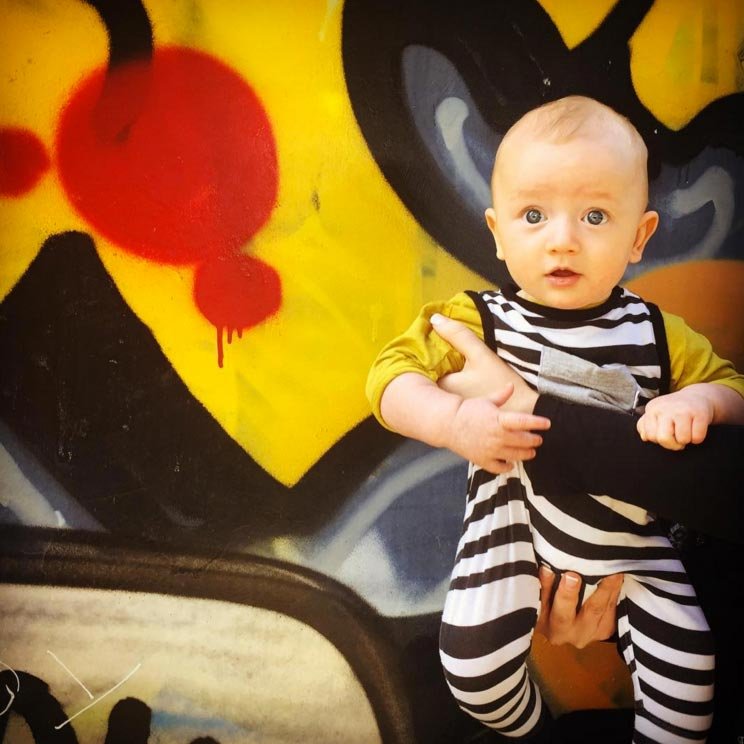 What is the most challenging aspect of having a newborn?
So much STUFF. No matter how streamlined your operation, there's still so much stuff to carry around on the smallest of missions.
How has Charlie changed your life?
Charlie is such a beautiful blessing. I've always worked hard to maintain a healthy balance in life. Having a successful career, exercising and eating well plus spending time with family and friends has always been key to me. Now that Charlie has arrived, I've continued to adapt my routine to allow time for me to nurture my little boy while still living life to the full.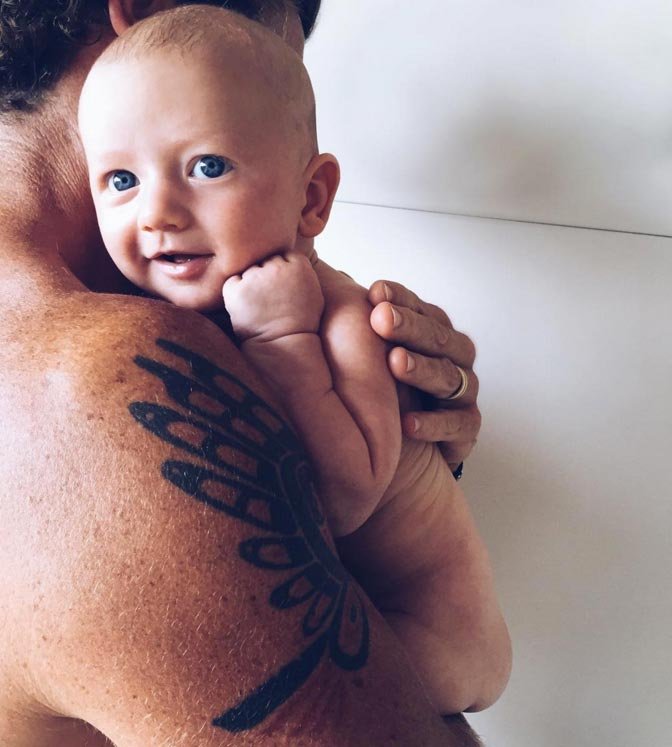 How was your pregnancy? Did you enjoy it?
I had a great pregnancy – I was very lucky. And I was really fascinated by all the changes. I tried to celebrate all of the incredible things my body was achieving along the way. I worked through till 7 months and think it was a great distraction from all the little niggles. In the last trimester I felt that I was lacking in my usual amount of energy, a little more tired and certainly a little anxious about the birth, so I needed to be far gentler with myself.
I continued exercising and eating really well and listened to my limits – if I needed a nap, I'd take one, or if a yoga workout felt too much, I would skip it. I was very sleepless towards the end and it seemed impossible to find a comfy spot to sit, stand or lie. I loved all of the positive affirmation and encouragement I received from strangers along the way – they seemed to share my excitement and the anticipation of the miracle unfolding!

How did you keep fit during your pregnancy?
It was hugely important to me to stay active but I knew I couldn't push myself anywhere near as much as I did before I was pregnant. I moderated my exercise regime and took a few more rest days and I continued to do gentle exercise throughout my pregnancy, things like swimming, soft sand walking and pregnancy yoga. I got a second hand spin bike for cardio which I loved as low impact exercise.
Did your diet change during your pregnancy?
It was more important than ever to eat a healthy, balanced diet. As my pregnancy progressed, I listened to my body about what I needed in my diet. For me, small and often was the key to maintaining energy levels and prevented unwanted cravings. In the third trimester I reduced the size of my meals and increased the frequency with which I ate. I included protein such as chicken, lamb or fish in my main meals, whilst snacks such as berries, salted air popped popcorn, fruit and protein bars were staples throughout my day.
I needed to increase my fibre intake, so I took Metamucil as a daily health supplement. It's really easy to take with a glass of water and it helped me feel lighter and more active throughout the day.

Take me through your exercise regime before and after having Charlie. Has it changed much?
Working out is my way to burn mental and physical energy, to relax and helps me get a good night's rest, which is extremely important to me with a new baby. Before Charlie, I used to exercise every day and would always be looking for inspiration for new fitness tricks and trends. My regime would include everything from running to interval training, yoga or Pilates, weight circuits, skipping drills and ocean swimming.
Of course, I've adjusted my routine to accommodate being a new mum but I still aim to exercise at least 4 -5 days a week. My favourite forms of exercise right now are yoga, spin cycling, moderate free weights, as well as low impact swimming or beach walks.

How do you maintain a healthy balance in your life?
A healthy balance means having a strong sense of purpose, working hard, eating well, getting plenty of exercise, maintaining connectedness with family and friends, contributing to causes I'm passionate about, quiet time out, a creative outlet and some senseless fun.
Is it harder to maintain good habits with the notorious lack of sleep that comes with a newborn?
I actually find it easier in the sense that I'm on such a strict routine with the baby that I fall into the same groove. The only way to function with sleep deprivation is to be super organized. Boring, but a sanity saver. I certainly didn't feel like doing anything much but recovering and finding a groove for the first 8 weeks. Then when I was ready I went for daily walks with Charlie in his pram, this was a gentle way for me to ease back into exercise and getting out into the fresh air every day was therapeutic for both of us. I ensured I had healthy snacks easily available in the house and healthy meals in the freezer, ready to reheat if I didn't have time or energy to prepare dinner.
When I started back at work full time I got my meals delivered by Eat Fit Food which meant shopping and cooking was something I didn't need to think about. It was a godsend. I made sure I kept up with all my supplements and increased my fibre intake with Metamucil, which is made from 100% psyllium fibre and assists the body's natural detox process. It tastes great in homemade smoothies and juices – a fantastic way to supplement your diet on the go.

What advice would you have for new mums trying to get their vitality (and figure) back?
Be gentle with yourself. I had grand plans of amazing exercise regimes and 4 months in still haven't achieved them. I did loads of walking around parks and beaches and did lots of deep breathing when I felt like my head was as heavy as bowling ball with tiredness. Fresh air and conscious breathing is simple but effective if you're losing your cool/mind. Pushing a pram up a hill is a great bun buster cardio workout. I would stop and do a few yoga stretches on the grass and even parked and napped under the pram along the way. Got to snatch the Zzz where and when you can. I'd call friends along the way – it's important not to lose touch with friends and feel disconnected from the world. Friends are the greatest boost, and other mums are a lifeline of humour during the rough patches.
Do you have any work pursuits coming up or are you focusing on being a mum?
Yes I'm very excited about my next gig. I'm currently rehearsing for my upcoming run on stage as Lina Lamont in Singing in the Rain. The production opens in May at Melbourne's Her Majesty's Theatre, followed by a season from July at Sydney's Lyric Theatre before touring to Brisbane, Adelaide and Perth.
What's the most useful baby product you have? Why do you love it?
Ergo Baby because I love going for walks on the beach or in the park with hands free to touch and explore the environment with my baby. Another favourite is my portable white noise machine. It is great for settling the baby at home or out and about in the car or pram.
How do you find "me time"?

It is virtually impossible, but it requires tag team from my partner, friends or family. Me time is often sucked away because tasks get done while the baby sleeps rather than relaxing. I try to take 15 minutes to close my eyes and meditate. Otherwise after the baby goes to bed I have a hot bath and a herbal tea or a glass of wine and some chocolate.
What are the best ways that a partner can be supportive of a new mum?
Take on a role such as bath time, book time or walk time and own it exclusively as their own and develop their own special rituals. My husband loves doing the baths – during which I get a long hot, uninterrupted shower. Or he will do the midmorning pram walk so I can go for a walk alone on the beach or have a nap. A little verbal reassurance goes a long way too. "Great job Mama" is simple but effective. It's a tough job that often goes unacknowledged.

Images: @ErikaHeynatz