Lyndey Milan's Tasty Seafood Platter With Chimichurri Sauce And Chipotle Mayonnaise is perfect for Christmas. 
Also, you can watch Lyndey's Cracking Christmas on LifeStyle FOOD on Saturday 16 December, her Classic Christmas at 11.50am and Contemporary Christmas at 12.20pm
Serves 6
Preparation 20 minutes plus soaking time
Cooking 4 minutes
Oysters with wasabi dressing
1 tablespoon (20ml) lime juice
1 tablespoon (20ml) peanut oil
2 teaspoons wasabi paste
1 green onion (green shallot), finely chopped
1 small clove garlic, crushed
12 freshly shucked oysters, on the shell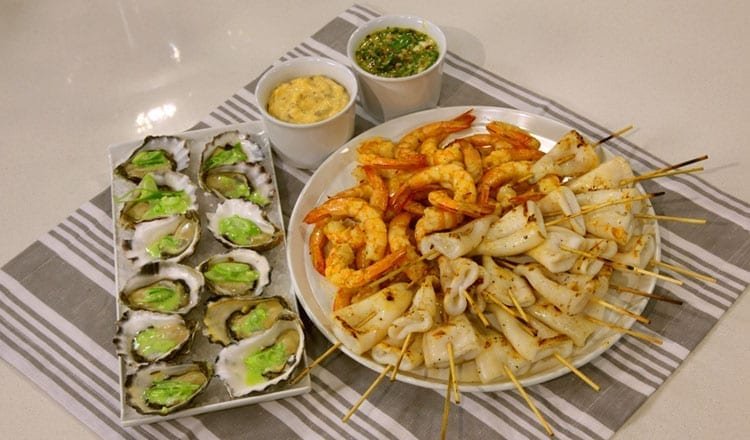 Combine lime juice, oil, wasabi, green onion and garlic in a small bowl and mix well. Spoon dressing over each oyster to serve.
Saffron prawns
Pinch saffron threads
1 tablespoon (20ml) olive oil
12 (500g) medium/large uncooked prawns, peeled with tails intact
Infuse saffron threads in a teaspoon of warm water for at least 15 minutes. Add oil and whisk to combine. Brush prawns with saffron oil and cook prawns on a heated grill pan (or grill or barbecue) for one to two minutes each side or until golden and cooked through.
Calamari
12 baby calamari
1 tablespoon (20ml) extra virgin olive oil
Soak 12 bamboo skewers in water, or freeze for at least one hour before using. To clean calamari, pull gently on tentacles to remove. Cut tentacles off below the eyes and reserve; discard eyes, the small black beak in the centre of the tentacles and guts. Remove the clear quill from the body, side flaps and dark membrane. Salt your fingers to remove the skin. If necessary, rinse and pat dry. Brush with olive oil. Thread each calamari with a skewer and cook, with the tentacles on a heated grill pan (or grill or barbecue) for one to two minutes on each side or until golden and cooked through.
Chimichurri sauce
1 eschalot, peeled
5 cloves garlic
1½ cups flat-leaf parsley leaves
1½ teaspoons dried red chilli flakes
1 small lemon, juiced
¼ cup (60ml) olive oil
In a blender or food processor, finely chop eschalot and garlic. Add remaining ingredients and process until fairly smooth. Season to taste with salt and pepper.
Chipotle mayonnaise
½ cup (100g) good quality whole egg mayonnaise
1 clove garlic, crushed
1 tablespoon chipotle chillies in adobo, finely chopped
Mix all ingredients together.
Lyndey's note: Chipotle chillies in adobo are sold in tins or jars from selected delis. Alternatively substitute one finely chopped red birds-eye chilli and a pinch of smoked paprika.