Dr Kerryn Phelps and her dietician daughter Jaime Rose Chambers are helping us get healthy and eat more nutritious food with the new book Everyday Food as Medicine.
'The people of Okinawa in Japan have a life expectancy among the highest in the world. Their diet traditionally includes a lot of sweet potato,' says Dr Phelps.
Jaime adds 'A common but often overlooked cause for fatigue is low vitamin B12 levels. It is found only bound to protein in animal foods like beef.'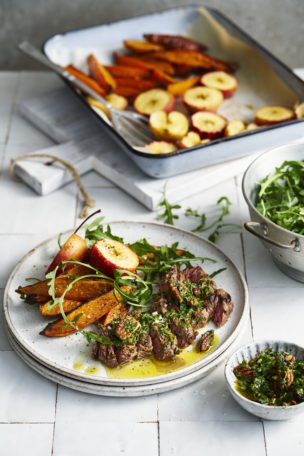 Rump Steak With Green Chilli Sauce, Roasted Sweet Potato And Apples Recipe
Ingredients
2 long green chillies
1 small clove garlic, crushed
1⁄2 cup firmly packed flat-leaf parsley leaves, chopped finely
1⁄2 cup (60g) pecans, roasted
2 teaspoons finely grated lemon rind
2 tablespoons lemon juice
1/3 cup (80ml) extra virgin olive oil, plus 1 tablespoon extra
600g (11⁄4lb) small orange sweet potatoes, quartered lengthways
6 kids-size mini red apples (600g), halved
2 x 400g (121⁄2oz) beef rump steaks, at room temperature
olive oil cooking spray
220g (7oz) baby rocket (arugula)
Method
1 Preheat oven to 200°C/400°F. Oil a large oven tray; line with baking paper.
2 Remove seeds from 1 chilli; finely chop both chillies. Place chilli in a small bowl with garlic, parsley, pecans, lemon rind, lemon juice and olive oil; stir to combine. Season to taste.

3 Place sweet potatoes and apples on lined tray; drizzle with the extra oil, season well. Spread into a single layer. Roast for 30 minutes or until tender.
4 Heat a large non-stick frying pan over high heat. Spray steaks with oil. Reduce heat to medium-high; cook steaks for 21⁄2 minutes each side for medium-rare or until cooked to your liking. Transfer to a plate, spread with 2 tablespoons of the green chilli sauce; rest steaks, loosely covered with foil, for 10 minutes.
5 Serve thinly sliced steaks with roasted sweet potato and apples, rocket and remaining green chilli sauce.