Serves 6

Chill overnight
Ingredients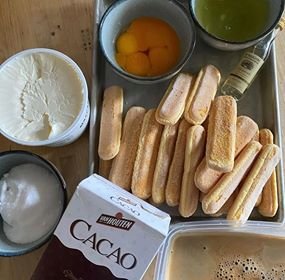 5 eggs, separated
5 tbs caster sugar
500g Italian mascarpone or local Grappa or liquor of your liking
150ml warm espresso or strong coffee
100g savoiardi (sponge finger biscuits)
dark cocoa, to dust (very good quality)
Method
Using an electric mixer, beat egg yolks and sugar until thick and pale. Using a large spoon, fold through mascarpone.
Whisk eggwhites until firm peaks form. Carefully fold into mascarpone
Add grappa or anything you like to espresso. Quickly dip half of sponge fingers, one at a time, in coffee mixture. Place in base of a 3 cup-capacity serving bowl.
Cover with half of mascarpone mixture. Repeat layers once more, finishing with mascarpone.
Refrigerate for 6 hrs or overnight to set. Dust with plenty of cocoa and serve.

Chef Luca Ciano used a Smeg Espresso machine and Stand Mixer to create this recipe.