Australian families across the nation are getting creative with Old El Paso and Mexican cuisine to ensure dinner time remains fun, diverse and engaging. Here are two recipes from Chantelle Ellem of Fat Mum Slim and Lorinska Merrington of Yummy Mummies of Melb.
Fat Mum Slim – Fusion Taco Recipe
Aussie Taco Recipe
Serves – 5
Cook Time – 10 Mins
Prep Time – 10 Mins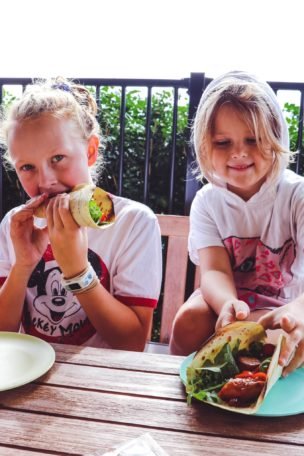 Ingredients
1 x packet 10 Old El Paso Soft Tortillas
10 x Gourmet Beef Sausages
1 x jar caramelised onion relish
Punnet of Cherry tomatoes – halved
Bag of rocket Rocket
Method
Cook the sausages on a BBQ, until cooked through.
While the sausages are cooking, place the salad ingredients into bowls and place onto a table for serving, including the caramelised onion relish.
Once the sausages are cooked through, place onto a serving plate. Place the tortillas onto the BBQ grill and cook for 30 seconds each. Place onto a platter for serving.
To assemble the Aussie Tacos, place a tortilla on a plate, top with rocket, tomatoes, sausage and caramelised onion relish. Enjoy.
Lorinska – Fusion Taco Recipe
This exclusive Taco Tuesday recipe has been brought to you by Lorinska Merrington, and Old El Paso. Together, they're getting Australia ready to make some noise! ¡Arriba!
Polish Sausage Taco
Serves – 4
Cook Time – 15 Mins
Prep Time – 10 Mins

Ingredients
3 Polish sausages, sliced
3 garlic cloves diced
One diced onion
1 cup shredded cabbage
Jar of sauerkraut
Jar of horseradish
1/4 cup fat-free sour cream
Old El Paso 10 Tacos
2 cups shredded lettuce
1 cup diced tomatoes
Sprinkled with crispy bacon on top
Method
1. Heat oil in a pan and cook onion and garlic, add in polish sausages and chargrill it until cooked through, then sit aside.
2. Spread mustard down the centre of the taco and then sausages, onions and garlic.
3. Finally, load the taco up with sauerkraut, cabbage, lettuce, tomatoes and sprinkle with crispy bacon!