Don't go and buy it at the shops! Why not make your own at home with our two favourite sweet and savoury recipes from The Australian Women's Weekly Real Food recipe book?
Make your own delicious ice-cream which you can keep for weeks in the freezer, perfect for those summer BBQ's and dazzle your guests with your own home-made pickles, the perfect accompaniment to cheese and wine night. Go on and try these delicious at home recipes.
They only take 30 minutes to whip up. Get cooking.

Coco dream ice-cream
prep + cook time 30 minutes (+ cooling & freezing) makes 1 litre (4 cups)
You will need an ice-cream machine for this recipe.
Ingredients:
400ml canned coconut milk
400ml canned coconut cream
1 vanilla bean, split lengthways, seeds scraped, reserve pod
1½ tablespoons orange blossom water
8 egg yolks
¾ cup (270g) rice malt syrup
2 x 40g (1½-ounce) packets coconut chips
Method:
Place coconut milk, coconut cream, and vanilla seeds and pod into a medium saucepan; bring almost to a simmer, stirring. Remove from heat. Stand for 10 minutes to infuse. Stir in orange blossom water.
 Meanwhile, beat egg yolks and syrup in a medium bowl with an electric mixer for 5 minutes or until thick and creamy and doubled in size. Transfer to a medium saucepan; stir in coconut milk mixture. Cook, stirring, over low heat for 7 minutes or until mixture thickens and coats the back of a spoon (do not boil).
Submerge the base of pan in iced water to cool. Stir until mixture has cooled.
Pour mixture into an ice-cream machine. Churn according to the manufacturer's instructions. Add 1½ packets of the coconut chips and churn to combine. Freeze for 1 hour. Serve topped with remaining coconut chips.
Serving suggestion – Serve ice-cream on its own or topped with tropical fruit.
*tips – If the ice-cream gets icy in the freezer, lightly thaw and repeat the churning process for a smooth ice-cream once again. Add goji berries or cacao nibs for a superfood hit. Use leftover egg whites to make meringue.

Choko Piccalilli
prep + cook time 30 minutes makes 4 cups
Ingredients:
350g (11 ounces) choko, peeled, seeded, sliced
15 baby zucchini (225g), halved lengthways
150g (4½ ounces) baby green beans, trimmed
100g (3 ounces) heirloom radishes, some halved, quartered and left whole
1 cup (250ml) water
1 cup (250ml) white vinegar
1 teaspoon fenugreek seeds
1 teaspoon whole black peppercorns
2 tablespoons brown mustard seeds
5g (¼ ounce) fresh turmeric, cut into matchsticks
½ cup (110g) raw caster (superfine) sugar
2 teaspoons salt
4 fresh curry leaves
1 tablespoon arrowroot
Method:
Cook choko in a medium saucepan of boiled salted water for 5 minutes or until tender. Drain.
 Combine choko with zucchini, beans and radish.
Combine half the water, vinegar, fenugreek, peppercorns, mustard seeds, turmeric, sugar, salt and curry leaves in a medium saucepan over medium heat. Stir until the sugar dissolves.
Mix remaining water with arrowroot to a smooth paste. Add to vinegar mixture. Cook, stirring for 1 minute or until it thickens slightly.
Pour mixture over vegetables. Stir gently until evenly coated. Place into hot sterilised jars (see tips).
*tips – For information on sterilising jars, see page 283.
Store choko piccalilli in the fridge for up to 1 month.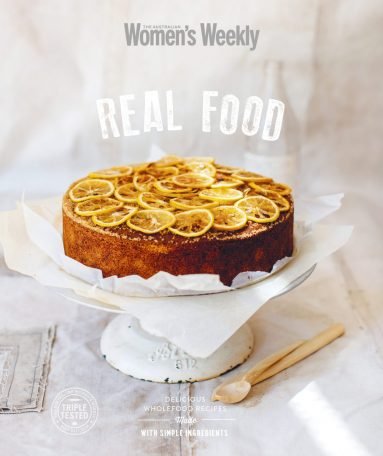 All recipes and photos are from The Australian Women's Weekly Real Food recipe book, RRP $49.99. Available where all good books are sold and online at www.awwcookbooks.com.au