There's something about sunshine and holidays! And there' something incredibly appealing about cruising. You get on board, unpack, visit lots of places and never have to pack or unpack again until the end. It's perfect for day-tripping in ease and comfort.
Sicily
The Mediterranean is host to myriad appealing destinations for the food, culture and travel lover. While Italy has more UNESCO monuments than any other country, it is Sicily, the largest region in Italy which has the most. But it offers so much more. And not only amazing rich, ripe, red tomatoes!
Sicily is the largest island in the Mediterranean and located just off the toe of Italy's boot. Quite aside from the confluence of cultures over its 3,000 year history, it has Europe's highest active volcano, Mt Etna and is the home of the Mafia. An exciting place to visit. Sicilian cuisine is different from the rest of Italy, as it shows traces of all the cultures which had settled there: Greek, Spanish, French and Arab.
Arrive by Sea
Sicily can be accessed by air but it is so appealing to arrive by sea, docking in Messina, the third-largest town in Sicily. Taormina on the East Coast, the jewel in the crown of this enchanting island is only about a half-hour drive along a scenic road built right on the slopes of hills which drop straight to the Ionian Sea, perfect for a day trip from a ship docked in the port. The road is through viiaducts and tunnels with prickly pears dotting the hills amongst terraced gardens and cream houses. Hang gliders float by, taking advantage of the cliffs.
Visit Taormina
Taormina averages 300 sunny days per year making it a reliable destination for the traveller. The area around Taormina was inhabited even before the Greeks arrived on the Sicilian coast in 734 BC. It sits on a 200-metre high rocky outcrop overlooking the Ionian Sea and surveying Mt Etna, at 3350 metres, about a 45-minute drive away, set above the continental fracture between the South of Europe and the North of Africa. It is possible to walk on it. Popular beaches with warm waters and high salt on the Ionian Sea are accessible via an aerial tramway.
There is plenty to see and do. There are rarely any cars allowed into Taormina proper, rather you park below the town and get a lift up to walk through the main centre.
It's not all high end shopping and souvenirs, food lovers are kept happy too with shops filled with regional sweetmeats and pastries. There are also shops specialising in linen and homecrafts, gelateria, lively bars, restaurants and antique shops.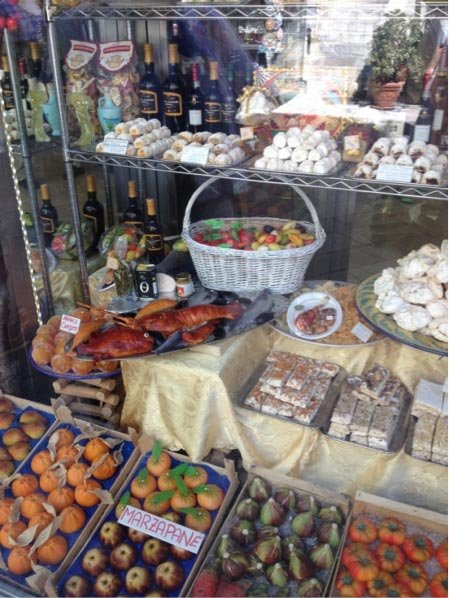 The Greek Theatre – Il Teatro Greco
The Ancient Greek Theatre in Taormina was built early in the 7th century BC and remains a stunning site. It has ornamental Corinthian fragments, Roman brickwork yet a Greek design, leading to speculation that it was rebuilt upon the foundations of an older theatre of the Greek period. It is still used for opera, theatre and concerts. Incredible.
Taormina, a picturesque square now bustling with buskers, many churches and a restored 12th century clock tower built upon the ruins of an older building from the 4th century BC.
Being so picturesque, Taormina is quite touristy, but food lovers are best advised to find somewhere to eat away from the main thoroughfare. Just go down into some of the narrow laneways and you can find some gems like La Piazzetta, via Paladini 5. The owner will proudly tell you "no pizza". During the season you can enjoy such specialities as spaghetti with sea urchins or ricci di mari.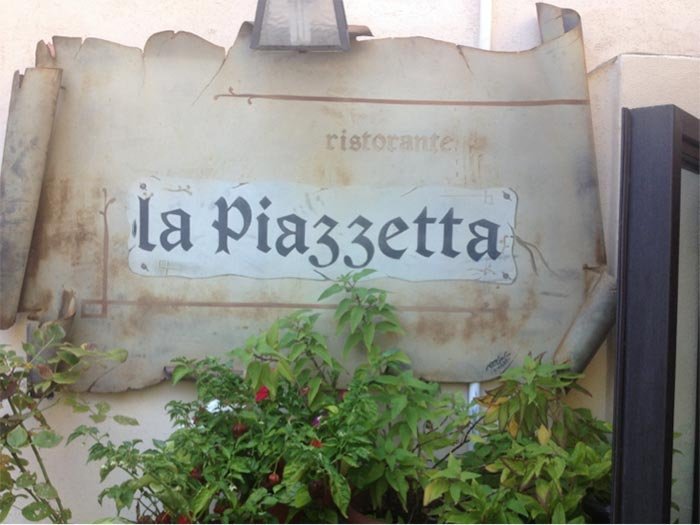 Go Cruising
If you want to experience beautiful Taormina, join Lyndey Milan on her Eastern Mediterranean Cruise this September/October aboard the Celebrity Constellation. It's a small and very personal group on a much larger ship but there is fantastic land content too – not only Taormina. Lyndey takes her group to secret places to dine in Venice, Florence, Dubrovnik and the Amalfi Coast. More information here
Bring a taste of the Mediterranean home with these recipes
The Mediterranean refers to the sea between Southern Europe and North Africa and the countries bordering it. Many of these countries have a version of mayonnaise, or mayonnaise as the Italian's call it. Think French aioli or Spanish alioli. It is the basis of so many sauces you can make if you master the basics either by hand or in the food processor. Watch this video below to learn how to make mayo!