Jo Munro from The Savvy Shopaholic's top tips to help Aussie families shop smart and avoid a food budget blow out
With our budgets being squeezed with the rising inflation, shopping savvy and making your dollar go further has never been more important.
With five simple strategies you can eat well, enjoy great value and take the stress out of balancing the weekly food budget.
The best laid plans save money – plan your meals
Save time and money by planning your menu ahead. Knowing exactly what you will be cooking for the week will ensure you only shop for the groceries you need. Without a plan it is all too easy to find yourself driving through for expensive, last-minute takeaway.
Shopping Fact: 75% of Aussie households are spending more than they budget on their weekly grocery bill.
Savvy Tip: Never go grocery shopping hungry – Never!
Make a shopping list and stick to it!
To avoid the impulse trap at the supermarket, make an exact list of all the ingredients you need – and none that you don't! This way, you'll be able to stick to buying food that has a purpose and avoid any unnecessary purchases.
Shopping Fact: According to research from EveryPlate, 54% of Aussies blame impulse buys as the main reason for overspending their weekly food budget.
Savvy Tip: Before you get to the supermarket, review your list and make sure you know exactly what's on it. This will help you take control of your food shop, so you can avoid visiting any aisles you don't need to, and save yourself from those tempting impulse buys! 
Buy what's in season
Look for recipes that use seasonal ingredients and have them on rotation throughout the year. Seasonal produce is good quality, locally grown, plentiful and inexpensive. Buying off-season is expensive and generally the produce is not good quality, is in extended cold storage and perishes quickly. By shopping seasonally, you know you're getting the best bang for your buck when feeding the family.
Savvy tip: Check your weekly rubbish bin to see how much money is going out in the bin. Buying well saves money but minimizing waste will also ensure you only pay for what you use.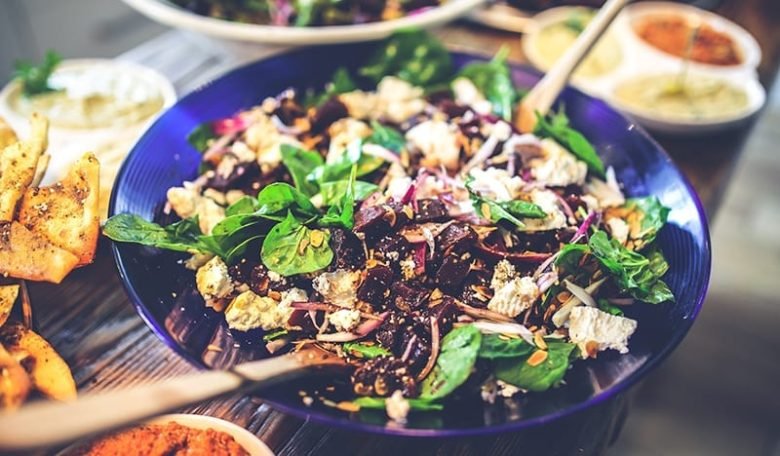 Go for value, rather than cheap
When doing the shopping, always look for buying value, rather than what's cheap. Buying the cheapest option might sound like the best way to secure a bargain, but it can often mean things perish quickly. Look out for the best value by opting for well-sourced, quality ingredients for a good price.
Shopping Fact: 62% of Australians wish it was easier and more cost effective to cook weeknight dinners at home.
Savvy Tip: Being organised with meal planning, shopping lists and exercising discipline when shopping saves money. If it seems like too much work option 5 will take the work out of eating well, saving time and saving money on your groceries.
Use a meal kit delivery service
Meal kits can also be a very effective option for budget-conscious consumers, as they provide a clear and consistent cost per meal. I have been using EveryPlate which is Australia's lowest priced meal kit service starting at $3.98 per plate. It's perfect for Aussies looking for a budget-friendly meal kit with tasty, good quality ingredients without any fancy extras, to give you control of your meal planning and weekly budget.
Shopping Fact: EveryPlate is great value but don't be deceived, you will save time and money but there is no deficit of flavour.
Savvy Tip: Order a couple of meals a week to save a little cash or your weekly dinners for maximum benefit.
Saving money and saving time gets no easier than simply logging on to EveryPlate, selecting from a fabulous range of 4 step simple recipes that are then delivered to your door with only the groceries you need for each meal. No fuss, no waste, and no measuring.
Whether you are a great cook or it is a new hobby, these recipes are simple, straightforward and quick, you'll feel like you're winning!
EveryPlate is now available for delivery in NSW, VIC, ACT, QLD and WA, and offers an introductory discount from $2.39 per plate when ordering your first box at www.everyplate.com.au.