Serves 4
Ingredients
1 tablespoon coconut oil, grass-fed butter or ghee
1 onion, roughly diced
2 garlic cloves, roughly chopped 800 g beef mince (the fattier the better)
1 teaspoon ground turmeric
1 teaspoon ground coriander
1⁄2 teaspoon ground ginger
1⁄4 teaspoon ground cinnamon
1⁄2 teaspoon dried chilli flakes sea salt and freshly ground black pepper
250 ml (1 cup) beef stock, bone broth or filtered water
3 tablespoons tomato passata 1 handful of mint leaves
Creamy Yoghurt Sauce
125 ml (1⁄2 cup) canned coconut cream
125 g (1⁄2 cup) coconut yoghurt finely grated zest and juice of
1 lemon
1 garlic clove, very finely chopped 1⁄2 bunch of mint, leaves finely chopped
Pumpkin
1 kg kent pumpkin, unpeeled, deseeded and cut into 4 wedges
1 tablespoon extra-virgin olive oil
1 teaspoon ground cumin
1 teaspoon ground coriander
sea salt and freshly ground black pepper
Instructions
Preheat the oven to 180°C and line a large baking tray withbaking paper.
To make the creamy yoghurt sauce, mix all the ingredients in a small bowl. Set aside in the fridge to chill.
For the pumpkin, place the pumpkin wedges on the preparedtray, drizzle over the olive oil and sprinkle over the spices. Using your hands, massage the pumpkin pieces so they arewell coated in the spiced oil. Season generously with saltand pepper and roast for 45 minutes, or until the pumpkin isgolden brown and soft.
Meanwhile, melt your preferred cooking fat in a large frying pan over medium heat. Add the onion and garlic and saute for 2–3 minutes until softened and caramelised, then add themince and cook for 5–6 minutes, breaking any lumps with awooden spoon as you cook, until browned all over. Add the spices and season generously with salt, then stir through the stock, broth or water and tomato paste. Bring to the
boil, then reduce the heat and simmer, uncovered, for 10–15 minutes, or until the liquid has mostly evaporated.
To serve, divide the pumpkin wedges among shallow bowls, spoon over the mince and top with the yoghurt sauce. Scatter over the mint leaves, season well with salt and pepper and enjoy.
GOOD TO KNOW: Afghan food is very well known for incorporating yoghurt into savoury dishes like this, but if you fancy mixing things up a bit, you could always try replacing it with the macadamia sour cream on page 145 instead.
HEALTH HACK: I always use full-fat coconut cream or unsweetened coconut yoghurt as my preferred non-dairy alternative. When things are labelled as reduced fat, sometimes they add sugar to make them taste good – one of many reasons we should always stick with the real deal. Here's to keeping it as natural as possible, legends!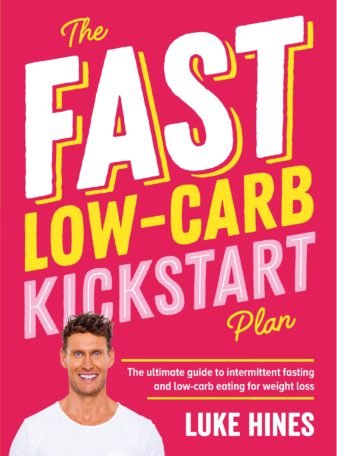 Recipe extracted from 'The Fast Low-Carb Kickstart Plan' by Luke Hines, Published by Plum. Can be bought here for $26.99.
Photography by Mark Roper