I would have to say a home-cooked curry tops my list of favourite meals. You'll see I have used Barramundi here, though any firm white fish works well, and it is great with chicken thighs, too. Making the curry paste is pretty simple once you've learned how. Go on, give it a try – I promise you won't be disappointed with the results!
Serves 4
Ingredients
1 tablespoon coconut oil
1 red onion, roughly chopped
1 bunch of coriander, leaves separated and stems finely chopped
400 ml can coconut cream
500 ml (2 cups) chicken or fish stock 1 head of broccoli, broken into florets
4 x 150 g barramundi or other firm
white fish fillets, skin and bones removed
Curry Paste
3 tablespoons desiccated coconut 5 cm piece of ginger, peeled and roughly chopped
4 garlic cloves, roughly chopped
1 tablespoon garam masala
1 tablespoon fennel seeds
1 tablespoon ground turmeric
1 teaspoon ground coriander
1 teaspoon ground cumin
1 long red chilli, deseeded and chopped 1 tablespoon sugar-free fish sauce
1 tablespoon coconut oil, melted
1⁄2 teaspoon sea salt
1–2 tablespoons boiling water (optional)
Cauliflower Rice
1 head of cauliflower, florets and stalk roughly chopped
2 tablespoons coconut oil sea salt
To serve
1 handful of coriander leaves, torn
1 long red chilli, finely sliced
1 lime, sliced into wedges (optional)
Instructions
To make the curry paste, place all the ingredients in a small food processor and blitz to form a paste (if it's too thick, add a dash of boiling water to loosen it up). Set aside.
For the cauliflower rice, place the chopped cauliflower in a food processor and pulse into tiny rice-like pieces (this usually takes six to eight pulses). Melt the coconut oil in a large frying pan over medium heat, add the cauliflower rice and saute for 4–6 minutes, or until softened. Season to taste with salt and keep warm.
Melt the coconut oil in a large deep frying pan or saucepan over medium–high heat. Add the onion and coriander stems and saute for 2–3 minutes until fragrant, then add the curry paste and fry for 4–5 minutes, stirring as you go, until aromatic. Pour over the coconut cream and stock and bring to the boil, then reduce the heat to low and simmer for
5 minutes to thicken and reduce slightly.
Add the broccoli florets to the pan and cook for
2–3 minutes, then lower the fish pieces into the curry and cook for 6–8 minutes or until the fish is just cooked.
Serve the curry with warm cauliflower rice, scattered
with the coriander leaves, chilli and a squeeze of lime juice, if using.
GOOD TO KNOW: Take note that the cooking time of the fish can vary depending on the size and thickness of your pieces, which is why it is a good idea to have them all a similar size.
Luke Hines' Spicy Sweet Potato Rostis With Indian Avo Smash
HEALTH HACK: One of the things I love about this recipe is the fact it uses an easy homemade curry paste. This hands down beats any store-bought versions which can often contain hidden nasties like processed and refined sugars and inflammatory oils.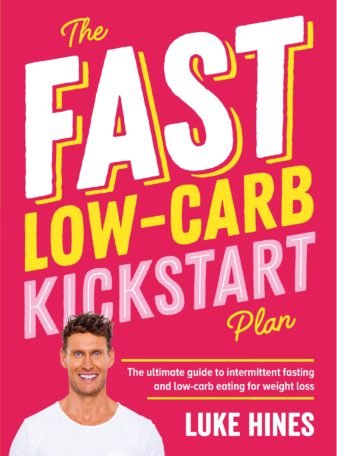 Recipe extracted from 'The Fast Low-Carb Kickstart Plan' by Luke Hines, Published by Plum. Can be bought here for $26.99.
Photography by Mark Roper