What was once known as a sleepy retirement village is now a vibrant town buzzing with life. Luxury hotels, beaches, wine bars and hatted restaurants are just a few reasons this charming, picturesque escape is making a name for itself.
Here's a guide to the charming Port Macquarie to ensure you make the best out of your stay. 
EAT 
Drury Lane Eatery
First and foremost, boutique cafe Drury Lane Eatery could arguably be the best cafe food in Port Macquarie. Sitting in the Plaza by the arts centre, this tiny, charming cafe is owned by Kate McCarron and her husband Drury Woolnough, a Canadian chef. The punchy and unique food served is both a meat lover's AND a vegetarian's heaven. Think house-made seasonal preserves, shared plates of slow-cooked lamb, hummus topped with honey-roasted heirloom carrots, mushrooms drowned in butter with garlic shoots and Bellingen Smokehouse salmon. To top it off, they have an organic tea menu and their coffee will impress the harshest of critics.
Little Fish Cafe
Located inside Innes Lake Vineyard, this café is covered in bougainvillea and jacaranda trees. Fairy lights hang from every corner at nighttime and during the day you have a full view of the rolling green vineyards.
Their menu changes seasonally and is open seven days a week. Tip: Order one of their generous share plates which includes a semi dried tomato dip… it is truly to die for. Tip #2: don't bother asking the chef for the recipe, he keeps it a secret…
Fusion Seven
Refined, international food with a warm, romantic low light ambience. The food is superb, locally sourced and the restaurant is family run. If you like seafood do yourself a favour and order the crispy skinned saltwater barramundi. 
The Stunned Mullet
If you want to opt for something a little fancier, the Stunned Mullet, Port's first hatted restaurant boasts some of its most refined food. Located on Town Beach (one of 18 beaches in Port Macquarie) and when the sun sets it pours into the big open windows. Our favourite dish on the menu – Glacier 51 Toothfish, a melt-in-your-mouth kind of fish.
DRINK 
Latin Loafer – Spanish Tapas Food and Wine
This place is buzzing. Relax in the late afternoon as the sun is going down or make it down there on Sunday at 3pm for live music and choose your poison from their extensive wine and cocktail list. Try a mango chilli lime mojito, or a Spanish espresso martini. You can nibble your way through their tapas menu, with food such as grilled squid, lamb ribs with salsa verde, chorizo in red wine, or peruvian spiced potatoes, and then finish up with one of their desserts – we'd suggest the churros and chilli chocolate sauce
Peak
For good coffee look no further than Peak – the first coffee roasters on the Mid North Coast of NSW. They are located on Jambali Road but if you're lucky enough to make it to Port Macquarie in time for Tasting On Hastings, they have a pop up stall to give you the caffeine boost you need.
DO
Ricardoes Tomatoes & Strawberries
Owned by two brothers, Ricardoes is a thriving business that grow strawberries and tomatoes. Spread across two acres of land, inside shady greenhouses its an incredbile hands-on experience to visit! Armed with a bucket and pair of scissors you are sent on your way.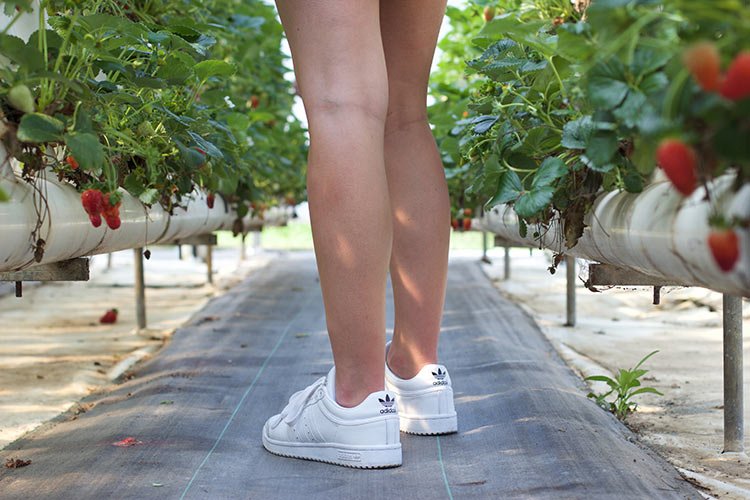 After you've seen it all you can grab a bite to eat from their café, or pop inside their shop and buy tomato sauces, tomato relishes and strawberry jams. Entry is free, you pay only for what you pick. 
Jazz In The Vineyards 
Jazz, wine and food. What else do you need? Time your visit for Bago Vineyards' Jazz In The Vineyards, a 15-year-old staple for locals on the second Saturday of every month. Sit amongst the vines and snack on locally sourced foods, from cheese platters to sticky BBQ buffalo wings (gluten free food available), while you sip on wine straight from the cellar door. The event is child-friendly, and even has a maze that you can pop your children in to get lost while you enjoy a moment of solitude! Entry: $5
Tastings On Hastings
Every year thousands of people flock to Port Macquarie to eat, drink and play at the Tastings On Hastings festival!
Local producers, cafes and bars, vineyards and breweries all set up a pop-up shop to sell their goods. There is live music, cooking demonstrations, celebrity dinners and more. In 2015 the incredible Matt Moran was the marquee chef and held cooking demonstrations, while music fans danced the day away to Lisa Hunt's live soulful sound.
Tastings On Hastings sits upon the Hastings River, the most beautiful setting for a food festival. Tip: grab some fresh oysters, Comboyne cheese and a beer, and reserve your seat on the grass early to enjoy the live music.
Beaches
Port Macquarie is famous for its beautiful beaches. There are 18 all together each offering it's own unique charm and activities. From surfing and fishing, to boat trips, it's easy to find the right beach for you, you just have to explore!
The Koala Hospital
If the weather turns, there is still hope, lots of cute fluffy squeezable hope! Visitors are welcome every day of the year, you will be able to take a tour to learn all about the very important work they do. If you're there at 3pm you can watch them be fed, (squeal!).
SLEEP
Sails Resort by Rydges
Sails Resort by Rydges has just had a makeover and it's luxury to a T. Imagine waking up to the sounds of lapping water, opening your curtains and peering out onto the Hasting River where beautiful movie-like boats sit side by side. The rooms are huge – you could easily accommodate a family of four. The resort also boasts a sauna, outdoor pool and cabana bar, jacuzzi, waterfront restaurant, private jetty and vintage bicycles!
The buffet breakfast is also a highlight, which is not something you can say about most hotels. If you're having a little detox holiday the health food options are endless. Treat yourself to a pick-me-up wheat grass shot, smoothies, juices and fresh fruits, cereals and more.
On the more indulgent table they have sweet freshly baked croissants and pastries, jams, bacon, pancakes, eggs, hash browns, sautéed mushrooms… need we go on? Before you tuck in, make sure you also visit the 'condiment table' for every type of chili sauce you've ever dreamed of.
So, what are you waiting for? See you in Port Macquarie!
For information on Port Macquarie click here, or visit Destination NSW