Try Daen Lia's delicious Bacon Jam & Herbed Cheese Breakfast Toastie recipe:
"I absolutely love a big breakfast on a Sunday morning accompanied by a cup of steaming hot black coffee. I have taken all my favourite things from a big breakfast and turned them into one delicious toastie oozing with Fromager d'Affinois garlic and herbs cheese.
This breakfast toastie is rich, cheesy and sweet on the inside while golden and crunchy on the outside. I have jazzed up every breakfast element. Instead of plain bacon, I have made a sticky and sweet bacon jam that even includes a shot of coffee! The greens are sautéed in lots of olive oil and garlic and the egg has been fried to crispy perfection!"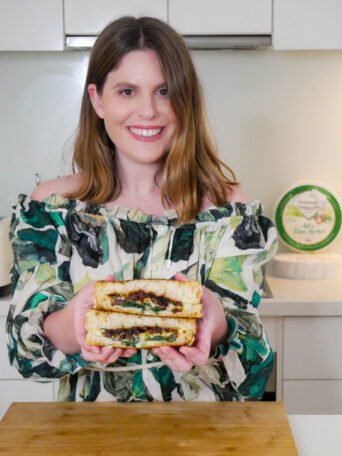 Serves: Two
Prep: 10 minutes
Cooking Time: 50 minutes
Ingredients
Bacon Jam
350g streaky bacon
½ cup water
1 onion finely diced
1 shot black coffee (50ml)
1 tablespoon maple syrup
Sauteed Greens
1 bunch silver beet roughly chopped
2 garlic cloves crushed
2 tablespoons olive oil
Pinch of salt and pepper
Breakfast Toastie (makes 2)
4 tablespoons bacon jam
100g Fromager d'Affinois Ail & Fines Herbes
100g sauteed greens
2 eggs
2 tablespoons olive oil + 1 tablespoon olive oil for toastie
4 tablespoons mayonnaise
50g butter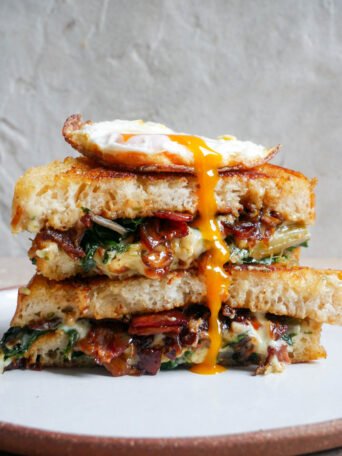 Method
Bacon Jam
In a large cold fry pan, add the bacon and water. Turn the heat to high and fry the bacon until the water has evaporated and it's crispy and golden. Using a slotted spoon, scoop the bacon out of the pan and reserve the fat. If there is too much bacon fat, scoop some out of the pan making sure you leave 1 – 2 tablespoons behind.
Turn the heat to low and add the onions and balsamic glaze. Cook for 30 minutes or until the onions have caramelised. Stir occasionally.
Add the bacon, coffee and maple syrup to the pan with the onions and cook for 20 minutes on a medium heat until you are left with a sticky, thick and jam-like consistency.
Sauteed greens
In a large fry pan on a medium heat, combine the silver beet, olive oil, garlic and salt and pepper. Cook for 5 minutes or until the silverbeet has wilted but still has a slight crunch to it. Set to the side.
Breakfast toastie
Spread 1 tablespoon of mayonnaise onto the bottom piece of bread for your toastie and flip over. For each toastie, begin with a of 2 tablespoons of bacon jam, followed by 50g of sliced Fromager d'Affinois Ail & Fines Herbes double cream cheese and lastly the sauteed greens.
Top the toasties with a slice of bread and spread 1 tablespoon of mayonnaise over the top.
In a cast iron pan on a low heat, melt the butter and bring the olive oil to heat. When the butter is slightly foaming, place the toastie into the pan and cook on a very low heat for 10 minutes per side or until golden and crispy. While the toastie is cooking, fry your eggs.
Bring the olive oil to heat in a medium sized pan. Once there is a slight haze coming from the pan, crack the eggs directly into the pan. Fry for 2 minutes on a high heat or until the edges are crispy. Carefully drizzle the hot olive oil over the whites of the egg to further cook them.
Place the fried egg on top of each toastie and serve immediately.
If you liked this recipe, check out Daen Lia's Instagram here for more inspiration.