There's a refreshing simplicity to beauty this season. Gone is the obsession to have perfect 'social media makeup', the one generic image of beauty. "It's about rejecting the idea that beauty can be a 'recipe," says Terry Barber, MAC's director of makeup artistry.
As one of the biggest beauty brands that fly worldwide to unleash their beauty skills, they emphasised the recent shift to, not completely making-over, but elevating natural beauty and also challenging the idea of 'perfection'. MAC is focusing on creating makeup to fit the face rather than cloning a look.

This modern approach to beauty as a tool of individuality embraces the spirit of the 90s, an age where femininity was redefined, beauty divulged from flawlessness, and being stylish was no longer synonymous with luxurious. Style was what you made it.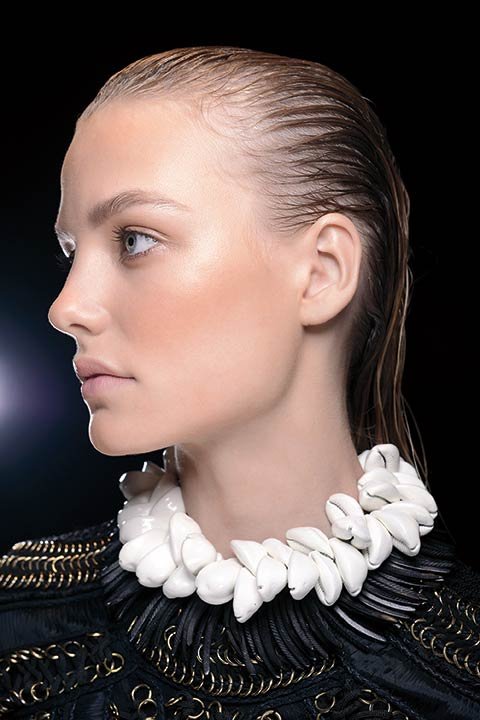 MAC's director of make-up, Gordon Espinet absolutely nailed the contemporary idea of beauty: "The face is more important than the makeup; it's about looking like the coolest version of yourself that you can be… it's all about the vibe."
Makeup is becoming an accessory, rather than a perfecting tool. MAC spoke about this season's runway looks being very 'all or nothing'. Their artists were creating a barely there look, highlighting a unique element of each model's face (brows, lips or lashes, for example) or they were adorning the face.

This new idea of embellishment is playful and fun. Again, it's about breaking the conventional rules of beauty. At the Giambattista Valli show, there was a stroke of colour and glitter on the upper lid, the look is all about adding energy and vibrancy.

A similar youthful, experimental spirit was embraced at the Missoni show, where blue was swept across the entire lid and up into the brows. There's no defined shape, which reflects the new attitude that beauty ideals are no longer constricted either. For this season's runways, often the colour and placement of the makeup was switched up to work with the girl's individual features and look she was walking in. Makeup has become a highly personalised accessory.

To take these experimental looks from runway to reality, one key tip MAC artists suggest is using coloured liners or using coloured eye shadow in the inner or outer corners of the eye.