But now she may have found a way to have the best of both worlds.
The world's most famous supermodel and her gorgeous daughter Kaia, 14, are the new cover stars of the latest Vogue Paris.

Although Kaia and her brother Presley Gerber featured in an American Vogue spread in 2015, it's Kaia's first cover, and the teen is understandably chuffed to be following in her mum's footsteps at such a young age.
"I honestly can't breathe right now," she writes on Instagram next to a shot of her marquee moment.
While Cindy says she is proud of her daughter, she also worries about the pressure of modelling.

"Today, models are expected to be so tiny and I worry about that for her, because that was never my natural body type and I don't think it'll be hers either," she tells NET-A-PORTER.COM's weekly digital fashion magazine The EDIT.
"Still, I'll say to her, 'Enjoy carbs while you can!'"
"Kaia's blossoming into such a beautiful young woman and I really want to let her shine. I don't want her to feel in competition with me, although I'll tease her, and say, 'You have my old hair–give it back!' Or, 'Give me back my legs!' But she'll be fine…She's much more together and worldly than I was at her age."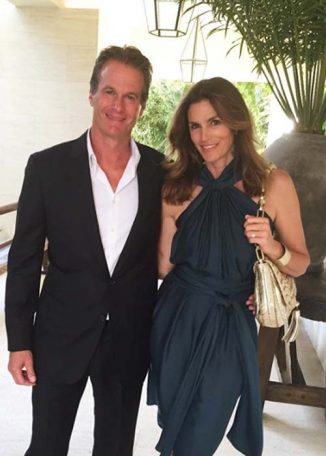 Not so worldly that she plucks her own eyebrows.
"My mum does mine because I know I would go tweezer-crazy and wind up with no eyebrows at all," Kaia confides to Teen Vogue.
"I love the look of full brows that aren't perfectly done – eyebrows on fleek, that's the goal. My eyebrows are like Miley – they can't be tamed, even with brow gel."
To find out how Cindy celebrated her 50th birthday, click here.