As the fashion world mourns the tragic loss of fashion designer Carla Zampatti, we pay tribute to her incredible work and achievements over her 50 plus years as a designer. Carla, 78, died on Saturday, two weeks after she tripped down the stairs as she was leaving the gala premiere of the opera La Traviata at Mrs Macquaries Point. Tragically, she never regained consciousness. Plans are underway for a state funeral on Thursday, April 15.

Carla Zampatti will forever be the enduring and ever glamorous face of the Australian fashion landscape. After more than 50 glorious years in fashion, her designer collections of high-end, high-quality garments made women sophisticated the world over. Wearing Carla Zampitti clothes made you feel and look brilliant because they were so well tailored.

Her beautifully designed outfits always had the classic 'Carla' stamp and this was evident in both her design and on the runway.

With such an illustrious career, there are so many magical moments in her life to celebrate and The Carousel was proud to cover her fashion shows every year and I had the privilege of interviewing Carla many times about her latest range, views on fashion, and plans afoot to support up and coming designers.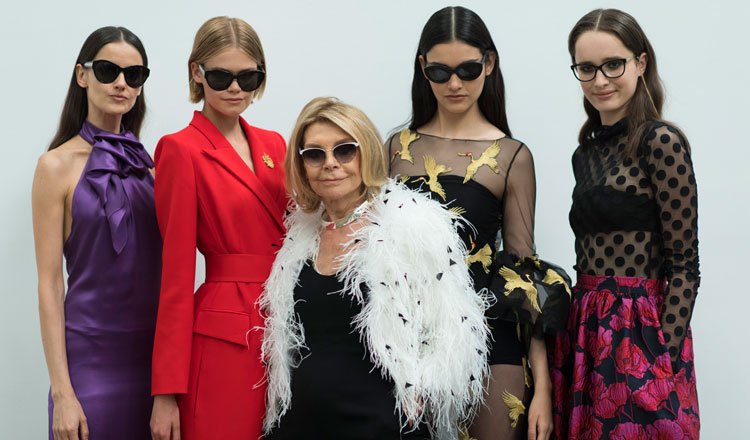 Carla was always so gracious and generous of spirit. She was a woman in demand but she always had time for you.
Born in northern Italy, she emigrated to Australia with her family in 1950 and launched her first collection in 1965.

Since then, she has dressed Princess Mary of Denmark, Dame Quentin Bryce, former Prime Minister Julia Gillard , Delta Goodrem and actors Nicole Kidman and Cate Blanchett.
It must have been a source of great pride that her daughter Bianca Spender followed in her footstep as a designer and of course Allegra Spender has equally had an interesting life pursuing her passion for sustainability. She is also survived by her third child Alexander Schuman and nine grandchildren.

One of the highlights of Carla's shows was when she held her Spring / Summer 2016 at her lavish home in Sydney's Eastern suburbs. It was little the most sartorially savvy descended at her home. The uber chic crowd included models such as Jessica Gomes, the blogger brigade, Margaret Zhang, Kate Waterhouse, Tash Sefton and the likes, the television tribe of Kerri-Anne Kennerley, Sylvia Jeffreys and Nartarsha Belling, plus a plethora of the biggest editors, stylists and all round cool cats Sydney has to offer.

In what was a rather tropical affair, a wall of lush, viridescent ferns welcomed us inside the palatial property, with the fern theme continuing both on the 'runway' and in the styling.
There were oversized fern corsages and fern brimmed hats, a notable quirky touch from Romance Was Born, who lent their styling nous for the show. Bold Dinosaur Designs jewellery provided that extra pop-factor; chunky beaded necklaces in seafoam, sage green and navy offset white designs, whilst irregular golden earrings and necklaces were the perfect luxe addition.

Despite the odd quirk, the fashion remained true to that archetypal Zampatti style we've all known and loved for so long. Sharp tailoring, exquisite silhouettes, silks that billowed in the breeze. There was asymmetrical action, a slouchy power pantsuit, wide-legged jumpsuits with laced necklines, cut-away gowns, trains of chiffon, even a chambray denim jacket made the cut.
The arms did all the talking, with key trends like the big bell sleeve, detached arm and off the shoulder on show, all with a theatrical exuberance. But perhaps the showstopper was the detail, with artisanal prints and the most exquisite fabrications.

Texture played out in a palette of white, gold, black, yellow and blue. There was powder blue silk which looked be dipped in liquid gold, fantastical fringing, accordion pleats, tulle-wrapped arms, peacock blue bows, silverfish swirls, rich floral jacquards, canary yellow rope belts, even gold embossed zebra print.
In a final surprise, songstress Delta Goodrem closed the show. Bubbly and smiling as always, she donned a sheer white gown with a tropical twist, adorned with wheaten, fringed palm leaves. Yes, Carla knew how to finish with show-stopping fanfare.

The day was fitting for a Spring / Summer showing; the sun hot and the Harbour its usual show-off self, glittering and sparkling in the sunlight. The space was intimate, as the crowd wormed round from the large hall onto the sunlit terrace, squished like sartorial sardines, but in awe.
Even her insignia, a simple, gilded 'Carla' was testament to the brand and the show itself; sophisticated, timeless, classic, Carla. This was just one of the many stylish events that enriched our world with her style.
Fashion by Carla Zampatti over the years
Below is our film of Carla's show held at her Sydney home.
Below is an interview with Carla when she launched her new range of Carla sunglasses.
Carla was never happier than with shades on, whether she was inside or not.










Thank you for being so remarkable Carla and RIP