The fairytale-like creation care of Khalil, was the stuff (dress) dreams are made of. A ball gown of the highest order; the Mikado full-skirted dress was complimented with plunging necklace and rolled, scoop back with hand-beaded appliqué aplenty. Dripping in Swarovski crystals and pearls, the intricate handiwork of the master haute couturier was on full display.

The train was equally as spectacular; lengthy and lace-trimmed, whilst her Cathedral veil was finished with an ornate border of French lace and dotted in pearls. With a rather regal resemblence, it was voluminous, opulent and moulded within a millimetre of her slender frame.
Talking to Instagram to express her exaltation, she wrote, 'I have heard about the moment you find 'the' dress but I never believed it was actually a thing, only cliche. I had that moment…To feel that feeling is something I wish for every young girl to feel when she finds that perfect dress for such a monumental day in her life. You completely took my breath away."

"I went through thousands of dresses, ideas, and custom designs to find something that was truly authentic to me and everything I dreamed about," Nicole told Brides. "As a model, I don't usually get to choose the styles I wear on the day of a shoot, but on my wedding day I got to show off my style."
Her bridesmaids included fellow WA models, Gemma Ward and Jessica Gomes, who wore Reformation spaghetti-strap, silk gowns in white, with rustic floral garlands.

Husband Gary was dressed by John Varvatos, as too was their adorable baby boy, Zion, who had a custom-made white outfit. His Godmother, Jess Gomes, carried him down the aisle, whilst the couple said 'I do' under an arch of cotton, white spirea and tufts of baby's breath.
Setting wise, it was a tale of pool and palms. Going back to where it all began, the couple first met at Coachella some four years ago, so it was only fitting the festival was the backdrop for their marriage. The Colony Palms Hotel was transformed into a whimsical wonderland. The Pool was laden with glowing balloons and a neon insignia, N+G, whilst poolside, festoon lighting burnished bright and fresh garden roses, tea roses, hydrangeas, and phalenopsis and dendrobium orchids peppered the space.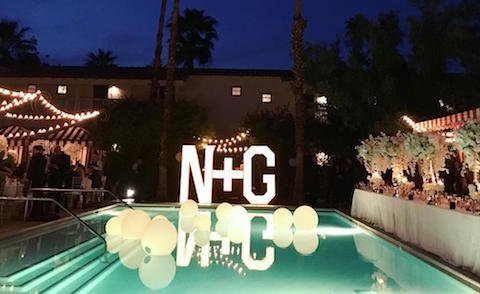 As the sun dropped over the desert, Nicole exchanged her ball gown for a more suitable sheath-like, lace dress by YolanCris, to dance the night away in. Her veil was replaced by a beautiful, crystal-encrusted flower which held her hair back on one side.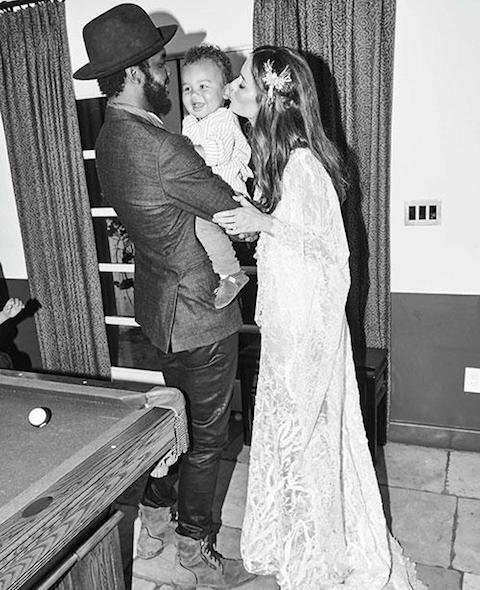 For the the fashionable Trunfio who usually has 70s tastes, this was a day of classicism. A wedding fit for a Queen, or Supermodel.