The annual Spring Racing Carnival certainly drew the crowds and with it, it brought along fashions of the fields with inspiring sartorial choices and fascinating, standout looks.
Inspiring mixtures of traditional, event-appropriate attire combined with on-trend pieces, patterns, and colours worn by women of 2019's Spring racing season were praised for undeniable chicness, and The Carousel has singled them out.

Here's how you can recreate some of the trackside looks that put the glamour into this year's Spring racing season.
Monochromatic elegance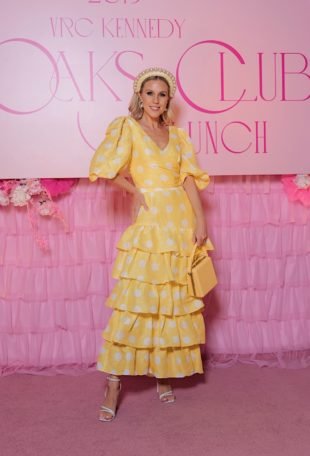 Racegoers at Flemington and Randwick racetracks alike didn't shy away from the trendy one-colour look, with many of them opting for all-white or all-black ensembles that looked simple yet effortlessly chic. On-trend hues such as blush pink, muted green, periwinkle, and lavender were also incorporated into many a race day outfit, resulting in monochromatic combos that oozed with elegance and femininity. Copy their looks by matching a maxi skirt or pants with a top in the same colour and add drama with accessories. Or, go for a floor-sweeper maxi dress and accessorise with details in the same single hue for a sharp and sophisticated look.

Vibrant hues and subtle pastels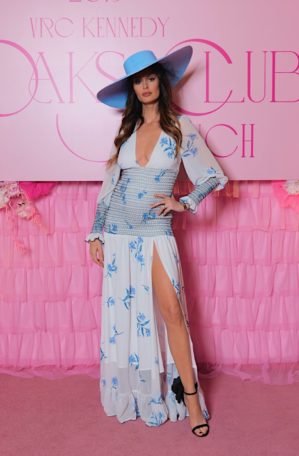 While head-to-toe black and white ensembles could be seen quite often during this year's spring racing events, some ladies took a bolder route and went for colors that are bound to attract attention. Burnt orange, luscious fuchsia, fiery red, and electric blue were all the rage this season and many racegoers gladly made these vivid colors a part of their spring event attire. There was no shortage of pastel combinations either, and plenty of attendees took a more subtle approach and dressed in different shades of purple, blue, yellow, and mint for a more subdued but equally feminine look. To recreate their looks, reach for garments and accessories in paler hues, or if you prefer something more intense, go for shades from a brighter colour palette and accessorise with neutrals.

Attention-grabbing hair accessories

Every look at this year's racing events incorporated some kind of hair accessory, making it a staple piece you simply can't do without. Most of the time it was a central point of the entire outfit, especially if the outfit itself was fairly simple and required a more attention-grabbing piece to complete the look. Fascinators, hats, and veils added a dose of mystery and drama to many racing event attires, while silk scrunchies served as the perfect finishing touches to outfits with bountiful detailing. Latter are perfectly wearable as everyday hair accessories and are a great choice for stylish, effortlessly chic combinations.
Suits that make a style statement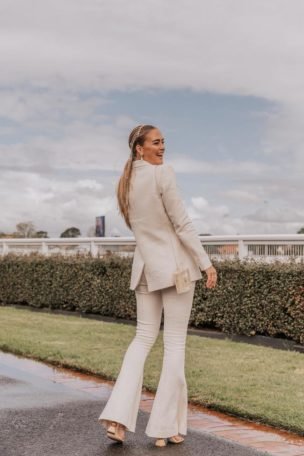 While floor-sweeper dresses and skirts turned out to be quite popular this Spring season, there were also a lot of combinations that were centred around tailored suits. While these outfits delivered a masculine tone, it was the elegant detailing and patterns that added a feminine punch. Tailored white blazers with plunging necklines looked very sophisticated, while oversized blazers paired with flared trousers looked like a match made in heaven. Follow suit by adding your own twist on these masculine pieces with the help of vivid colours, bold makeup, or feminine accessories.

Feminine details

Another dominant feature of this year's racing events was a generous dose of feminine details. Florals and prints, in general, were incorporated into many outfits, enhancing their overall interest, while accessories were being kept minimal or neutral. Feminine heart cut-outs on the back spiced up the entire ensembles, while ruffles and frills added a glamorous note. Puffy sleeves were another 2019 trend that made it to these events, as well as enormous bows that served as the romantic touches to already ultra-feminine outfits.

Strappy heels and mini bags

Because these racing events outfits and hair accessories were so flamboyant and flashy, other accessories were usually kept to a minimum, be it in terms of style or color. Nude and transparent heels blended perfectly into many outfits without detracting from what was supposed to be the main focus of the outfit, and the classic black and timeless white heels acted as the perfect supporting elements as well. The shoes that were worn were either strappy or pump heels most of the time, but you could also see a lot of slingbacks, mules, and stilettos. The neutral shoes were usually accompanied by mini bags, crossbody bags, or clutches in the same color, which came in various shapes and sizes – from rounded and box bags, to envelope bags and mini bags.

From subtle and bright hues to attention-seeking accessories and patterns, a wide variety of looks were served this spring racing season, leaving a lot of room for us to experiment. Take a cue from this year's best-dressed racegoers and use their outfits to draw inspiration and add your own twist on these inspiring racing event ensembles.