It's reaching that time of the year again. It becomes tougher to stick to our reliable greys, blacks and marine blues because heat becomes too unbearable. Kmart's new apparel 'Summer Daze' will keep your fashion sense intact and your bank account happy.
The coastal inspired range includes pieces for women, men and kids. Using natural fabrics and "earth-toned colour palettes" such as ecru and sandstone, they'll blend in nicely with the sunnier days to come. Don't be afraid to try things out, the different range of pieces and colours can be mixed and matched, with popping colours like cinnamon, ginger, mustard and misty blue; the variety leaves the customer with the choice and chance to tap into their more creative side to find THE look for them.
Kmart has clearly headed in a new direction with this collection, one that distinguishes itself from their usual homely, simple, affordable and, dare I say, basic range. 'Summer Daze' is a breath of fresh air, but one that remains affordable.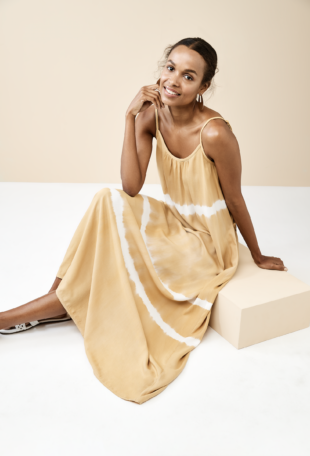 "For us, it's about making shopping a more fun and inspiring experience as well as making fashion more accessible to more people" with a focus on "giving access to the latest trends and styles, at everyday low prices everyone can enjoy." says Julie Miller Sensini, Kmart's General Manager of Apparel & Design

Miller Sensini goes on to mention how the collection embraces the Australian and New Zealand way of life, all while producing comfortable, versatile and trendiness to their designs.
We know our Kmart customers have such a great sense of style and we wanted to create a range that allowed them to be creative and style outfits in their own unique way" concludes Miller Sensini
Look forward to pieces like the $20 A-line Maxi Dress in mustard, a $15 short sleeve wrap top in stone stripe, sundresses from $17, linen blend pants for under $20, crossbody bags in the range of $25 and many many more.
Visit the Kmart website for more information.