#1 Naomi Campbell Gives Supermodel Coaching to Gigi Hadid
Gigi Hadid has been successfully climbing the rungs of the fashion industry, with six Vogue Magazine covers in the past 12 months. Such triumphs come only from learning and Gigi is being taught by the very best.
Gigi told Love Magazine that a few weeks before her debut Victoria's Secret show Naomi hosted an impromptu supermodel workshop and had her "practising walking in the hallway of a hotel."
Naomi's advice to Gigi was "Don't apologise. You are perfect the way you are. Everyone said my walk was weird too".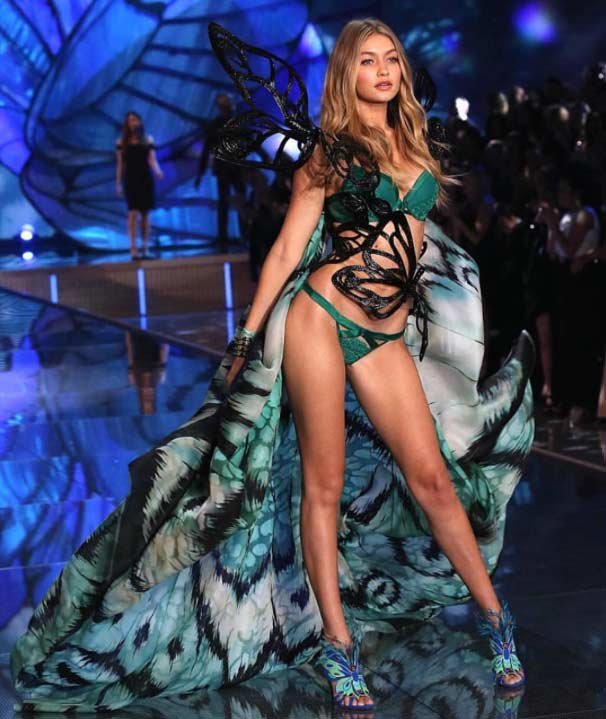 #2 Poppy Delevingne Named Senior Contributing Editor at Love Magazine
Poppy is the second Delevingne to join the Love club, after younger sister Cara was named contributing editor at the English magazine last year.
Her debut piece is a column titled "Don't Hate Me Because I'm Perfect" which will feature in the spring issue out next Monday.
Poppy revealed "Since I was little girl I've always wanted to write, so when [Love editor] Katie [Grand] asked if I'd be interested in putting ink to paper for the magazine, I was over the moon."

#3 Andy Warhol Pop Art X Converse
If Converse Chuck Taylors printed with Andy Warhol's iconic Cow and Flowers artwork isn't mind-blowing enough, these shoes also glow in the dark!
They are available exclusively online and at the Converse Melbourne Central flagship store for $120.

#4 David Jones to Launch Exclusive Collection of Chinese Designer Labels to Mark the Lunar New Year
This February, David Jones will celebrate the Lunar New Year with a curated collection of 16 of China's most exciting contemporary labels.
The Lunar New Year Designer Collection is part of City of Sydney's official 2016 Sydney Chinese New Year Festival, available to purchase from 11th-18th February at a special pop-up store On Seven at David Jones' Elizabeth Street, Sydney store, or online from 7th February.
As we all know, there's no better combination than great fashion and great food, so during this time, popular restaurant Taste of Shanghai will host a pop-up dumpling bar in the stunning ballroom On Seven at David Jones.

#5 David Beckham Launches New H&M Modern Essentials Collection
Beckham and H&M have collaborated again to create a curated line of menswear classics. The line features a blazer, bomber jacket, camel coat, check shirt, great knitwear and more.

It's a collection that's modern and fresh, easy to wear and to layer up, and looks very sharp.
H&M have just released a great new campaign video with David Beckham set in Lisbon, again teaming up with esteemed director Fredrik Bond.
#6 Yves Saint Laurent Museums Opening in Paris and Morocco
Two museums dedicated to the work of master couturier Yves Saint Laurent will open in Paris and Marrakech in September 2017.
The Paris space will be a renovation of the pre-existing Fondation Pierre Bergé-Yves Saint Laurent at 5 Avenue Marceau, the space used as Saint Laurent's atelier and office for over 30 years.

The renovation will return the space to its original style allowing Saint Laurent fashion followers a sneak peek into the life of the late creative mastermind.
The second museum, in Marrakech, will be aptly located on the Rues Yves Saint Laurent, the paradise Saint Laurent inhabited with Pierre Bergé.
The museum will display not only Saint Laurent's incredible designs, but will house a library, café and a restaurant.
#7 Ursula Goff is Turning Hair Into Fine Art Masterpieces 
We've seen leopard print and glow in the dark hair, however Kansas stylist Ursula Goff has kicked it up a notch sparking a new hair-dye trend, inspired by iconic fine art.

 #8 Tag Heuer Welcomes Chris Hemsworth As Ambassador
Chris Hemsworth and Tag Heuer hosted a cocktail party to celebrate the partnership on the Bennelong Lawn, with the breathtaking backdrop of the Sydney harbour.
Local celebrities such as male model twins Jordan and Zac Stenmark, Sydney Swans star Tom Derickx and former Home and Awar star Jodi Anasta attended the event.

#9 Tiffany & Co. Opening in Sydney Airport's T1 International Terminal
Sydney Airport has announced that Tiffany & Co. will be one of the first retailers to open in their new T1 International luxury precinct, in the first half of 2016.