What does the fashion of empowerment look like? Charlize Theron, Nicole Kidman, and Margot Robbie are about to answer that question in their upcoming and long-awaited masterpiece of a movie by the name of Bombshell. The two Australian divas (Kidman and Robbie, of course) showcase just how much of a difference an outfit can make in the vicious corporate media world embodied in the scandal that inspired the movie.
Masterful acting aside for the time being, let's take a closer look at the style choices that have shaped the move as much as they did the scandal – the chairman Roger Ailes allegedly asked the women to dress in more form-fitting clothes. This entire endeavor predates the #MeToo movement by a year or so, but it reverberates the same truth and the same need for protecting women's rights and facing the hard truths of our time.
So naturally, the look of the women playing these characters, even the fictional one that Margot embodies in order to represent all women at Fox News, needs to resonate with that goal: it's stern, it's bold, and it's unafraid of all that lies beneath. Here are a few ways in which you can use these majestic women as inspiration for your own style and how you can incorporate some of these ideas into your look.
Minimalism reigns supreme

Until the movie comes out in a matter of weeks, we can only enjoy the sublime composition present in the trailer, apparent in the presence of the three main characters and their clashing, but complementary outfits. The paradox may seem strange, but somehow the vivid pink, cold grey, and black sheath dresses work well on screen as well as in real life. Think of them as the movie-inspired, subtler version of the power suit, one that has yet to showcase its true potential.
Unassuming, simple, and unrevealing, the three minimalist looks crave the attention they have earned. Why? Because the women in these dresses, the complex, ambiguous, struggling characters – they dominate. Despite the very real issues they're facing, their resolve is embodied in their clear-cut style. When you want to achieve the same and command the room with your presence, you can do so by choosing a similarly simple sheath dress that fits you well.
Elevated elegance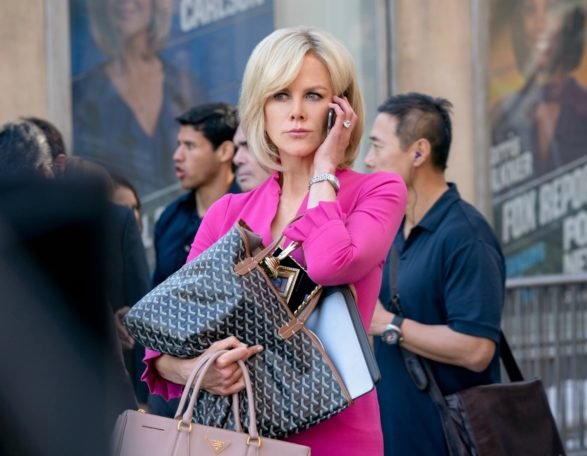 The entire movie is one hell of a "special occasion". After all, the women in the spotlight, quite literally so, are fighting for their careers, their reputations, and their dignity. While doing so, they remain feminine, classy, and stylish no matter the situation.
One look at the Australian diva, Nicole Kidman, and her gracious take on a short-sleeved brick-colored dress instantly makes you want one of your own. Not Nicole, the dress. In case you're inspired by her stylish perseverance, you can easily find special occasion dresses in Australia that resemble that very same spirit of minimalist beauty and ensure a regal effect. Who knew that such simplicity paired with a subtle, but elegant hue can elevate your look so much?
Form-fitting indeed

In the past several years, we've fallen in love with the idea of oversized everything. We love larger-than-life hoodies that make us feel completely surrounded by softness and coziness, and we adore massive leather jackets that let us pull off a layered autumn look. This movie is your perfect chance to take a break or just swerve a little from your regular oversized look into a more silhouette-following one.
Once again, perhaps special occasions such as cocktail evenings or birthday parties might be good opportunities to try this look out instead of your more urban, athleisure-inspired one. The choice of fabrics matters very much, since these ladies have shown us that thicker, non-transparent materials are the classier, more sophisticated option that can emphasize your figure just the same, in a very tasteful manner. Whether you're combining a pencil skirt and a simple tee or a dress, form-fitting is a timeless way to add Hollywood-worthy glam to your wardrobe.
Pastels can be powerful

Maybe you're not that into form-fitting elegance, or maybe the idea of sheath dresses doesn't appeal that much to your current sense of style. No matter how stunning these can look on someone else, especially someone as gorgeous as our three divas, you might feel constricted. However, if you take a closer look at their movie ensembles of choice, you'll notice that the color palette is modest, albeit very imaginative and exquisite. We're mostly talking about pastels, of which we've already mentioned a few, including the notable creamy pink, as well as the soft grey.
Recent trends have started celebrating neon hues and potent, rich colors that let you bring out your playful persona. However, there's so much a pastel shade can accomplish when worn right. Try out different pastels to see which ones suit your complexion and your hair, as well as your makeup preferences.
Find your LBD

Finally, in all of that monochrome simplicity and unassuming minimalism the movie uses to celebrate and empower its main characters, there's one piece of clothing that cannot go unmentioned: the little black dress. It's quintessential elegance, and it's everything and anything you want it to be: goth, retro, vintage, modern, revealing, form-fitting, layered. This timeless piece of clothing allows for so many variations that it can never really go out of style.

Bombshell uses this very piece to denote the unequivocal, pristine elegance of the women wearing them. The way Charlize Theron wears her own LBD on air on Fox News or while she storms through the press later in the film can easily portray her professionalism as well as her undeniable beauty, all without any pomp or glitz. If you don't have your go-to LBD, it's time to find one that will be the crown jewel of your entire collection – because that's precisely what little black dresses are.
The movie will certainly unveil a slew more fashion statements as soon as it hits the screens across the globe. Until then, we can enjoy the marvelous ensembles we've been able to see thus far and look for ways to incorporate some of their ideas into our own look-book.
Bombshell opens nationally in Australian cinemas on January 16, 2020.