As a beauty obsessive, I like to play the field – the one cosmetic category that's spared my philandering ways? Complexion. There's nothing worse than spending half an hour (more like forty-five minutes) on your base only to go out in public and find that new foundation you picked up is shifting like tectonic plates. Disaster. So when it comes coverage products and everything that goes on top, or underneath, I stick to tried and tested cult favourites. For me, a cult beauty product shouldn't require too much thought or fuss – it's there when you need it, it makes you look and feel good, and it gets the job done, pronto.
So, here are the beauty stalwarts I'll be repurchasing forever.
Bobbi Brown Vitamin Enriched Face Base, Mecca, $88.00AUD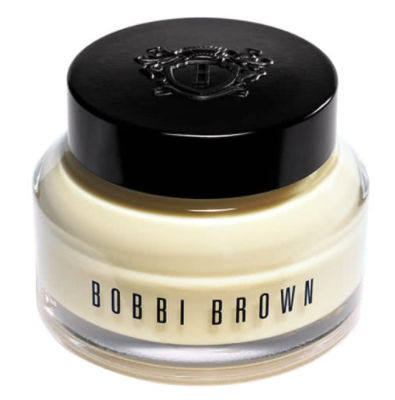 It took me until 2020 to finally pick up a jar of this multiple award-winning moisturizer/primer. I've always been suspicious of hybrid products. Frequently something that claims to do both actually doesn't do much of either. I expected Face Base to be a "sort of hydrating" moisturizer that "kind of" hung onto makeup. Instead? Upon the first application, the formula delivered a serious hydration boost. Forget a long glass of water. This was a thick shake of moisture full of omegas, ceramides and Vitamin E. After plumping everything up, the formula then creates a "second skin" finish. It makes a secret of any dry patches, uneven texture or fine lines without feeling like spack filler. Face-Base has stood up to my most challenging foundation formulas, making it a must-have prep product with serious skincare credentials.
Charlotte Tilbury, Hollywood Flawless Filter in Light 01, Mecca, $65.00 AUD
I have a love-hate relationship with highlighters. Everyone likes to glow, but an application can quickly take you from healthy sheen to tin man in seconds. Enter Charlotte Tilbury Hollywood Flawless Filter. This product isn't explicitly marketed as a highlighter because it's so, so much more than that! Flawless Filter sits somewhere between a primer, a base and a mixing medium and provides a sophisticated, realistic glow when layered under or over foundation. Even better, its priming properties mean that, unlike many highlighters, it doesn't grab onto uneven pores or texture. Instead, it smooths and blurs rough patches and discoloration, keeping the spotlight on your best assets. Finally, it mixes beautifully with almost any product. Whether I'm sheering out a liquid blush or adding some luminosity to my concealer, I know it will blend beautifully with any product I combine it with. Truly a magic potion.
Tarte Shape Tape Concealer, Sephora, $42.00 AUD
While I've come around to the idea of hybrid products (see above), sometimes you just need a one-and-done to get the job done. Tarte Shape Tape is precisely this: a high coverage concealer that will matte out and cover blemishes in a flash. Better yet? While it makes fast work of spots, it's thin and flexible enough to be used around the eye are. I mix it with a little bit of Hollywood Flawless to sheer out the product, apply under my eyes and then go in with pure product on the inner corners of my eye where I'm darkest to spot conceal. In a pinch, it's also a great eyeshadow base!
It Cosmetics, Your Skin But Better CC+ Cream, SPF 50+, Sephora, $65.00 AUD
If you feel like you've seen this product everywhere, you're hanging in the right circles. Since its launch in 2007, It Cosmetics CC cream has become a hardworking staple in every beauty lovers makeup draw (you'll notice that most of the print has rubbed off from heavy usage). The original formula went through 200 formulation rounds – and the final product has generated hundreds of thousands of five-star reviews. What makes the product remarkable is NOT its SPF50 properties which are best to ignore (check out Hannah English's demonstration if you're unsure why you shouldn't rely on SPF in your foundation for sun protection). By some alchemy, Your Skin But Better manages to pack the coverage of Mac Studio Fix Plus into the texture of a serum. The feel is lightweight, and you won't need more than a pea-sized amount to get a completely flawless complexion. It's easily applied with your fingertips, and the soft-tube packaging won't smash on your bathroom tiles. I'm currently nearing the end of my fourth tube, and I know I'll be back to Sephora for more.
Givenchy, Prisme Libre Mat-Finish & Enhanced Radiance Loose Powder, 4-in-1 Harmony, Myer, $95.00
Sure, it's expensive, sure purple, blue and green aren't typically colours you want to daube on your face after painstakingly executing your makeup. HOWEVER, this product lives up to its price point. Incredibly finely milled, the powder colour corrects and blurs, adding the perfect polish to any look. Completely invisible to the naked eye, it removes shine where it's distracting without detracting from a glowing look. Of the four shades, the green colour corrects residual redness, and the purple counteracts sallowness. The other two contain light adapting pigments that boost radiance (but somehow don't cause flashback – I guess that's the light adapting!)