US Style guru Rachel Zoe talks to The Carousel about  all things style, her favourite fashion era and the five wardrobe essentials everyone needs. Here 'tis…
What five pieces should every woman own?
– A great leather jacket – one you can wear all year.
– Your favourite go-to jeans, whatever they are: wide leg, skinny, crop.
– An amazing tuxedo or suit, preferably in black or charcoal grey, that you can break up and mix and match.
– The perfect pump in black, nude or metallic.
– A great little black dress – which, very often for me, is a jumpsuit – or whatever version of the little black dress yours is. Something that, if you have to run to a dinner or an event, you know will look good. Make it happen.
What is your favourite fashion era and why?
It never changes for me. It's the 1960s and '70s, hands down. Everything about it – the music, the style, the energy, the nightclubs, the glamour of that period, the effortless cool of it all – in the women and the men. It's my happy place.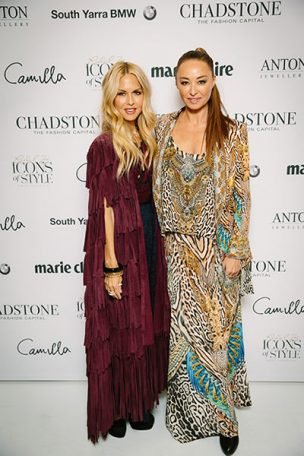 What inspires you?
Many, many things influence me. As a designer and stylist, it's iconic women (and men very often – like John Lennon, Paul McCartney or Mick Jagger), such as Bianca Jagger or Brigitte Bardot. It's also places I go on my travels. The environment I'm in gets me really excited and wanting to design a collection around it or style in that mood. Sometimes it's my kids who inspire me and make me think about something based on things they've done or where we've been together.
What do you predict will be the trend of the season?
There are so many trends for Spring/Summer. Kaftans are here to stay – please wear them. Whether they're kimono sleeves or sleeveless – it doesn't matter. Wear a kaftan.
Which trends will you embrace this season?
Wash-and-go hair, great jewellery – big cuffs, a huge necklace. Slip dresses, kaftans, sarongs, espadrilles, wood stacked heels – nothing formal. Lots of metallic, lots of neutral colours. That's my version of bright colour, which would be nude! It's Missoni weather. I get more girly and more beachy. Nothing fussy, nothing too polished and nothing formal.