The 2019 Mercedes Benz Fashion Week spread its wings this year, taking place all around Sydney. From Totti's in Bondi, the Chinese Garden of friendship in Darling Harbour to Paramount Hotel and Carriageworks, the entire city came alive with the fashion vibe. During the week, brands presented their Resort 2020 collections to the media, clients and fashion industry. The Carousel attended Carla Zampatti, Tiger Lily, We are Kindred and Karla Spectic.
Below are our highlights from each show.
We are Kindred "Boheme Heart"
Décor : quite minimalist, a large panneau with voute. Models were like elves, dreaming Amazonion women walking into an enchanted old palace.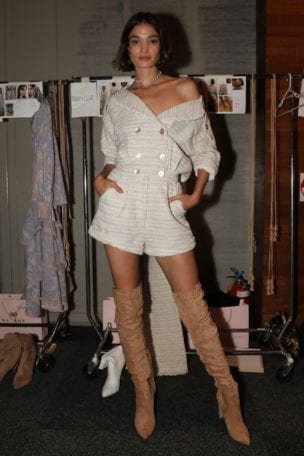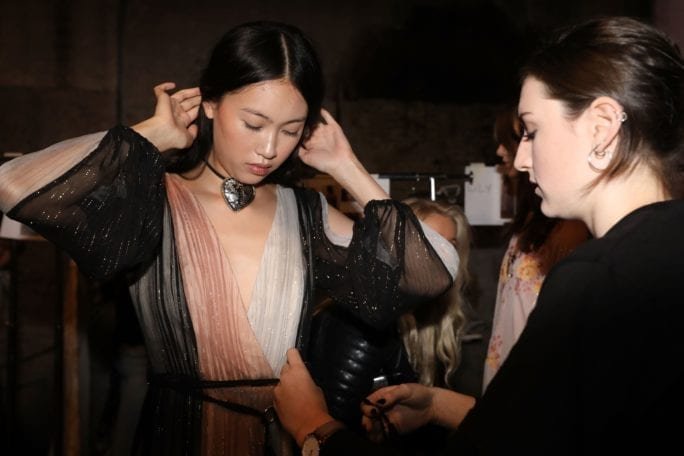 Light and vaporous outfits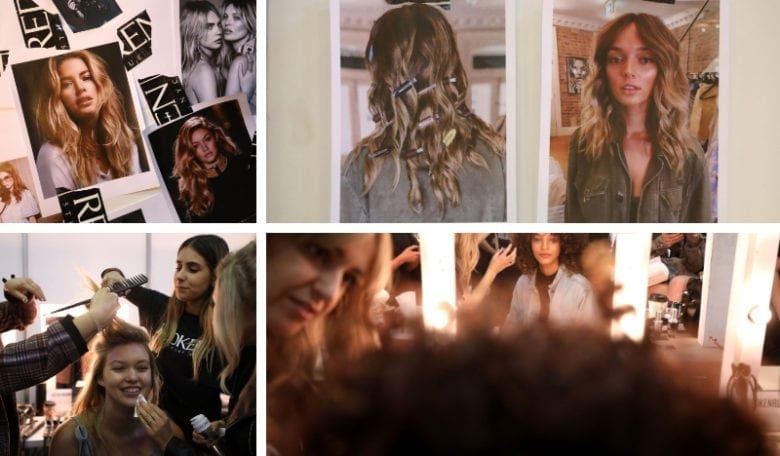 Redken partnered with We Are Kindred as part of Mercedes-Benz Fashion Week Australia. Redken Hair Director, Marie Cain. Best known for her young, fashion-forward approach to hairdressing, Marie Cain's work is personified by effortless, lived in texture. Marie worked backstage as a session stylist at New York Fashion Week and continues to influence the fashion circuit as a regular hair director of MBFWA and Melbourne Fashion Festival. For the show, she created a very natural and effortless look. The signature style featured a slight wave and volume with a wispy fly-away, creating a "soft feminine, girl next door" style.
"Once hair is dry, it is then waved with a small tong (50cm diameter) or a regular flat iron with the wave to emulate natural looking waves. The trick is to keep some volume in at the roots," she said.
"Finally, pin curl clip hair down to cool – this will also help the hair look and set more naturally. While cooling, give hair a good mist of Redken Rootful 09 and activate again with diffuser and heat for 1-2 minutes. Allow at least 15 minutes for hair to cool which is a good time to start your makeup," she said.
"Once hair is cooled down completely, a give your hair a really good brush out with a soft bristle brush. Allow fly-aways, keeping the hair fluffy. Using Redken Wind Blown 05 and latest launch Redken Dry Shampoo Powder 02," said Marie Cain.
Lancome was in charge of the make-up. With natural and wavy hair : faces were glowy, healthy with a little pink touch on cheeks. Gorgeous!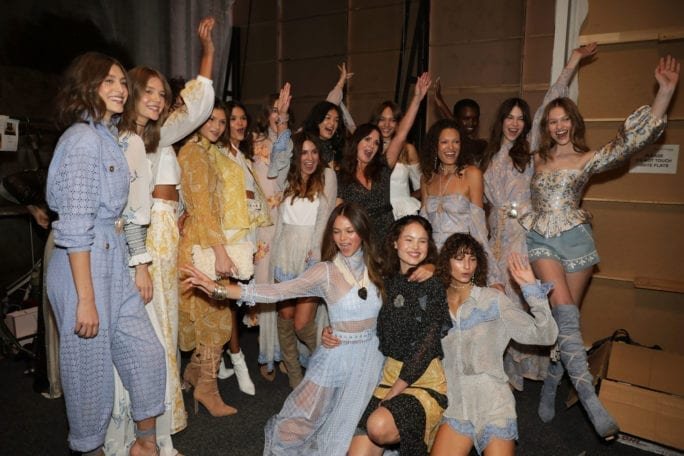 Tiger Lily, AILA
Set: humid garden with bit of Japanese inspiration.
Gave an impression of freshness, a breath of fresh air.
This show marked the return of the brand on the Fashion Week schedule after 17 years ! It was also particularly surprising not to find any swimwear in its resort 2020 show. All the attention was intentionally put on fashion.
Among the 3 different shows, probably the "most resort" we saw. We could feel inspiration from last Chanel spring/summer collection and also a bit of Jacquemus style the new trendy French brand, in all the chapeau de paille.
Karla Spectic, Syren
The hair : embossed hair pulled back forming pony tails with coloured pearls disseminated on the top of the head.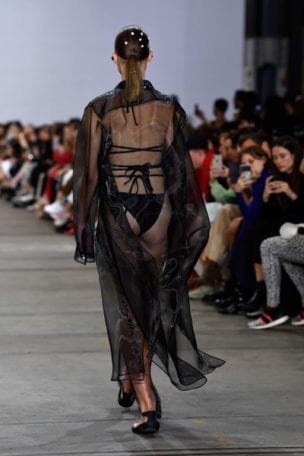 Laces : many laces were rounded models bodies
Comfort : guess what they models were wearing ? Crocs ! Lucky them they made the whole show wearing white Crocs Serena.
Alongside the shows, this is also the occasion to meet some other smaller brands and to talk directly to the designer. In a large space in Carriageworks, called "The Suites", we can find different showrooms with brands having their spaces.
We met Kitty Scott from Cleonie Swim, located in North Avoca. The brand is individually designed and made of Italian lycrea created with plastic bottles and fishing nets. And NO they were not boring at all ! Cleonie swimsuits are colourful, soft and with beautiful shapes. You can be eco-conscious and trendy at the same time.
We also had a precious time with Une Piece designer, she designed anti UV sexy clothes. Indeed, why would protecting yourself against the sun should be dark, black ? Based in Brisbane, she and her small team decided to offer colourful clothes with hand made patterns through painting instead of using computers.
Tonight, fashion doyenne of Australia Carla Zampatti closes the fashion week.
In what was a magnificent end of this year's Fashion Week, style icon Carla Zampatti partnered with the Australian Brandenburg Orchestra to provide a show-stopping close to the week. It was an elegant affair attended by the who's who of fashion and celebrities alike.
"I am honoured to be working alongside The Australian Brandenburg Orchestra for her Resort 2020 Collection," Carla said. "Merging two of my passions, fashion and music, I am so proud to be showcasing them together."
Last year, she launched the Carla Zampatti Foundation Design Award supporting the Univeristy of Technology, Sydney. This award grants $25,000 to a graduating honours fashion student towards international studies.