Tomorrow is the 2022 Melbourne Cup, kicking off Australia's favourite week of glamour, fashion, and sportsmanship across four incredible, fun-filled days. Whether you're track-side with a glass of bubbly, or celebrating at home, after the year we've had, it's a great excuse to get all dressed up and have a little fun.
Time-honoured traditions are often steeped in rules and dress codes, and spring racing is no different. The race you're attending will dictate your race day outfit as they all have a different dress code, and these apply to most Australian racecourses. So, below I share my advice on what to wear when along with all the do's and don'ts of race day fashion.
Saturday 30th Penfolds Victoria Derby Day
This is thoroughbred racing at its very best. The dress code: sophisticated monochrome, black and white only.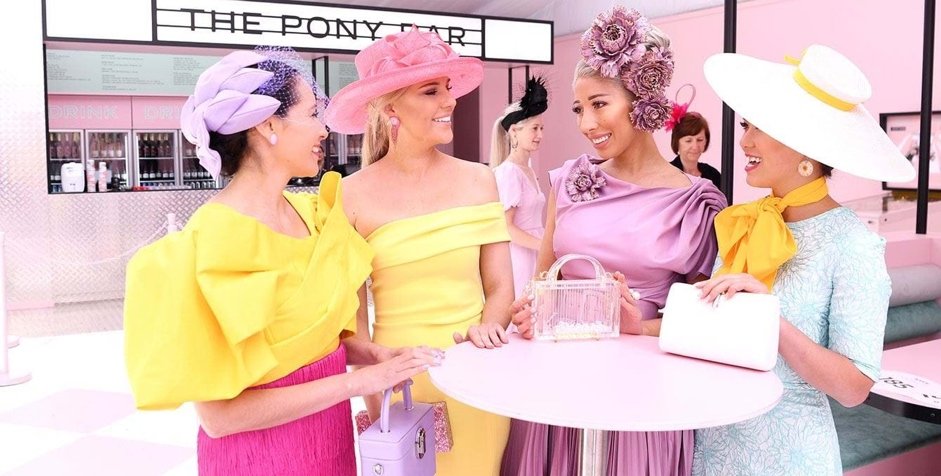 Tuesday 2nd Lexus Melbourne Cup Day
This is the big one: on this famous Tuesday in November. The dresses code: statement pieces, glamour, colour and dazzle!
Thursday 4th Kennedy Oaks Day
The tradition of Kennedy Oaks Day is beauty, femininity, style and grace. The dress code: a trend towards floral, spring time and feminine silhouettes.
Saturday 6th Paramount+ Stakes Day
Friends, fun and the finale of Cup Week, Paramount+ Stakes Day is not to be missed. The dress code: a more relaxed day by the track with a sense of fun.
Here are some Dos and Don'ts of race day fashion:
Do:
Choose a tasteful, sophisticated outfit because a high standard of dress is always required.
Accessorise with headwear, a clutch and jewellery to complete your look.
Wear sunscreen because you will burn even on a cloudy day.
Have a backup outfit ready in case there's a race day prep disaster or unseasonal weather.
Have fun and experiment with your race day fashion!
Wear a heel with a wedge or block heel for all-day comfort.
Break your shoes in before the big day.
Make sure you have the right undergarments on.
Consider trousers as they can be just as chic as a dress.
Opt for an outfit you can re-wear.
Bring a jacket to drape over your shoulders as the weather cools in the afternoon.
‍Don't:
Wear anything casual like denim, sportswear, untailored pants and jackets, leggings, sneakers or thongs.
Show too much skin – bare midriffs (including cut-outs) are a no-no, as are strapless dresses or spaghetti straps in members' areas. Avoid shorts and revealing playsuits.
Choose an outfit with rips or tears, even if they're designer.
Pick a shoe that will sink into the dirt or give you blisters – you'll be on your feet a lot, and you don't want to end up barefoot.
Overdo your makeup.
If you're still needing a little more guidance, reach out to Threadicated's stylist for help, or request one of their fashion stylists style you for the big race.