Stitch and Hide recently released a collection inspired by our favourite places in Melbourne. This fashion-forward city has inspired the Brunswick ultra-spacious shoulder bag, the Fitrozy handbag is based on classic camera bags and the modern unisex St Kilda sling bag.
The online shops stock a great range of wallets, clutches and bags with lots of accessories to make them your own. Here are some of my personal favourites:
The core range of wallets and clutches is responsibly made with eco-certified leather. You'll find this has a subtle grain-like texture that's buttery soft but durable. I'm lusting after the Ellie flap wallet which comes in coral, black, deep sea, dusty rose, oak, olive and teal. The Lucy is a practical zip-closure pouch that could carry your personal items. You might like the Darcy or Paiget flap wallets.
The clutches are perfect wardrobe staples for when you are hitting the town and just need some essentials. I love the flexibility of clutches – you can easily pop them in a larger bag and head off. The Cassie clutch comes in classic colours like maple brown, espresso black and almond caramel, but if you're after a fun colour select from cherry red, teal green, dusty rose pink, misty grey, storm blue, sage, olive, lilac, deep sea, black, coral and oak.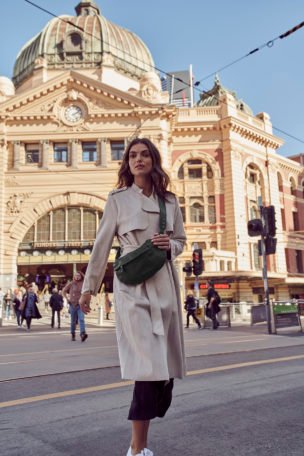 The Piper crossbody bag is perfect everyday bag that comes in a beautiful range of colours including teal, black, charcoal, cherry and coral. The teal green is my personal favourite. The Taylor is another crossbody bag that will last you a long time with its classic structured body.
If you're after a larger handbag consider the Frankie hobo. The Alexa is a cute feminine satchel bag. The Isabelle and Emma are classic tote bags with magnetic snap closures. These will be perfect for anyone who needs something smart for work.
There is a washed collection of leather bags and backpacks which have a worn and well-loved look to them.
Stitch and Hide have a lust-worthy travel collection including a roomy weekender bag, toiletry bag, passport holder and luggage tag.
You can buy a cute tassel in twelve different colours to match your bag. There are a number of different leather straps to custom your bag, from washed seatbelt, mid to gathered. You can also buy a leather keyring or key pouch.
Don't forget to buy a bottle of leather conditioner to protect and nourish your leather goods. It is made in Australia from 100% natural ingredients including lanolin and beeswax.
Stitch and Hide clutches, bags and handbags are beautiful, built to last and age well.
About Stitch and Hide
Stitch & Hide is a global leather accessories company that combines the laid back, yet sophisticated styles of both Byron Bay, Australia and Los Angeles, California. The natural beauty of these two places is reflected in our rugged, yet classically styled products. Made from the finest quality leathers by the hands of skilled craftsmen, the treatments implemented in creating our products are natural processes, using time-honoured techniques and formulas that were developed by ancient and traditional methods. Made to this day with old world craftsmanship, our leathers carry on a long history of superior comfort and durability. Stitch and Hide website: https://www.stitchandhide.com/
Photo Credit: © Copyright Stitch and Hide