Anine Bing's designs are all about great quality and perfect fit – and since the items all go together the line is made up of easy-to-match, easy-to-wear items.
In this video, Anine Bing talks about the best-selling items from her collection…
Renee: These are like my obsession!  
Anine: These are the number one sellers from my collection. They are so good, and they are the perfect pair of leather pants. Stretchy leather and just look amazing on and they feel amazing.
Renee: I think I have seen one of the Song Girls, wear these.
Anine: Yes,
Renee: I'm obsessed with those pants! They are amazing. I think they are my next purchase.
Renee: I think these are my second favourite thing in the whole collection, the boots, can we talk through these?
Anine: Yes, so these are the gold studded boots. They are the first pair of boots I designed. They are really popular; they sell out so quickly we can't keep them in stock. They are a great pair of boots because they are super comfortable but still super stylish. You can wear them with skinny jeans, or a skirt. You just feel good and look good when you wear them.
Renee: I think the best thing about these are that you don't have to wear a pair of high heels to look dressed up.
Anine: Exactly, I never wear high heels, but when I want to look great, I wear them, even out to dinner at night
Renee: Love that, I'm all for that! Oooo an all-white leather jacket!
Anine: I love leather jackets, I keep making new styles, new colours.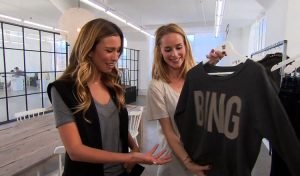 Renee: what would you wear this one with?
Anine: Like probably with those jeans, you are wearing now so dark jeans and a cashmere sweater underneath or just a tank.
Renee: Okay, awesome I love that, so cute and these washes are all gorgeous, are these boyfriend jeans?
Anine: Yeah, very popular too.
Renee: Do you think boyfriend jeans are going to stick around for a while?
Anine: I think so, they keep selling. They are just a comfortable pair of jeans to have in the wardrobe, I think everyone should have boyfriend jeans.
Renee: How do you think men feel about the boyfriend jeans?
Anine: Not as good as we do!
Renee: Exactly that's what I thought, we are not dressing for them so who cares?
Anine: Exactly!